One of the best things about satellite radio giant Sirius XM (NASDAQ:SIRI) is that there is never a dull moment. For writers like myself, who appreciate a compelling story, Sirius often presents material unlike any other stock that I have covered. The fact of the matter is, whether or not one is invested in the company, it does not (nor should not) disqualify writers from having an opinion. I think this is often a great source of resentment and contempt towards those that are bearish the stock, as I have been this entire first-quarter. And for that matter, I think it is important to note, that up until the end of December, I felt the stock still held a lot of promise. That was of course until the company had broken one of its own. But I'll get back to this shortly.
Speaking of promise, I want to draw your attention to the graphic below, and it was one where I made a pledge to be "nicer" to the company if it met certain earnings requirements - but more specifically, regarding its increase of subscriber guidance, among several of others that I didn't think it could achieve. Not only did the company raise sub guidance, but it logged a few more surprises which I have to say unequivocally, were pretty impressive.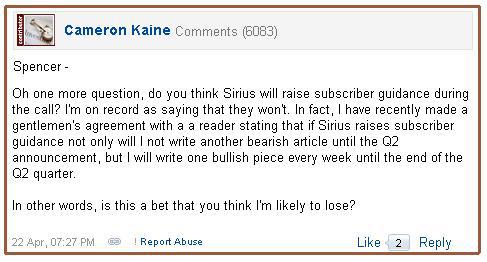 Promises delivered
On Tuesday, not only did the company report an increase of 38 percent in profits for the period ending in March, but it also logged net income of $107.8 million, or 2 cents per share topping the $78.1 million, or 1 cent per share it reported in the same period last year. Sirius reported revenue that climbed 11 percent annually from $723.8 million to $804.7 million. I think more than anything else the 11% increase was the number that was most impressive while it also beat Wall Street estimates of $803.5 million.
In terms of subscribers, Sirius added a net of 404,596 in the quarter. It ended with 22.3 million - representing an increase of 8 percent over last year. Average monthly revenue per subscriber came in at $11.77, up 2 percent from a year ago. CEO, Mel Karmazin stayed conservative and stuck with its financial forecast for the full year, but as noted previously, the company did raise forecast for subscribers, saying it now expects to add 1.5 million this year, up from 1.3 million. An additional 200K is nothing to get too excited about, but it is an increase nonetheless.
Moving forward
In analyzing the report, Sirius demonstrated that its business is doing enough to maintain its leverage and the company is trending in the right direction. The question is, is this enough to get the stock moving in the right direction - whether near-term or long-term? I think to some extent investors have gotten the answer to this question. The business is doing well and the price increase has had little to no effect on churn or on the company's ability to grow subscribers - this much was answered in the report. What was not answered however was how the company plans to compete effectively into the future and how its recent used car deals has impacted its bottom line.
As noted above, this has always been a great point of contention and frustration for me, but disappointingly, an area where I felt it has not lived up to its promise. It all comes down to one fundamental question, what is Sirius XM really? The answer that I keep coming back to is that it is a radio company - except it uses satellites and not transmission towers. As much as I enjoy the service and will continue to do so, it doesn't justify making an investment in the stock at current levels. While this statement may not be well-received in light of its recent report, one must not discount that the market agrees based on how the stock has traded.
Summary
One of the major criticisms of me from Sirius bulls has been how I have been unfair when discussing the stock. In this article, I think I have been as fair as I can realistically be. Sirius is not a horrible company and I think that this report showed evidence of that. It is a good business that operates as well as circumstances will allow, but that does not make it a great investment. Now, I will concede that perhaps my standards have been a bit too high and this has been the reason for my moving on, but that does not mean I can't enjoy a good story.
I've been asked recently, what will make Sirius a great investment? Should it first have to grow to 30 million subscribers? Should its stock first drop under $2.00 before I jump back in? Or does its average revenue per subscriber have to continue to rise - if so, to what level? As ideal as these circumstances may be, the investment case for Sirius is simple, it needs new management and it needs to study and embrace the future of mobile audio - anytime/anywhere. Until then, it will continue to be a good trading stock and a great source of writing material - for some, that may just be good enough.
Disclosure: I have no positions in any stocks mentioned, and no plans to initiate any positions within the next 72 hours.