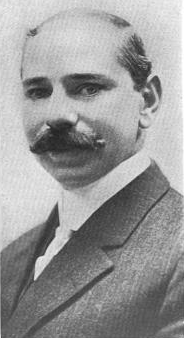 Comcast (NASDAQ:CMCSA) had another great quarter.
Synergy is working. Numbers were up at NBC/Universal, broadband subscriptions were up, and the company is losing fewer subscribers than before despite repeated rate hikes.
That's synergy, the kind that Marcus Loew (right, from Wikipedia) was looking for when he combined his movie theater chain with three Hollywood studios, creating a subsidiary he called Metro Goldwyn Mayer.
Another word for it is vertical integration. Producing video product and controlling its distribution through your own outlets is a powerful profit driver. Always has been. When Comcast shows an NBC show on an NBC cable channel, to a Comcast cable or broadband subscriber, it's pure profit. The show or movie doesn't have to make money on first run (although it helps). It's the re-runs that make you rich.
This is also the profit secret for other studio companies, like Disney (NYSE:DIS), which controls ABC and its cable networks along with a movie studio. And for News Corp. (NASDAQ:NWS), which owns the Fox broadcast stations as well as the Fox movie and TV studio.
All this is threatened, in NWS' case, by the simple phrase "not a fit person," which Labour and Liberal Democratic politicians placed into their final parliamentary committee report on the UK's phone hacking scandal.
CEO Rupert Murdoch is now having to fight to retain the broadcasting license of BskyB, of which NWS owns 39%. The company was on track to buy the rest of that company last year when this scandal erupted.
A liberal group called Citizens for Responsibility and Ethics in Washington is using the British committee's report to call for Fox's U.S. broadcast licenses to be taken away, but that is less of a concern than a U.S. Department of Justice investigation into the company's actions here, which in theory could result in the same thing.
NWS' dual-class share structure assures that shareholders remain no threat to the family's control of the business, and shares are up 10.67% year to date. But since January DIS is up 16%, and CMCSA is up 26%. You can argue that shareholders are already paying a price for this scandal.
That will remain the only price unless licenses are taken away. That effectively breaks the business model. Conservative members of the committee refused to support the "unfit" wording, calling the report "partisan." So long as the government remains on Murdoch's side, in other words, the business model is safe.
But for how long? Shareholders right now are advised to head for the calmer waters of CMCSA and DIS.
Disclosure: I have no positions in any stocks mentioned, and no plans to initiate any positions within the next 72 hours.