By Nathan Slaughter
As an asset class, it's easy to understand the appeal of mid-cap stocks. These companies, which generally sport market caps ranging from $2 billion to as much as $10 billion, are typically faster-growing than the market's giants. At the same time, they are also more established than smaller firms and thus provide more stable and predictable earnings visibility.
In short, mid-caps can offer greater upside potential than large-caps and less volatility than small-caps. According to Morningstar, mid-cap growth has been the single best performing corner of the domestic market over the past five years -- raking in average annual returns in excess of +19%.
Considering the cyclicality of the markets and the relative valuation against other asset classes, now may not be the best time to overweight this particular group. However, long-term investors looking to build a well-balanced portfolio would be wise to include some exposure to mid-cap stocks.
And when it comes to selecting an actual building block to represent this group, I think Vanguard Mid-Cap ETF (AMEX: VO) is a great option.
Tracking the MSCI U.S. Mid-Cap 450 Index, the fund should appeal to one-stop shoppers. The portfolio straddles the border between growth and value and covers a diversified swath of more than 400 stocks -- and its top ten holdings only represent a miniscule 5.8% of assets. Shareholders will have a stake in companies like graphics chip maker Nvidia (Nasdaq: NVDA), money manager T. Rowe Price (Nasdaq: TROW) and offshore oil & gas driller Noble (NYSE: NE).
Overall, the portfolio carries an average earnings growth rate north of +20% and is heavily weighted towards the financial, consumer discretionary, and information technology sectors. And, of course, the hallmark of any Vanguard fund is a low expense ratio -- VO charges a razor-thin 0.13% of assets.
As you might expect, that built-in advantage gives the fund a considerable head-start against competitors. And over the past three years, VO has delivered average annual gains of +12.8% -- outpacing the S&P 500, as well as 99% of its rivals in the mid-cap blend category.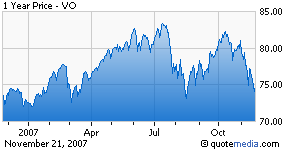 Disclosure: none