I wrote an article earlier this month on the financial industry and its exposure to the subprime mortgage debacle. At that time, the major financial institutions such as Citigroup (NYSE:C), Merrill Lynch (MER) and Morgan Stanley (NYSE:MS) were in the spotlight. However I did state that the focus was on the wrong industry, and actually wrong companies, and that the attention would fall square on the shoulders of the king of subprime mortgages, Countrywide Financial (CFC).
At that point the stock was trading in the $13-$14 range; today it is in the $9-$10 range and potentially dropping lower - in my opinion, possibly much lower in the single digits if a parachute isn't opened quickly.
Now, whether Countrywide survives the next few months or not I can't say; all that I can give is my insight and opinion as it relates to the situation. Countrywide is definitely on the ropes, with their credit rating on the way to falling to a point that it would make it very difficult for them to receive the funding needed for them to survive the hail storm. This is a key point; they need funding to survive and without that, although they state that they have ample liquidity to survive, it would be a disaster. Remember that Bank of America (NYSE:BAC) bailed them out once before at much higher levels, and a situation may arise in which Bank of America either averages down and potentially acquires the company, or they just wait for the fallout.
I wouldn't be shocked at all if Countrywide goes the route of American Home Mortgage in the coming weeks and I think that the Fed would need another major collapse of a company such as Countrywide to fast track to some type of solution for this mess. But Countrywide falling to the low single digits, if this should happen, may make it an attractive acquisition if the acquiring company could ever get a handle on the true exposure that the company has to the sub prime mortgage sector.
Keep in mind that it is estimated that the entire subprime mortgage mess may reach the $300 billion number throughout the financial industry before it's said and done, so we are not out of the woods yet.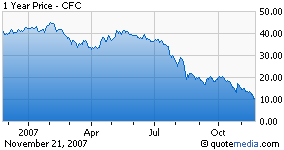 Disclosure: none