Credit concerns has taken its toll on the market. Even in this tough market scenario, the stockholders of Pharmion (NASDAQ: PHRM) would have gone home happy. The stock gained 32% on Monday, November 19 following the announcement that the company would be acquired by Celgene Corporation (NASDAQ: CELG) for $2.9 billion. CELG, which provides drug therapies in the areas of cancer and debilitating inflammatory diseases, has more than 200 ongoing clinical trials at major medical centers worldwide. The acquisition has raised concerns about pricing, at more than 10x ttm revenue of Pharmion's ttm revenue of $256M. Nevertheless, the deal, expected to close at the end of Q2 '08, brings in financial synergies, pairing of therapeutic portfolio and deeper geographical distribution. With this deal, CELG is on the path of becoming a leading player in the blood cancer drug sphere.
Historically CLEG has shown a strong EPS growth (Q3 '07 - 93.3% YOY, Q2 '07 - 136.4% YOY, Q1 '07 - 122.2%YOY, Q4 '06 – 800%YOY) and a revenue CAGR of 45.9% through the past five years. To continue such strong growth, the company needed more products to add to its arsenal. Following the acquisition, Celgene's position in the hematology and oncology areas would get consolidated under three medical therapies - Revlimid, Thalomid and Vidaza. Revlimid, which roped in sales of $199M and a 97% YOY growth, is Celgene's flagship and is used to treat myelodysplastic syndrome (NYSE:MDS). Similarly Pharmion's lead product Vidaza is also used to treat MDS. With the acquisition of Pharmion, Celgene is now in a position where it can market Revlimid for low risk patients (Revlimid has been used for early stage MDS) and use Vidaza on the patients who develops resistance to Revlimid/ high risk patients. This segregation also eliminates the possibility of cannibalization.
Vidaza is expected to be a major global therapy. PHRM is expected to seek approval to market Vidaza, which is now sold only in US, in Europe by the end of 2008. Higher marketing costs for Vidaza resulted in Pharmion reporting a 33% in SG&A expenses during Q3. The company has also projected higher R&D expenses and SG&A expenses for the rest of 2007. We believe that a substantial savings in these expenses can be made following the acquisition. PHRM is also seeking expanded approval of Thalidomide in Europe - for newly diagnosed patients. The company expects the product to hit the market by mid 2008. The acquisition would strengthen CELG's nascent presence in Europe by leveraging on Pharmion's established sales force in the region.
The deal also reflects CELG's hunger for acquisitions that will improve its pipeline. Pharmion have a strong product pipeline that includes the Phase III drug candidate Amrubicin, which is used to treatment small-cell lung cancer. The company is also running Phase II clinical trials of the same drug to treat blood cancers and solid tumors. Another products in the pipeline include MGCD0103 (an HDAC inhibitor) and Oral Azacitidine (a demethylating agent like Vidaza).
CELG last traded at 38x 2008 Earnings (Source: Yahoo Finance) before accounting for the acquisition which is expected to turn EPS accretive in 2009. May be not cheap but not very expensive either, if you consider the growth rate. The recent 17% decline from its all-time high of $75.4, primarily due to broad market weakness, make the stock increasingly attractive. CELG proves to a good stock to be included in the BUY portfolio, as and when the broad market shows signs of improvement.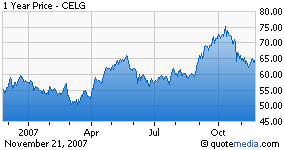 Disclousre: none