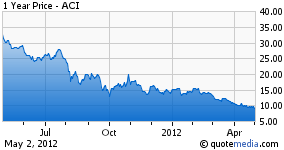 The most dangerous words in commodity investing are "it can't get any worse". Nevertheless, it's hard to investigate the current conditions and valuation at Arch Coal (ACI) and come away thinking that there isn't some long-term potential here in the shares. Potential is a dangerous word, though, and nobody should consider these shares today who can't stomach the thought of another leg down before stabilization.
Q1 - Miserable Results And Encouraging Plans
Given the reports of companies like Peabody Energy (BTU) and Cloud Peak (NYSE:CLD), there was no reason to think that Arch Coal was going to announce a particularly good quarter, and they didn't. Revenue dropped 15% from the fourth quarter, pushed by a 15% decline in sales volume and a modest decline in realized revenue per ton.
Although prices for coal have softened, the same is not true for the cost of producing it. Gross margin dropped another five points, as overall cost per ton rose more than 6% (despite lower costs from the western bituminous coal segment). All in all, EBIT dropped 47% sequentially, with margin per coal ton falling 51% and Central App coal production going into the red.
There's no point in sugar-coating - these are lousy results whatever the reason(s).
The Good (Or At Least Better News)
Where Arch Coal should get some credit, though, is in how management is responding. Given the low anticipated returns on unpriced coal, management is leaving it in the ground and cutting its production targets (again) by more than 10%.
Management has also decided to restructure its cumbersome debt load, which will improve near-term liquidity. While spending on the thermal business will decline, Arch will continue to invest money in its ports and met coal assets.
How Much Worse Will It Get?
One of the more popular topics concerning coal is the switchover between coal and gas at electrical utilities. It's very much a real thing - American Electric Power (NYSE:AEP) has moved about as much capacity (at least in the East) over to gas as it can, and other utilities have as well. Moreover, the switch to gas and the large utility coal stockpiles left over from the warm winter are leading to very clear declines in coal railcar traffic.
The question, though, is whether we've seen the worst of it. At least insofar as it pertains to Central App coal customers, there's not that much capacity left to switch over. Moreover, while there's still a large gulf in dispatch costs between coal and gas-fired electricity, gas prices have been moving up and the thermal coal industry has taken a meaningful percentage of 2012 production off the table.
As for the longer term, I'm not going to pretend that I have the answers. Natural gas plants are cheaper to build (as much as 50% cheaper), cheaper to run (thanks in part to advanced turbines from the likes of GE (NYSE:GE) and Siemens (SI)), and cleaner. Nevertheless, don't fall into the trap of thinking that utilities are just going to abandon coal en masse - no utility can afford to fully commit to one fossil fuel. While Central App coal production may indeed be in permanent long-term decline, it still has value and it's still relatively convenient to ship it to Europe (which imports almost half of our coal exports, more than twice as much as Asia).
Will Met Matter?
The metallurgical coal market is also looking a little better these days. Prices have risen almost 10% in the last two months, and Peabody, Consol Energy (NYSE:CNX), and Teck (NYSE:TCK) have all been relatively constructive on it. Granted, the steel market has been as schizophrenic as any other industrial commodity market lately, but the long term fundamentals on met coal still point up and Arch Coal has made it a corporate priority to significantly increase met coal production volumes over the next there years.
A Distressed, But Undervalued, Asset
There's certainly a lot to dislike about Arch Coal here and now. The company's per-ton profits in the Powder River Basin aren't as good as Cloud Peak's or Peabody's today, and the company took on a huge amount of debt at precisely the wrong time. Moreover, I'm not even sold on Arch Coal as a great play on Chinese demand - although that Western bituminous coal could come into play, I think Peabody's Australian mines are in a much better place (quite literally).
All of that said, I think Arch Coal may be meaningfully undervalued. Estimates for 2012 have fallen so far that traditional EV/EBTIDA analysis suggests that the stock is worthless, while the estimate range for 2013 runs from below $700 million to over $1,500. At a minimum, I know the stock is trading at around two-thirds of its tangible book value and that strikes me as too cheap for patient investors.
By no means would I fault an investor for being more interested in Peabody today (arguably the best-run coal company out there), or Walter (NYSE:WLT) (a large met coal player), or even Penn Virginia Resource Partners (NYSE:PVR) (an MLP with Central App coal assets and a large midstream gas business). All the same, I can't help feeling like Arch Coal's stock price is getting close to washed out and is worth a look.
Disclosure: I have no positions in any stocks mentioned, and no plans to initiate any positions within the next 72 hours.