We've written a few articles in favor of Philip Morris (NYSE:PM) over other tobacco companies and we still stand by that. But that does not mean other tobacco companies, especially Altria (NYSE:MO), are not good investments either.
Altria's current yield works out to slightly above 5%
The payout ratio is a concern, at about 100%
The company is a well known dividend champion
MO has increased its dividend at an average of 7% since the 2008 spin off of PM and Kraft Foods (KFT)
As in the earlier exercises, let us look at the power of dividend growth for an investor who can set aside his/her money for 10 years.
Assume you purchase 1000 shares at the recent price level of $32 for a total initial investment of $32,000
The current yield works out to 5% as shown in the table below
Notice how the dividend payments and the yield on original cost almost double in 10 years, leading to $3000 in annual dividends
We have left out the DRIP part from this piece as some investors choose to reinvest the dividends and some do not. Some DRIP during bad times to accumulate more shares and opt out of DRIP when the price per share seems to be at a fair value.
Capital gains will almost certainly contribute to the overall returns as well. MO has gone from about $19 in Jan 2010 to its current price of $32 per share. However, in case the price dips, turning on the DRIP will be helpful in maximizing the returns when things turn around.
Inflation has been ignored in this calculation as stocks are the best hedges against inflation when compared to other assets.
One might think why not purchase a current 10% yielder instead of waiting for MO to grow into a 10% yielder in the future. Fair question. Unless a depression sets in, MO is highly unlikely to reduce its dividend. The same cannot be said for junk high yielders.
10 years is a reasonable time period for this exercise as the market typically moves through many cyclical highs and lows in a decade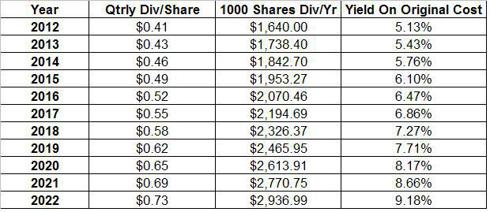 Click to enlarge
Conclusion: As noted in this article, we believe Altria will continue to be a good stock for income investors, even though it might not have the same growth as other companies like PM and British American Tobacco (NYSEMKT:BTI). Given the company's loyalty towards its shareholders, one can assume at least a 5% to 6% dividend growth each year. And the table has shown what that could translate into for the long term investor.
This article does not specifically recommend buying Altria at its current level as the stock has had a great run along with the rest of the market. A pullback to the mid to late 20s level will be a great place to add or initiate a position. The main intention of this piece is to show that even if one gets in at today's high price level the long term outlook remains solid for income.
Disclosure: I am long PM.