On Tuesday, shares of cigarette maker Philip Morris (PM) hit a new high, rising above $91 at one point. Shares have rallied tremendously, as you can see from the chart below. Recently, the company reported first quarter numbers, and it took down full year guidance slightly. The name is now currently very close to the consensus analyst price target, so there doesn't seem to be a ton of upside remaining at this moment. Yes, I still stand by my statement that the stock goes to $100, but I definitely think you should wait for a pullback before entering the name or accumulating more. Here's why.
The Recent Rally:
As the chart below shows, Philip Morris has had a tremendous rally over the past 6 months:
(click to enlarge)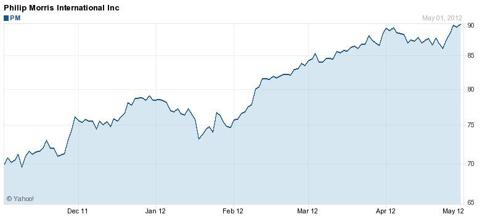 (Source: Yahoo! Finance)
Now, I first started following the name closely back in November, when the stock was still under $70. At that point, I had called the name the best value in tobacco stocks. At that point, margins were very high, future revenue and earnings per share growth was plentiful, and the valuation was very reasonable.
The stock ran up to approximately $80 in early January. At that point, a number of analysts came out downgrading the stock, mostly on valuation concerns. The stock traded back down to $73, when I advised investors to take advantage of the roughly 10% decline. I did buy some shares on the cheap, and sold them later on for a small profit. That buy call turned out to be tremendous, as we have rallied strongly since the January low. Shares are now at $90.
First Quarter Results:
On April 19th, the company reported its first quarter results, which beat on both the top and bottom line. Earnings per share of $1.25 were up from $1.06 in the previous year's period. That was growth of 17.9%, or 19.8% growth if you exclude impacts due to currency fluctuations. Net revenues, excluding excise taxes, were up 9.7% to $7.4 billion, or 10.9% excluding currency impacts and acquisitions.
Now, due to currency fluctuations, the company took down 2012 guidance by a nickel. When they reported fourth quarter numbers in February, they guided to $5.25 to $5.35. At that point, they expected a 10 cent unfavorable impact on earnings due to currency changes. When they guided after Q1, the unfavorable impact was up to 15 cents. Thus, their guidance range was taken down to $5.20 to $5.30. As a result, analysts have taken down their earnings estimates from $5.32 to $5.29 for 2012, on average.
Buyback and Dividend:
Philip Morris has always been a value lover's dream. The company offers a great dividend, which it has increased nicely since the company was spun off in 2008. Also, the company is buying back plenty of stock. They announced with the fourth quarter results an expected $6 billion of share repurchases in 2012, and in the first quarter, they bought back $1.5 billion worth of shares.
Philip Morris currently pays a quarterly dividend of $0.77, which amounts to $3.08 per year. At $90, the company yields roughly 3.42%, a decent dividend. Now, yes, Philip Morris's yield was a bit over $4 earlier this year and late last year, but that was when the stock was around $70 to $75. I don't think most investors mind that the yield has fallen, since the stock price has appreciated nicely. The company is expected to increase its dividend later this year, based on their earnings projections and the number of shares outstanding (since buying back stock can help increase the dividends per share as long as the dollar payout remains the same). My current expectation is for them to raise the dividend to a range of $0.83 to $0.87, with my current expectation at about $0.85 per quarter. That would equal a yield of roughly 3.78%, at $90 per share.
Valuation:
This is why I am recommending waiting for a pullback. When I initially called this a great value in November, the price to earnings multiple was very comparable to other names in the industry, as you can see from the table below. For purposes of this argument, I am comparing the name against Altria (MO), Lorillard (LO), Reynolds American (RAI), and British American Tobacco (BTI). Those are the four that I have compared Philip Morris against in the past, and thus, will continue to use for the future. The following table shows what earnings multiple each was trading at then, when looking at the expected earnings for 2011 and 2012.
| | | | | | |
| --- | --- | --- | --- | --- | --- |
| Valuations | PM | BTI | LO | RAI | MO |
| P/E (2011) | 14.44 | 15.40 | 14.00 | 14.42 | 13.32 |
| P/E (2012) | 13.41 | 13.65 | 12.54 | 13.55 | 12.41 |
Like I said, Philip Morris had a very comparable valuation. However, as you can see from the following chart, Philip Morris has outperformed its peers over the past 6 months, and by wide margins compared to a few of the names.
(click to enlarge)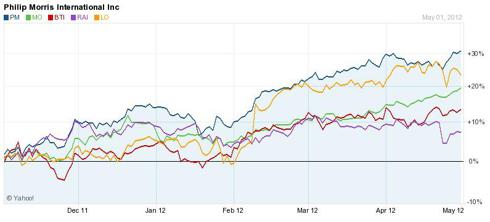 (Source: Yahoo Finance)
So where does the valuation sit today? Well, it is a bit higher than most of its peers. The following table shows price to earnings multiples for the group of five, based on current expectations. Price data is as of 9:55 eastern time, Wednesday morning. There are currently no 2013 expectations for BTI out yet.
| | | | | | |
| --- | --- | --- | --- | --- | --- |
| Valuations | PM | BTI | LO | RAI | MO |
| P/E (2012) | 17.01 | 15.28 | 15.36 | 13.82 | 14.67 |
| P/E (2013) | 15.33 | N/A | 13.83 | 12.86 | 13.74 |
Philip Morris is now trading at a considerable premium to the rest of the industry. Is that justified? Well, to determine that, let's look at the expected revenue and earnings growth for these names for this year and next. Again, there are no current 2013 estimates for BTI.
| | | | | | |
| --- | --- | --- | --- | --- | --- |
| Growth | PM | BTI | LO | RAI | MO |
| 2012 Rev | 3.3% | 6.1% | -27.0% | -0.5% | 4.2% |
| 2013 Rev | 5.4% | N/A | 5.9% | 0.8% | 1.0% |
| 2012 EPS | 8.4% | 10.5% | 10.2% | 5.0% | 7.8% |
| 2013 EPS | 11.0% | N/A | 11.1% | 7.5% | 6.8% |
Philip Morris shows decent revenue growth, and earnings growth is towards the upper end of the group. However, is that growth worth the premium you are paying for shares right now? At this point, I would say no. I'll get to my valuation figure in the following conclusion.
Conclusion - Wait for a pullback:
Philip Morris has rallied nicely in recent months, but I think shares are a little expensive at this point. In fact, just two weeks ago, research firm Jefferies boosted their price target on the name from $89 to $91, saying that the firm is firing on all cylinders right now. However, the firm said that valuation is an issue right now, and they expect shares to trade sideways for the next few months. While the average analyst recommendation currently is a slight buy (4 have strong buys, 6 have buys, 7 have holds, 1 has underperform), the average price target is just $90.94, or about a percent higher than current levels.
Philip Morris is currently trading at 17 times expected 2013 earnings. My recommendation is an entry to the name at 16 to 16.5 times earnings, which gives a range of $84.64 to $87.29. Shares have rallied a bit recently. I do expect a very good dividend increase, and they are going to buy back plenty of stock this year. When the analyst group starts citing high valuation, the name has had a tendency to pull back a few bucks. Use that opportunity to pick up some shares, but don't overpay for the name.