A run in silver prices last month sent iShares Silver Trust (NYSEARCA:SLV) right up the Sector Momentum Table, helping the fund climb 20 spots between October 13 and its position at number 10 last week. SLV's market return for the month through November 14 beat every other iShares fund on the table, as the fund surged 5.62% while most funds on the Table lost ground.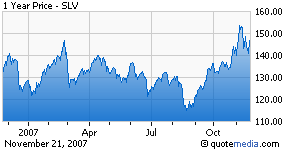 Whether SLV can continue its rally is up in the air— along with so many things in today's financial markets. SLV has a good chance to climb farther up the table if fears of higher inflation and a weaker dollar continue pushing investors into precious metals. But SLV's bull run may come to a close if Wall Street loses its appetite for highly volatile investments.
SLV is the older of two U.S. ETFs offering direct exposure to silver— that is, offering ownership of the metal rather than of stocks in mining companies or other firms poised to benefit from strong silver prices. By investing in SLV, shareholders take a direct stake in 145 million ounces of silver bullion stored at a London branch of SLV's custodian, JPMorgan Chase. That silver was worth $15.82 an ounce as recently as November 7— quite a jump from last summer, when prices averaged less than $13. Prices did pull back to $14.22 on Monday as risk-averse investors fled any holding with even a whiff of potential volatility.
Silver doesn't typically attract investors looking for high returns or stability. Rather, investors seek out silver because, like other precious metals, it generates returns that are almost completely independent from the broad stock market. In fact, certain economic events that depress stock prices may be a boon for silver— for example, quickly rising inflation may lead to a stock market sell-off even as investors scramble to buy up hard assets.
The three-month period ending June 26, 2007, provides a good example of silver's low correlation with the stock market: The S&P 500 gained about 4% for that period, while SLV lost almost 9%. The three months ending November 16 provide another case in point: SLV soared about 23% while the S&P 500 registered a gain of less than 1%.
Such divergent returns and silver's tendency to benefit from higher overall prices mean that a small stake here may help diversify your portfolio while hedging against inflation. A silver allocation certainly would have boosted returns recently, as stocks swooned due to messes in the credit market and as subprime mortgage messes and lower interest rates, a weaker dollar and soaring oil prices raised the specter of higher inflation. Indeed, silver has a track record of strong performance during periods when the overall economy sours and inflation soars: The metal's value steadily increased during the stagflation of the 1970s, finally peaking out in 1980 at almost $50 an ounce. (Prices subsequently plummeted as inflation declined and the economy went on a historic tear.)
Silver's recent rally didn't come out of nowhere. This fall's highs represented peaks in a six-year surge. Prices began moving upward in 2000, when silver averaged roughly $4.50 an ounce, and gained momentum during the last three years. Silver's resurgence led iShares to launch SLV in April of 2006 to give retail investors an easy way to take a direct stake in the commodity without storing bullion in their basements. Investors took the bait: By last week, about a year and a half after inception, the fund had accumulated more than $2 billion in assets. Those who jumped in early got a strong reminder of just how volatile precious metals can be, however: The fund took an 18.5% dive during June 2006, only about a month after its inception.
Silver's performance historically has shown a strong correlation to movements in gold prices. But there is considerably more industrial demand for silver than for gold, tying it somewhat more directly to trends in the overall economy (and potentially making it a bit less volatile than gold or similar metals). In recent years silver has been used in a wide range of new products, and scientists currently are exploring new applications for the metal in the production of batteries, semiconductors and other technologies. Moreover, booming emerging economies are increasing demand for silver along with other raw materials. Those developments have helped silver investors absorb the rise of the digital camera, which has undercut the production of camera film (made using silver).
A small allocation to silver may serve as an effective means of preparing for market slides and hedging against unforeseeable economic catastrophes. Keep the emphasis on small, though. Precious metals do not offer stocks' long-term growth potential, they often produce wild gyrations (such as SLV's more-than-6% loss for the week through November 14) and they can lag other investments for decades at a time. And with silver currently trading near 20-year highs, it's worth wondering how long prices can rise before they are due for a sharp correction.