Weeks ahead of its IPO, Facebook's (NASDAQ:FB) valuation on private markets is around $104 billion. The recent Instagram deal values Facebook around $104 billion and according to TechCrunch, Facebook prepares its IPO for May 17, also at this valuation. Is Facebook's valuation fair at that price ($40 per share)?
Facebook waited several years before becoming public with private investments from VC such as Russian Yuri Milner. Some metrics prove that Facebook could not wait any longer.
Quarterly revenue growth is now in a downward trend. Revenue Growth is no longer exponential. Growth concerns may make some investors less likely to keep the stock over the long term.
Spending roughly doubled over the past 12 months, outpacing the 45 percent revenue increase during the period.
Seasonal impacts may be more pronounced in the future.
Facebook still has not found out how to make money in some international markets where it is growing the fastest, such as Brazil, India, and the Philippines.
It still has not found out how to make money in mobile or e-commerce
(Click chart to enlarge)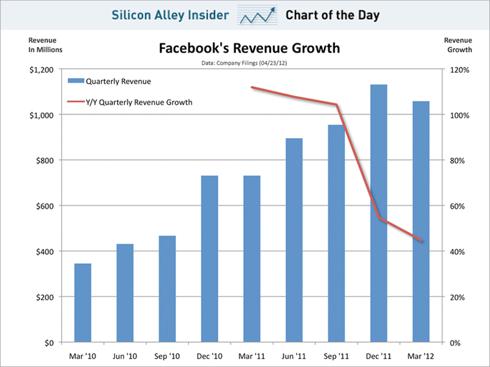 Click to enlarge
Other issues
Yahoo (NASDAQ:YHOO) is suing it for patent infringement even as the social networking company tries to beef up its intellectual property arsenal. It would pay $550 million for hundreds of patents from Microsoft (NASDAQ:MSFT). The deal gives social network Facebook 650 patents and patent applications and licenses to another 275 patents and applications. It comes shortly before Facebook is expected to have the largest initial public offering in Silicon Valley history. In March, it acquired 750 patents from IBM.
Yahoo sued Facebook earlier this year, claiming that Facebook had infringed 10 Yahoo patents, including several covering online advertising technology. Facebook counter sued Yahoo in April, accusing Yahoo of infringing 10 of Facebook's patents.
Zynga (NASDAQ:ZNGA) may be becoming less reliant on Facebook, with more revenue coming from other platforms, like mobile. Facebook estimated Zynga contributed 12 percent of its revenue for all of 2011. Thus, Facebook has less power over one of its key suppliers.
The opportunities
Facebook has 900 million active users and half a billion use the site daily, which is a very high level of engagement. Facebook's mobile users also increased, surpassing 500 million mobile users as of April 20.
Facebook's revenue for the first quarter of 2012 hit $1 billion, up more than 44 percent from the same period a year earlier.
Facebook gets most of its revenue from advertising, but has a Payments business centered on Facebook Credits, a virtual currency used mainly to buy virtual goods within social games. The recent fast growth of this virtual currency could be a fad in social games but it also could be recurrent revenue in other applications, such as e-commerce.
Facebook gets a cut of up to 30 percent from virtual goods sales on its platform. "In the future, if we extend Payments outside of games, the percentage fee we receive from developers may vary," the company said in its IPO filing. Some investors expect e-commerce to be a major area of expansion for Facebook. Some industry experts said that if Facebook Credits were used for purchases of physical goods, the company's cut would have to be a lot lower than 30 percent.
Asian handset maker HTC (OTC:HTCXF) is working on a new Android-based Facebook phone, according to Digitimes. HTC could launch the phone as soon as the third quarter of this year. HTC has made phones with Facebook functionality in the past, the Salsa and the Chacha, but this phone sounds like it will have deeper integration - "a platform exclusive to Facebook," as Digitimes puts it.
Another growth initiative, which could potentially accelerate its revenue growth rate again, is the new premium ad unit in the news feed. It could deliver a few billion dollars a year based on one analyst's estimation. In 2013, some believe in the creation of third-party ad network like that of Google's (NASDAQ:GOOG) AdSense. Google derives around 30% of its revenues from third-party websites.
Recent revenue drop and a net income decline
Facebook's payment-related revenue has flattened. The fall in net income is also a bit more worrisome. It includes rapidly rising costs for marketing and other expenses. The main reason for its lower profit was higher costs, particularly for marketing: Costs related to marketing and sales more than doubled to $159 million from $68 million a year earlier - almost as much as the company spent in all of 2010. In total, Facebook's cost of revenue climbed by more than 65 percent compared with the same quarter in 2011.
Its monthly active users rose by about a third, and so did its ad revenue.
In the U.S and Canada, the social network says it has raised prices. And in Europe, prices are down because of "continuing weak economic conditions in that region." In Asia and the rest of the world, where Facebook is growing faster, prices are lower to begin with.
Ad revenue dropped 8 percent from the last quarter of 2011 to the first quarter of 2012. And it showed a similar drop the year before.
Decelerating Revenue Growth. Facebook revenue grew 45% in 1Q12 versus 55% in 4Q11, 104% in 3Q11, and 108% in 2Q11. Some analysts believe it is unlikely that meaningful re-acceleration of revenue will occur this year as there are not many indications the company will release a meaningful number of new premium ad products.
Growth Investments Hurting Near-Term Profits. The company reported a free cash flow loss of -$12M in 1Q12 versus a gain of $192M in 1Q11, driven by a significant increase in capital expenditures related to building data centers and storage capability. There could be more investment in the future due to growth in emerging markets.
Less Than Expected Traction From Premium Ads. Many advertisers are finding comparable ROI on the cheaper self-serve marketplace ads. It could be a long-term issue. However, by becoming an infomediation player Facebook could reverse this trend.
Lower EBITDA Margin. The company reported higher-than-expected expense margins across most lines, with the largest increased coming from sales and marketing and product development.
How can it extract more value from its existing users?
Facebook makes a remarkably tiny amount from each of its user: about $5 per year. This is a low number, considering over half of those users visit every day. And while the amount Facebook makes from the average user rose in the most recent quarter, it only grew by 6 percent. The biggest issue about the social network is whether it can grow in any substantial way from its already massive base. As GigaOM suggests, growth has to come by increasing the revenue it gets from each user. It may need also to spend heavily internally or externally for reaching users, such as in the Instagram deal.
Facebook's stock could drop three to six months after shares of the social media giant start trading, following the expiration of a lock-up period that comes with an IPO, such as LinkedIn's (NYSE:LNKD) IPO. A lock-up applies to people holding majority stakes in the company at the time of an IPO, typically a three- to six-month period during which they are forbidden to sell any of their shares. The lock-up prevents the market from being immediately flooded with company stock.
Conclusion
Similarities with Amazon (NASDAQ:AMZN): both are excellent companies and long-term prospects are huge, but actual valuation is well priced. Thus, short-term potential could be moderated.
Long-term prospects can be attractive if business the model is fine-tuned in order to become a better infomediation player and extract value from premium ads and launch a third-party network like Google's AdSense.
A big opportunity resides as an e-commerce facilitator.
LinkedIn fine-tuned its model to get parts at the recruiting industry a la Software is eating the world. The professional social network IPO could have similarities with Facebook: short-term pressures but return to growth in few months.
Internet advertising spending is catching up in the proportion of overall advertising spending. Some analysts mentioned the discrepancy between the amount of time people spent on the Internet and the lower proportion of advertising spending for the internet versus other media such as TV, radio and newspapers.
To conclude, I think the Facebook IPO will be successful. However, the stock will face short-term pressures after a few months with the end of the lock-up period. It could be wise to enter and get out quickly. On a long-term perspective, Facebook has numerous growth avenues. The business model is not similar to Groupon (NASDAQ:GRPN) with thousands of copycats. It is more like LinkedIn (LNKD) with some decent competitive advantages. However, whether those advantages are sustainable in the long term is another question.
If Facebook executes properly in extracting more value from its subscriber base, from mobile services, from e-commerce and also from international markets, and becomes also an efficient infomediation player, it could have a P/E ratio similar to Amazon in the long term (190x).
Disclosure: I have no positions in any stocks mentioned, and no plans to initiate any positions within the next 72 hours.