Mobile devices today are just another appendage for many of us. They do it all, from waking us up in the morning, to giving us driving directions, to recommending restaurants and checking sports scores. It was just a matter of time before we started using them to pay for coffee. If the credit card didn't do its best to kill cash, mobile payments will probably finish it off. The mobile payment landscape is still fairly new, but it's vastly expanding and rapidly changing. Everyone wants in on the action, from retailers to payment processors to app developers. Mobile-payment transactions will exceed $170 billion by 2015, compared to about $60 billion last year, according to Juniper Research. Many of the systems employ "near field communication" (NFC) technology, whereby a smartphone exchanges payment information with a NFC point-of-sale terminal. Others prefer to develop systems that reduce the limitations of conventional point-of-sale and credit card networks. Mobile commerce is here to stay, but exactly how it will function remains to be seen. Let's take a look at some of the players in the industry.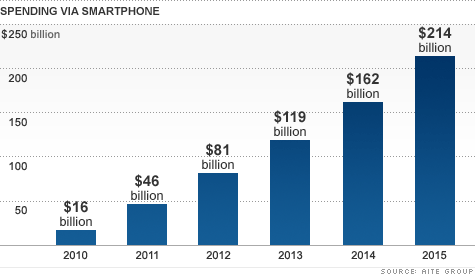 (Source: Aite Group)
Ebay's (EBAY) PayPal
PayPal is rapidly becoming Ebay's most vital unit, contributing 38% of total revenue in 2011. They will try to take their online relationship with 100 million-plus customers into the mobile payments world by expanding digital wallet services to cash registers at retail stores worldwide. PayPal began testing NFC in 2011 and added an aspect to its Android app that allowed customers to trade funds by tapping their phones together. However, PayPal believes NFC can be restrictive for mobile payments by requiring merchants to upgrade registers and consumers to physically visit terminals at checkout. Instead, PayPal aims to circumvent NFC by linking a retailer and a customer with only a phone number and a PIN. They recently rolled this system out at Home Depot Stores (HD) nationwide with the expectation of adding 20 more retailers by year's end. At check-out simply select PayPal, enter a phone number and your PIN and be on your way. No wallet or smart phone required. PayPal's vice president of mobile, David Marcus, recently said in an interview, "By the time NFC catches up, we'll be in a world that will move away from the point-of-sales terminal." They also recently launched the PayPal Here, a device designed to allow merchants to accept credit cards and checks via a plug-in card reader in an enabled mobile device. PayPal expects to process $7B in mobile payment volume in 2012, easily eclipsing the $4B transacted in 2011.
Google (GOOG) Wallet
This allows users to store credit cards, gift cards, and receive sales promotions on their enabled mobile device. In contrast to PayPal, Google Wallet uses NFC to complete payment by letting the customer tap their phone on any Mastercard PayPass terminal at the time of sale. The only phones currently supported are Sprint's Nexus S 4G, LG's Viper 4G LTE, and LG's Optimus Elite, however Sprint plans to introduce up to 12 new phones that support the Wallet by the end of the year. There are two ways to supply money to the Wallet, Citi issued Mastercards and Google Prepaid Card, which can be loaded using any major credit card. You might be wondering how Google makes any money from this, seeing as Citi (C), Mastercard, and Sprint (S) act as the issuer, payment network provider, and carrier, respectively. Google plans to make money by issuing sponsored ads to their customers in the form of redeemable coupons in the store they're shopping along with offers to nearby businesses. Google currently has partnerships with ViVOtech Inc, VeriFone Systems Inc. (PAY), and Ingenico (ING) , which develop hardware and software for point of sale payment systems. Other Google Wallet partners include retailers such as American Eagle Outfitters Inc. (AEO), Jamba Juice (JMBA), and Macy's Inc (M). Its largest competitor, Isis, in collaboration with Verizon (VZ), AT&T(T), and T-Mobile, continues to plod along. Isis now has partners with four major credit card companies, Visa, Mastercard , American Express (AXP), and Discover (DFS), along with several point-of-sale system providers. The Wallet still has some work to do in terms of addressing security concerns and getting additional carriers for the service, but the technology and merchant support is already in place.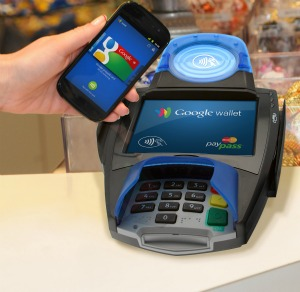 LML Payment System's (LMLP) Beanstream
If mobile payments are going to replace cash by the end of the decade, our neighbors to the north might get there first. Canada is the leader in developing mobile payment methods due to the high accessibility of retailer and consumer NFC technology. Since the technology is widely available, the only speed bump left is a deal between the carriers and credit card companies. Rumors claim that such an agreement is currently reaching the last steps, as Canada's three biggest carriers [Rogers Communications (RCI), Bell, and Telus (TU)] and many Canadian banks are supposedly negotiating deals. A local Canadian processor, Beanstream, which is wholly owned by LML is currently in beta testing for a mobile payment reader that works on iPhone, iPad, iPod Touch, and Android devices similar to that of PayPal's Here and Square. An e-commerce gateway provider since inception in 2000, Beanstream is now expanding to take advantage of opportunities in mobile. Beanstream's President Craig Thomson recently commented on their new venture stating, "The demand for mobile payment technology has grown exponentially over the last year. Our application has been designed to fill the gaps left by competing products. Existing solutions work with either one processor, one currency or one payment brand. We provide businesses with a truly practical solution that supports all major processors, all major currencies, all major payment types and multiple languages in a single complete application. We expect the end result to be a reliable, cost-effective solution not just for entrepreneurs and start-ups, but also for any larger merchants with a mobile sales force." Last year, LML partnered with First Data to drive their payment platforms in Canada. PayPal and LML spurred last year in court over patent infringement for digital check conversions which resulted in PayPal electing to settle the case by paying $7.5M.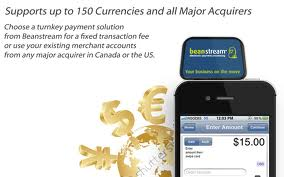 Intuit's (INTU) GoPayment
GoPayment has been on the market for a few years and is starting to gain traction among small businesses. This is a card reader that plugs into a merchant's smart phone and is in direct competition with Here, Square and Beanstream. Intuit has long been popular with small businesses for its financial software like Quicken and Turbo Tax. It only makes sense that those same small businesses will go to Intuit for their mobile payment needs. In April, Intuit acquired Aislebuyer, a Boston-based startup that provides a scalable platform to address emerging retailer needs across the entire shopping experience. This could indicate Intuit plans to take on Google's Wallet for mobile advertisement revenue. Intuit has also spread the service north into Canada in an effort to compete with both PayPal and Canadian based Beanstream.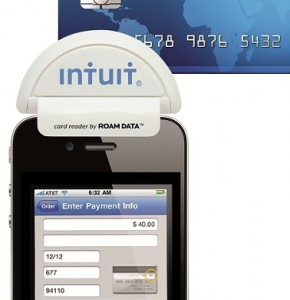 Visa (V)
Visa will launch its version of the digital wallet V.me, this fall in select European regions. Visa's mobile launch in the U.K. will be assisted by MobilePay. The V.me will enable more than just mobile payments by allowing users to click-to-buy on a personal computer, touch-to-buy for mobile internet, and wave-to-buy for point-of-sale NFC transactions. Visa hasn't said when the V.me digital wallet program will be available in the United States. However, when available, it will compete with both the Google Wallet and the Isis carriers.
Mastercard (MA)
Mastercard is trying to corner the emerging markets, but not necessarily with the same methods used in the U.S, Canada, and Europe. The MasterCard Mobile Money Partnership Program is designed to help 2.5 billion people in emerging markets increase financial services through their phones. In emerging markets, the general population does not have access to the traditional bank accounts, but they do have access to mobile phones. Only about half of the world's population have bank accounts, but about 70% have mobile phones. Working with Comviva, Sybase 365 and Utiba, Mastercard allows consumers around the globe to buy goods and services from their mobile device at millions of brick and mortar and online merchants worldwide, in addition to transfer funds and pay bills. The target locations for the partnerships will be in Africa, the Middle East, parts of Asia and Eastern Europe.
It's an interesting time for the mobile payment industry as operators, processors, banks and retailers are staking their claim in the mobile money landscape. It's still too early to say which method and which competitor will come out on top, but one thing's for sure, mobile payments are here to stay.