By Brendan Gilmartin
First Solar (FSLR) is scheduled to report 1Q 2012 earnings after the closing bell on Thursday, May 3. The results are typically reported between 4:05 p.m. and 4:10 p.m. EST and will be followed with a conference call at 4:30 p.m. Note that First Solar shares are down 45.44% YTD and more than 85% over the past year, based on the weakening economic conditions in Europe where the company derives most of its revenues. A drop in subsidies, higher component costs, and more competitive pricing are also taking a toll on First Solar ahead of what is expected to be a critical earnings release.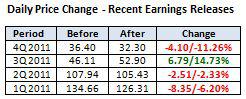 Key Measures:
The company is expected to deliver an adjusted value for EPS to account for the restructuring charges announced in mid-April.
Despite expectations for a pullback on the bottom-line, revenues are seen rising 21.3% y/y.
Given the eroding market conditions, First Solar is expected to downwardly adjust its FY2012 EPS outlook. In late February, First Solar indicated reiterated guidance for earnings per fully diluted share of $3.75 to $4.25, excluding any impairment and restructuring charges. Should the company leave that range unchanged, it may bode well for the shares in light of the rather cautious backdrop.
Earnings are forecast to come in at $0.59 per share, according to Street estimates (Source: Yahoo! Finance), down from $1.33 in the year ago period. A beat on the bottom line could bode well for First Solar. Revenues are projected to come in at $688.21 million.
Following the recent sell-off, downside may be limited in response to the 1Q 2012 earnings release due to the heavy short interest - representing approximately 46% of the float (as of April 13, 2012).
Recent News
04/23: Maxim Group cut First Solar from Hold to a Sell rating with a price target of $9, according to a post on StreetInsider.com. The firm cited higher component costs, a tougher pricing environment, and capacity cuts.
04/18: Citigroup lowered its price target on First Solar from $45.00 to $28.50, according to Benzinga.com, due in large part to cost challenges. The firm rates the shares a Neutral.
04/17: First Solar announced it is restructuring its operations in response to "deteriorating market conditions in Europe and to reduce costs and align its organization with sustainable market opportunities." The result will be a workforce reduction of 2,000 positions, or 30% of the workforce. The restructuring initiatives are expected to reduce First Solar's costs by $30-60 million this year and $100-120 million annually going forward.
Technical Review
First Solar shares have been hit hard over the past year, dropping more than 85%. While the momentum is clearly on the downside, the Relative Strength Index slipped below 30 - a level signaling oversold conditions, while the shares are trying to establish support near $18. With no support in sight, resistance is near the 20-Day SMA close to $20.00 in the event of a positive reaction, followed by the 50-Day near $25.00. Note that high short interest may limit the downside. (Chart courtesy of StockCharts.com)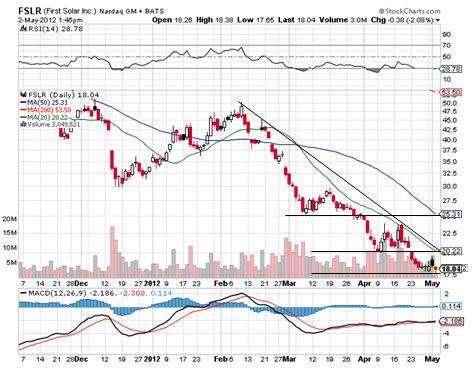 Summary
First Solar shares have come under heavy pressure in the past year, due to deteriorating market conditions in Europe, rising input costs, tightening margins, and lower overall demand. However, the company recently unveiled a series of restructuring and cost-cutting initiatives, including plant closures and layoffs to help the company navigate through a tougher marketplace. With that being said, downside may be limited, particularly with such high short interest.
Disclaimer: By using this report, you acknowledge that Selerity, Inc. is in no way liable for losses or gains arising out of commentary, analysis, and or data in this report. Your investment decisions and recommendations are made entirely at your discretion. Selerity does not own securities in companies that they write about, is not an investment adviser, and the content contained herein is not an endorsement to buy or sell any securities. No content published as part of this report constitutes a recommendation that any particular investment, security, portfolio of securities, transaction or investment strategy is suitable for any specific person.