In our previous post on Perficient Inc. (NASDAQ:PRFT), Perficient 3Q Indicates Good Upside Potential, we spoke about how the company is in a strong position to "boldly move ahead with its acquisitive growth strategy." On November 23, PRFT announced the acquisition of ePairs Inc. for $5M ($2.5M cash and $2.5M stock).
For PRFT, the acquisition is the 12th since 2004, and the fourth in 2007. This year, Perficient acquired E-Tech Solutions, Inc., Tier1 Innovation, LLC and Boldtech System, Inc. The acquisition for Tier1 deepened PRFT's expertise in the Oracle-Siebel product suites. PRFT has furthered its strength in Oracle-Siebel CRM technologies with the acquisition of ePairs, Inc., which provides CRM software implementation services. ePairs has a technology consulting recruiting office in Chennai. This will help PRFT to scale up its H-1B consulting staff in the supply constrained Oracle-Siebel CRM consulting talent.
With an access to $50M of unused credit facility, PRFT will not find it difficult to finance the acquisition. This acquisition, expected to be immediately accretive to cash earnings per share, is expected to increase PRFT's annualized revenues to nearly $250M (PRFT revenues for the four quarters starting Q4 '06 through Q3 '07 - $205M). The company, during the Q3 earnings call, mentioned that it will pursue more enterprise accounts in 2008. The deal brings in enterprise customers like Volvo and Farmer's Insurance.
The acquisition also provides PRFT access to other organizations like Cisco (NASDAQ:CSCO), Kemper Insurance, American Cancer Society, Symantec (NASDAQ:SYMC), Metro Works and GE Power (NYSE:GE). We have maintained in our previous blog that an upside is certainly possible on PRFT. The ePair acquisition further strengthens this view.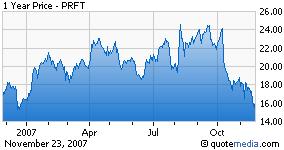 Disclosure: none