Safety Insurance Group, Inc. (NasdaqGS: SAFT) provides private passenger automobile insurance to the commonwealth of Massachusetts. Safety offers property and casualty, homeowners, commercial automobile, fire, umbrella and business owner policies. Safety was founded in 1979 in Boston, Massachusetts.
Safety is currently priced at $35.52. This represents a 35% decline since its 52-week high of $54.78. This decline is primarily due to the softening - increased underwriting capacity which drives down prices - of the insurance market and the mandated 11.7% reduction in premiums that all Massachusetts auto-insurers are required to make during 2007. As you can see in the graph below, the 11.7% reduction had quite an affect on Safety's share price; dropping it from the low $50s to the low $40s in the first quarter of 2007.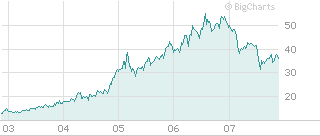 These premium reductions are nothing new for auto insurers in MA. In 2006, rates were reduced by 8.7%. In fact, it's been nearly 30 years since MA had a completely market-based insurance system. The insurance system in MA is arguably the most heavily regulated in the country and is the only state where the government decides the premiums insured's will pay, not the insurer. Obviously this is not good for insurance companies operating within MA, and is the reason why Geico, Allstate, and Progressive refuse to write coverage there.
While there are many valid arguments against Safety outperforming the S&P 500, we believe that there is an abundance of evidence that shows that Safety will not only outperform, but may very well net investors a substantial gain in the next 52-weeks.
Long Term Prospects
Starting in 2008, Massachusetts will ease regulations imposed on auto insurers. Rather than the state determining the premiums, the new regulations allow insurance companies themselves to submit their proposed insurance products and rates to regulators.
This means that rates, which are currently the same for all drivers, will go down for good drivers and up for the bad drivers. In addition, the new system will create a market with better products, services, and pricing. This will benefit both MA drivers and those insurance companies that have thrived in the tightly controlled MA market.
Not only will Safety benefit from the ability to choose their own pricing based on driver risks, they will benefit from increased visibility in the MA market by the larger players. The large auto insurers in MA, including names such as The Hanover Insurance Group, Travelers, and Commerce, might beef up their market share by buying Safety, which has 11% of MA auto market share.
It is also possible that national insurers such as Geico, State Farm and Allstate, who have virtually no presence in MA, will buy Safety at these depressed levels to jump start their MA auto business.
Financial Strength
As the MA auto reform starts to unfold itself, Safety could spend some of its $30 million cash on new marketing campaigns to get consumers to purchase higher premium plans.
Safety Insurance is extremely cheap right now. The board of directors at Safety agrees, and authorized a $30 million buyback of Safety shares in August of 2007. One of the hallmarks of good management is buying back stock when it is at depressed levels, rather than at extremely high levels.
Dividend Record and Rate
Not only do you get Safety at a price that is extremely low, you also get a 4.4% dividend.
Safety has paid out dividends every single quarter since going public in 2003 and has increased the dividend 5 times in 4 years, with the most recent increase from $0.25 per share to $0.40 per share, a 60% increase.
52-week target
With the $30 million buyback, the increased dividends, and Safety's growth in the new MA insurance system, it is very unlikely that they will under perform the S&P 500. We believe that shares of Safety will see $42 before the end of 2008, representing a 23% gain.