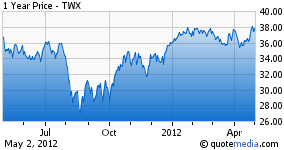 Whether it's the Sherlock Holmes series or the Harry Potter series, Time Warner Inc. (NYSE:TWX) is killing it at the moment, with revenues getting bigger still with the increased exposure in the mobile platforms. Needless to say, its operating margin of 20.04% is still higher than that of News Corp's (NASDAQ:NWSA) 12.5%, Comcast's (NASDAQ:CMCSA) 19.2% and Walt Disney's (NYSE:DIS) 19.67%. Not to mention, its dividend yield of 2.74x is comparatively higher than Viacom's (NASDAQ:VIAB) 2.15x and CBS's (NYSE:CBS) 1.2x. Functionally speaking, Time Warner impressed me.
It shows in the fact that since the last six months, the price of a Time Warner stock has shot up by over 12%.
Technically speaking …
In the recent first quarter report, the company's revenues rose by 4% to $7 billion, which was partly fueled by people's dissatisfaction with Netflix nonetheless. Price can be a factor, remember. While the adjusted operating income went up by 6%, the company is sitting still. It repurchased 24 million shares for $889 million year-to-date through April 27, 2012.
Even in the previous year s annual report, yearly revenues went up to $29 billion in 2011 compared to $26.9 billion in 2010. Even operating income improved by 7%. Looking at the balance sheet, the current ratio lingers around the standard 1.5x margin. And from the cash flow statement, it seems the company is actively utilizing capital for the repurchase of common stocks, not to let capital sit idle on its own!
Drawing a conclusion from the investment reports alone, one can predict stock price rise in the coming few years.
On the business front …
In May 2011, Jeffrey L. Bewkes, CEO and Chairman of Time Warner Inc., took a clever decision of acquiring Flixster, a highly popular movie discovery application company with over 25 million worldwide users per month. The acquisition also includes Rotten Tomatoes, a top website devoted to film reviews, information and news. Under the terms of the deal, Flixster will continue to operate independently and will expand its services beyond movie discovery to enable digital content ownership and delivery across any connected digital device.
With the acquisition of Flixster and the consumer application "Digital Everywhere", I would say that Time Warner group is well on its path to capture the online craze these days and ever-increasing HUGE online market as soon as possible!
If you are looking for value investment, Time Warner might be a good fit for your long-term portfolio.
Disclosure: I have no positions in any stocks mentioned, and no plans to initiate any positions within the next 72 hours.