I like a sale, not just at the mall, but in the markets! Most investors shy away from markets and equities when they head lower for fear of "catching a falling knife." There are lots of old adages created to dissuade investors from stepping up to the plate and buying equities when they are cheap. We have all heard them; "the trend is your friend', "strong stocks get stronger" and "don't try to pick bottoms." These may all have some merit but everything is situational and there is one saying that trumps them all; "buy low and sell high!" On Friday of last week, Maxwell Technologies (NASDAQ:MXWL) and Allscripts Healthcare Solutions (NASDAQ:MDRX) crashed in uncannily similar fashion and I stepped in and bought a little of both seeing opportunity in the wreckage. In the first of two posts we look at the opportunity in Maxwell Technologies. There are sure to be yet unannounced subjects for future installments of When Stocks Blow Up. Hopefully you or I don't currently unknowingly own Part III.
(Click chart to enlarge)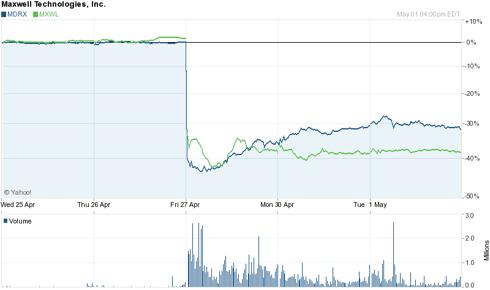 *Source Yahoo Finance
Maxwell Technologies
Maxwell Technologies, Inc. is a leading developer and manufacturer of innovative, cost-effective, energy storage and power delivery solutions. The company's primary offerings are ultracapacitors, or UCs, for energy storage in a wide range of applications, including hybrid buses, trucks and autos, backup power and power conditioning for wind turbines. Unlike batteries, ultracapacitors charge and discharge very quickly to offer bursts of power as required. This technology has a variety of green energy applications in combination with batteries to buffer current and voltage spikes and sags that shorten battery life. In wind turbines these devices provide burst power to adjust turbine blades and in UPS solutions, provide 'Bridge power' to ensure continuous operation of critical systems during momentary grid power failures until primary backup power comes online.
Ultracapacitors are also capable of capturing and storing recuperative braking energy for re-use, reducing fuel consumption and emissions in hybrid-electric drive systems. This technology is finding real world use as more than 5,000 UC-based hybrid buses are in daily "revenue service." Also, Global Tier 1 automotive supplier Continental AG selected Maxwell ultracapacitors to power its innovative stop-start idle-elimination system for PSA Peugeot Citroën's diesel auto platforms. PSA expects to sell one million ultracap-equipped autos by 2013 and expects to transition the system into gasoline powered models in the future. Maxwell's technology allows PSA to achieve fuel economy improvements of 15% in urban driving while reducing CO2 emissions to comply with EU mandated standards. All this while using a 30% smaller battery, extended battery life and achieving "every time" restarts in all conditions.
The advantages of Maxwell's technology are being recognized by the market as adoption is growing rapidly, as is the company's revenue. Annual revenue has increased almost threefold over the past 5 years from $57 million in 2007 to over $157 million in 2011. The one knock against the company, and granted it is a big one, has been profitability. While revenue has increased dramatically, 2011 was the first year the company was able to show a small profit. When the company reported Q1 2012 results last week, the market was expecting good things, but the company didn't deliver as expected. Results were generally in-line but guidance was reduced from 30% annual revenue growth to 15%-20% causing the stock to crater over 40%.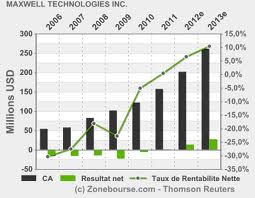 I stepped up and took advantage of the 40% markdown in the shares to establish a small position at $9.04 as I believe there is long-term value in Maxwell's technology. Garvin Jabush, the Cofounder and CIO of Green Alpha Advisors concurs and had this to say in reaction to the sell-off:
Still, the long term growth story remains fantastic. As you and other folks who study the next economy space are acutely aware, energy storage, delivery and management are fundamental next economy needs, and Maxwell is one of the firms with a reputation for providing quality solutions as well as next-gen solutions like ultra-capacitors. Growth expectations for the space are all over the yard, but even low end estimates are above 50% longer term, so we don't expect Maxwell's revised near-term 15% annual growth rate to last forever, and one could argue that the time to invest is before they raise it again.
Insiders seem to agree too as on Monday, Maxwell's CEO and President, David Schramm also dipped a toe in the water buying 5,000 shares at a cost of $10.04 each for $50,200, marking his first buy in the past 12 months. After the decline the company's market valuation is roughly $275 million. It is now expected to generate 2012 revenue of $187 million and earnings of .34/share. In 2013 growth is expected to remain at close to 20% as revenue is anticipated to be $232 million and earnings .68/share. With $30 million in cash and roughly $10 million in borrowings, I believe the shares represent good value at current levels. As investors regain confidence in this steady grower with market leading technology, we apply a conservative PEG ratio of 1 to 2013 projections and the shares should trade over $13 in the next 12-18 months for almost a 50% gain.