In the face of an extremely difficult market environment, we searched for a new small cap stock with all the right defenses: market leadership, demand, growth, value, visibility, technical momentum, lots of cash, zero debt and a risk/reward profile with built-in upside and a measured downside. We think we found it all in this week's selection, with one exception... it's in China. WAIT! Before you change the channel, hear us out.
ShengdaTech, Inc. (nasdaq: SDTH) operates in two segments vital to a number of important economic industries. The Company's chemical's segment is a steady cash cow helping fund their exciting and rapidly growing nano-materials business, primarily the production of Nano Precipitated Calcium Carbonate (NPCC).
What is NPCC? For years, industries have used fillers like precipitated calcium carbonate [PCC] as a means of reducing material cost while increasing functional benefits, but SDTH is one of the first producers of PCC broken down to nano-sized particles. NPCC is used as an additive in tires, PVC, latex, paints, paper, printing ink, etc. The Company's NPCC production for tires currently dominates the market in China, but demand is coming from everywhere. So much demand, in fact, that SDTH is having a tough time building out enough capacity.
In 2003, SDTH had 30,000 metric tons of annual capacity. In August 2006, they built a new plant and added 60,000 tons. This summer, they added another 40,000 tons. Now, SDTH is in the process of completing another 60,000 tons of capacity. This additional capacity, expected online in 1Q08, will bring their total to 190,000 metric tons annually, and make SDTH the largest NPCC supplier in China. The way we see it, the only obstacle to continuing strong, high-margin, double-digit growth is keeping up with demand.
Now, does the marketplace understand the story? In our opinion, NO!
Currently, The Company's Enterprise Value is just over 13-times FY07 earnings and a ridiculously low 10-times next year's earnings. Of course, the market is probably relying on guidance from June that SHOULD have been bumped higher in last week's earnings release, but it was not. In the near-term, we believe SDTH has the potential for a significant upside surprise in 4Q07.
In the long-term, we think the stock could more than double by the end of FY08 based on conservative growth estimates incorporating new capacity and relative peer multiples. The game beyond that will be based on ever-increasing new markets for NPCC and the Company's ability to keep up with demand without losing their leadership position.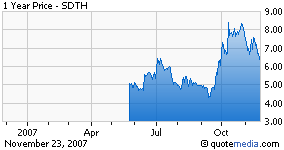 Disclosure: none