There is a new Prime Minster in Australia. Kevin Rudd is replacing John Howard, who was in the office for almost 12 years. So why am I talking about some political news out of Australia on an American financial blog? Well it all has to do with the environment.
Kevin Rudd is considered a lot more environment friendly compared to John Howard. His Labor government has set a 20% renewable energy target by the year 2020 and he is also a supporter of the Kyoto protocol.
Although, a number of companies in the Alternative Energy sector will benefit from this, I believe Suntech Power (NYSE:STP) might benefit the most.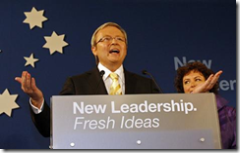 Here's a little background about Suntech Power founder Dr. Zhengrong Shi (pictured):
Prior to founding Suntech in 2001, he was a research director and executive director of Pacific Solar Pty., Ltd., an Australian PV company engaged in the commercialization of next-generation thin film technology, from 1995 to 2001. From 1992 to 1995, he was a senior research scientist and the leader of the Thin Film Solar Cells Research Group in the Centre of Excellence for Photovoltaic Engineering at the University of New South Wales in Australia, the only government-sponsored PV industry research center in Australia.
Suntech Power already has a presence in Australia and even does collaborative research with University of New South Wales. The company even donated $1.5 million towards solar and renewable energy research at the University of New South Wales.
Excerpt from Q3 2007 Conference call (via SeekingAlpha):

Pavel Molchanov - Raymond James
A question from Dr. Shi; Dr. Shi, you stated in the media a few months ago that if the Australian creates renewable energy incentives, you would consider creating manufacturing capacity in Australia itself. A, do you believe that is a likely scenario? And two, would you actually considering developing manufacturing capacity outside of China, either in Australia or elsewhere?

Dr. Zhengrong Shi

Well, we feel confident that the Australian Government, either the existing government or the opposition party, they both have announced a new regulation to promote solar, so Suntech actually is in the process to form an Australian team. That's one part, and we believe that when the demand volume reaches a certain mass, we do consider to form a manufacturing capability in Australia.

And also in other parts of the world when we reach a multi-gigawatts and we have to open our production line or a factory close to the market. That's our general thinking.
We will have to see if and when the new government starts to deliver on its promises of Renewable Energy but Suntech Power's strong Australian connections gives them an edge.
Disclosure: I am long SunTech Power.