A broad definition of socially responsible investing is any investment strategy which seeks to consider both financial return and social good. So once an investor has decided this is an appropriate strategy, the next challenge is to identify SRI companies or investment options.
The Female Health Company (NASDAQ:FHCO) fits my working definition of socially responsible investing. First, let's look at the "social good" part. The Female Health Company manufactures, markets and sells the FC2 female condom, which provides dual protection against unintended pregnancy and sexually transmitted infections (STIs). During the recent quarter an economic analysis of the cost-effectiveness of an FC2 HIV/AIDS prevention program in Washington, D.C. was conducted by Dr. David Holtgrave, Chairman of the Department of Health Behavior and Society at the Johns Hopkins Bloomberg School of Public Health. The findings? The study showed that the program prevented enough HIV infections to save over $8 million in future medical care costs (over and above the cost of approximately $445,000 for the program).
Now let's turn to the "financial return" part of the SRI definition. Here's a 5-year graph of FHCO performance:
Click to enlarge.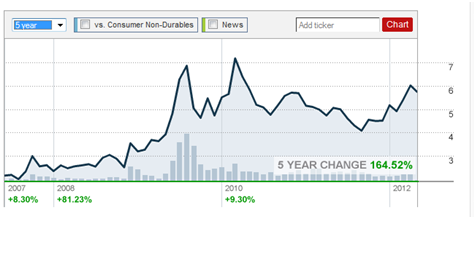 2012 YTD return is 27.27%. On top of the stock appreciation it pays a $.06 per common share dividend, so tack on another 4% over the year. Its past financial performance is impressive, but what about its future? Here are highlights from the May 1st 2nd quarter earnings conference call:
Demand for FC2 is increasing. First 6 months units up 94%; revenue up 84%.
FC2 distribution has expanded to 130 countries and in the US (New York City).
FC2 production will be increased from 85M to 100M by fall of this year.
FHC expects to set company records this fiscal year in sales and operating income.
This is one company to take a look at if you are considering SRI as an investment strategy. As a final note, an SRI strategy should follow the same investing diligence as any other strategy. Read the 10Q and 10K of company; visit the website; get to know your future investment.
Disclosure: I am long FHCO.