I'm hungry and bored, let's go eat and then do something…
Usually this means the traditional dinner and dancing, a movie, a bar, or other socializing event AFTER eating your food.
Well, what if I told you there was an innovative new restaurant concept that combines these two entities into one at the same time AND does away with the traditional restaurant interface of dealing with a waiter/waitress by allowing you to order your food from the comfort of your table via a touch-screen monitor without any hassles AND where you can also play games with others at your table or at other tables on that same touch screen game interface?
Oh, and what if I told you that the food was really good, ranging from healthy choices for those who don't want to break their diets, to more sinful treats for those who do?
Well then my friend, if you really do want to have your cake (literally) and eat it too, welcome to uWink Inc. (OTC:UWKI).
uWink is a brand new restaurant concept headed by CEO Nolan Bushnell, the founder and former CEO of Atari and Chuck E. Cheese's (NYSE: CEC). This was one of the primary factors that intrigued me initially and caused me to look further into this restaurant concept. As we all know, management is probably the #1 factor in a businesses success, and the track record of Mr. Bushnell was certainly high on my list of positives.
In addition, uWink provides delicious modern comfort food made with fresh ingredients ordered via touch screen terminals at the table and served by runners, quickly and accurately.
uWink's at-the-table-entertainment includes a large variety of games, table-to-table interaction, "edutainment", videos and more. The dynamic projected interior provides diners with a cool environment, distraction, and adds to the overall ambiance.
Additionally, the CEO and other insiders have recently purchased a sizable amount of shares in the company and the CEO's family and relatives all own stakes in the business due to prior financing activity.
Put it all together and this combination of great management with an outstanding pedigree, good food, good entertainment, and a high margin restaurant concept attracted me to this investment opportunity.
A New Restaurant Experience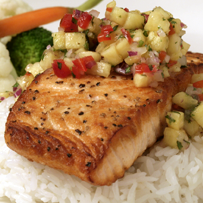 uWink opened their first restaurant in Woodland Hills, CA a little over 1 year ago.
Since that time, they have proven their concept, gotten the kinks ironed out, and have secured funding for the roll-out of 4 more company-owned restaurants, 3 in California, and 1 in Texas, with additional franchise agreements for locations in Florida (3 more locations over a 4 year period), and a 50/50 joint venture in Canada that is expected to begin opening locations in 2008.
The 4 company-owned locations are expected to open in early 2008, with 1 franchised location expected to also open in 2008 in the Miami area.
What's Inside

uWink only has one concept restaurant open, but based on the design of this location, they will be building out all of their locations in the same mold.
Namely, having a dynamic look and feel with warm-inviting tones, rich wood finishes and brushed metal accents to juxtapose the technology features.
uWink uses a variety of lighting to deliver a warm glow throughout the restaurant and they expect to be able to adjust the dining atmosphere throughout the day by adjusting the lighting, music, and the computer-driven images that are projected onto the walls.
In fact, uWink had "24" nights where fans of the hit FOX TV show watched the television show projected onto the walls, and during commercial breaks, customers played trivia games relating to the show on the touch-screen monitors at their tables, where the prizes included free dessert and t-shirts.
uWink is trying to cater to a more diverse crowd of clientele, specifically women that have been underserved in the marketplace with the likes of Dave and Busters and other multi-media games and experiences.
Here is another picture of their Woodland Hills location: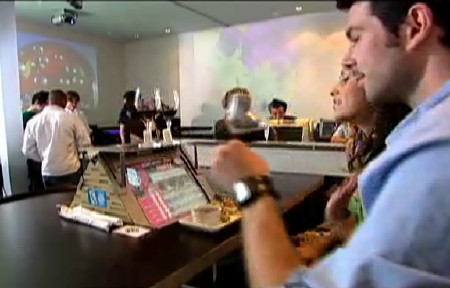 The Games
uWink's proprietary technology creates significant barriers to entry, including cost of development, time to market and decades of game play experience.
In addition, while most of the games are free, uWink is adding more pay-for-play games in which customers can win prizes and compete with others that will also create additional revenue and more importantly for us, expand margins because this revenue is virtually 100% profit since most of the technology has been accounted for.
Here are some screenshots of what the terminal and the game choices look like: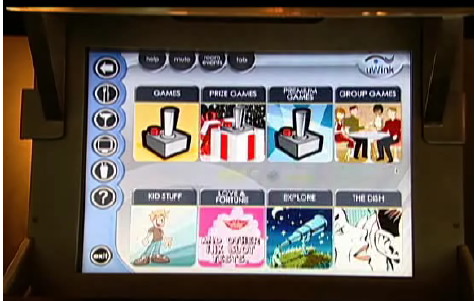 From this menu you can choose a game (there are more), and begin playing. If the game is a pay-for-play game, uWink offers a pre-paid card similar to what Dave and Busters offers, that you simply swipe on the side of the terminals (there are no slots for insertion, its like a key fob) to activate and play these games.
Here's another shot of a set of different games: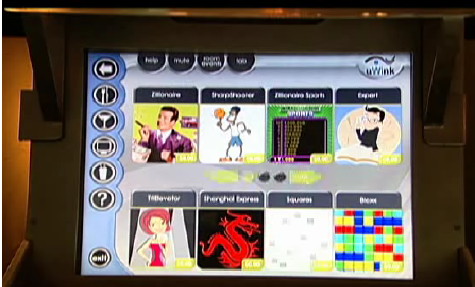 The Food
Ok, I'm getting hungry now. Let's start with a picture of the available food choices at uWink: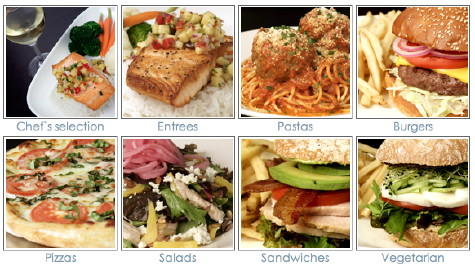 As you can see, you are pretty much covered regardless of your tastes, mood, or budget.
Not shown above is a full dessert menu, appetizers menu, and under 12 menu for kids.
Here's what the ordering interface looks for the burgers selection: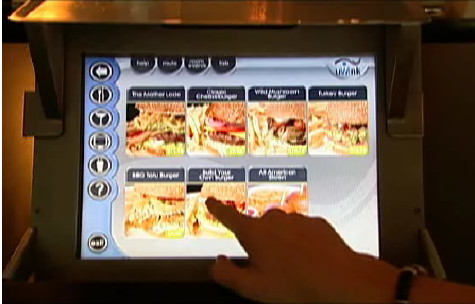 You can see how easy it is to order food and I think it's great to not have to deal with wait staff that can often provide bad service, be overwhelmed with too many patrons, or just bug while you are trying to enjoy your meal.
To me this is a huge drawing feature for a restaurant. To be able to order EXACTLY when you are ready, and know that the order was taken EXACTLY the way you wanted it and that there will be no mistakes is brilliant!
Quick Business Outlook
Now we get to the difficult part.
You see, because uWink has only one restaurant, they really don't have meaningful revenues to speak of or an established track record, although their Woodland Hills location is expected to generate about $2.5 million in gross revenue this year, and projected by the company to eventually generate about $3.5 million in gross revenue per year.
This makes valuation a difficult if not impossible task, and thus why this stock is extremely risky, and subject to extreme volatility.
In addition, because this stock has a small float, trades for under $5 per share and is traded on the pink sheets, it has large bid/ask spreads, is illiquid, and will fluctuate greatly.
Also, in order to continue to fund operations and open new locations, uWink has had to raise capital, and will most likely continue to have to raise capital through the issuance of new stock, thus diluting current shareholder value.
uWink just completed a follow-on offering where they generated about $9 million dollars in proceeds that should be sufficient for them to open up to 6 locations in 2008 without having to tap the equity markets again until late 2008 or early 2009.
This will give us enough time to gauge whether the concept is taking hold, accelerating and has designs on becoming profitable.
This is also why a purchase of uWink shares should be allocated to the riskiest portion of your portfolio, and only a small amount of capital at this time.
According to the uWink prospectus for their follow-on offering, if they had to, the current and proposed locations could become cash flow positive within 18 months if they did not get the financing that they needed, which they did, but this still bodes well for future openings and current restaurants as they reach maturity.
Let's Do a Little Number Crunching
Now all that being said, there are a few things that we can look at in terms of sales projections to get a handle on uWink's valuation, and extrapolate that into the future.
We'll have to do without any sort of Financials, Margin Trends, Cash-Flow statements, etc., because there are none of any meaningful value at this time.
What we can do is anticipate the future revenue of the company, and look at comparable restaurant chain valuations to get a very ROUGH idea of where uWink stands.
Let's start with total store openings: uWink already has one restaurant that has been up and running for about 1 year now in Woodland Hills California. According to the company's prospectus, they plan on opening 3-6 new locations this year that are company-owned.
They talked about already having certain leaseholder agreements in place for 4 new locations, so let's keep it there and assume they open 4 new locations in 2008, and have a total of 5 at the end of 2008.
Revenue per square foot: We can then extrapolate what uWink will be making per square foot for their average restaurant.
In their prospectus, they said they are aiming for about $500-700 per square foot in revenu, with the Woodland Hills Location anticipated to reach about $3.5 million in revenue, or about $650 in revenue per square foot.
In addition, uWink is targeting locations that range anywhere from 6,000 to 10,000 square feet in size. Their newest announced restaurant's square footage is as follows: one in the Howard Hughes Center in California being 9,700 square feet, their recent opening in Mountain View California being 7,000 square feet, and their Woodland Hills location being approximately 5,300 square feet.
As it stands now, it appears that their average square footage per location is running at about 7,500 or so. We'll use this value to be conservative.
Price to Sales (P/S): If we take the above numbers into account, and do some simple math, we get 5 company-owned locations each approximately 7,500 square feet in size.
If we then extrapolate that into annual sales, we get:
7,500 square feet x 5 locations = 37,500 total square feet
37,500 x $600 per square foot in revenue (being conservative) = $22.5 million in gross revenue per year in 2009 (since 2009 will be the first year that all 5 units will be fully operational and providing revenue for a full year's time.)
Because of the latest follow-on offering and share dilution, uWink's market cap now stands at about $22 million, which would yield a P/S ratio of about 1.
Depending on the restaurant chain, this can either be high or low.
For slow growers, a multiple of .3-.5 is typical.
For medium growers, a multiple of .75-1.25 is typical. In fact the CEO's former company, Chuck E. Cheese's has a ratio of 1.08 on a trailing basis, and that concept is not growing that fast at all.
Faster growing chains command a multiple of 2 or higher with Chipotle Mexican Grill having an astronomical P/S ratio of 4.
The industry average is .74.
So based on this metric alone, and bear in mind this is some ROUGH calculating and extrapolation, it would appear that uWink is somewhat undervalued for 2009 full year numbers, BUT could be significantly undervalued (remember we pay for FUTURE performance, not past) if they open more than these 5 restaurants next year and into 2009.
Also, bear in mind that this calculation didn't even take into account franchised locations which are all profit with little cost because the revenue is derived from royalties.
Margins: According to uWink's prospectus, their current gross margin at their Woodland Hills location is about 70%. They anticipate this rising to anywhere from 73-75% as they leverage their model and increase revenue from their pay-for-play games and outsourced software.
I did some checking and this margin level is incredible right now, without increasing it at all.
For perspective, the industry average gross margin rate is 26.6%.
Now to be fair, this is mostly derived from restaurant chains that don't have added revenue sources like uWink does in terms of their pay-for-play games and their licensed software products that they will be licensing to 3rd parties and their franchisees.
So to make the comparables a little more fair, I compared their gross margins to Chuck E. Cheese's (NYSE: CEC), and Dave and Busters who report earnings publicly but are not a publicly traded company, because these restaurant chains more closely mimic uWink's model of food with games as leverage for higher margins.
Looking at these comparables, uWink still does very well. CEC's margins clocked in at 57% while Dave and Buster's margins were an incredible 80% based on 2006 figures.
This leads me to believe that uWink will have no trouble getting to at least 75% gross margins over time, if not more as they leverage all their assets, tighten operating structure, and license and receive more revenue from their games and software both in-store and to 3rd parties.
Why I Invested In the Company
Top-flight management with large stakes in the company: When a company is this small, that has to be the first place you start. Nolan Bushnell, the CEO has a proven track record for starting fledgling companies (Atari and Chuck E. Cheese's among many others) that he is fully invested in, and the rest of the management team is seasoned and has a track record.
Specifically uWink's Chief Restaurant and Development Officer, John Kaufman, and their Director of Restaurant Operations, John Blake, who both have extensive experience with California Pizza Kitchen, with Mr. Kaufman helping CPK grow from a single location in 1986 to over 68 locations before he left the company in 1994.
In addition, according to their prospectus (which might be different now after their recent follow-on offering), the CEO owns about 12% of the company, while all the insiders together own about 25% of the company. That's great news because it means their interests are aligned with ours.
In addition, when uWink was in financial trouble during the last few years, before they became a restaurant chain and dealt in only software, and before they secured the financing they needed to take the business to the next level, Mr. Bushnell and his family and relatives loaned the company money in differing amounts over various time periods.
Mr. Bushnell, his wife, his son, his brother-in-laws and son-in-law, all loaned money to uWink in exchange for stock in the company. Also, instead of accepting payment for their loans in cash, they all wound up taking stock in the company.
Ordinarily this might look a little shady, but because the stock is worth so little, and these members aren't being paid back in cash, I like that everyone is in this together and has a stake in what happens to the uWink franchise going forward. Even if they all bailed right now (and no one has yet of course), they won't be getting much return if any on their initial investments so there is little incentive to cash out.
Management buying more shares in the company: I can't even begin to tell you how big this is. When you have an already large stake in the company, as Nolan Bushnell does, to be buying more shares means you have supreme confidence in yourself, your staff and the business itself to get the job done and become a successful entity, and that your stock is too cheap and represents a bargain that is not being properly reflected by this potential.
According to SEC filings, Nolan Bushnell [CEO], Peter Wilkniss (the CFO) and Kevin McLeod (Director) purchased over 130,000 shares in the recent follow-on offering. In other words, they put in more of their own money towards financing the company for the next year.
In addition, a week or so after that, Nolan Bushnell and Peter Wilkniss purchased another 78,226 and 15,888 shares respectively, on the open market at $1.88 per share, right around where the stock is now!
Mr. Bushnell on his own has put in over $200,000.00 in the last couple of weeks into a stock he already had a sizeable stake in! This gets me excited.
Great Concept: Seeing is believing. uWink's Woodland Hills concept restaurant has been a roaring success, with increasing revenue every single month since inception.
I believe with the combination of food choices, ambiance and entertainment options, uWink presents a great value proposition for people that don't want to play games AFTER or BEFORE they eat, but actually DURING their meal!
I mean, heck, walking around Chuck E. Cheese's and Dave and Busters and playing games is fun and all, but not when you are hungry! I want to be entertained while I eat, not just before and after my meal.
In addition, not having to deal with servers and wait-staff is a huge plus for me. Nothing beats ordering exactly what you want from a convenient touch-screen interface.
Ground floor opportunity: Hey, you can't do any better than buying a company that has only one restaurant open at present! I'm always on the lookout for these types of opportunities to fill out my portfolio, and I believe uWink has its place in a well-balanced mix of stocks.
Multiple revenue streams: How often do you get to invest in a restaurant chain that has multiple revenue streams? Usually it's food and beverages, and that's it. Not so with uWink.
Not only does uWink leverage their software and touch-screen technology to save on labor costs, but they also make money via pay-for-play games and are intent on licensing their software and/or game platforms/terminals to their franchisees, and other 3rd parties. Now that's making the most of your proprietary technology!
Juicy margins: As discussed above, uWink's margins are already fantastic and are only going to improve as they add more locations, license more software technology, and improve operations. Only Dave and Busters has higher margins than uWink will in the restaurant business, and if they can succeed with their concept, because it is so unique and protected, they will stay on top of the heap.
Valuation: Yep, this one is hard to pin down, which is why it's so low on this list, but it definitely plays a part. With a market cap of only $22 million as of this writing (about $1.80 per share), uWink presents an excellent risk/reward rationale.
Potential Risks
Never making any money: You gotta start with the basics. uWink has one location, is opening a few more and is losing gobs of money. There is no guarantee that they will EVER make any money at all. There is a reason why this stock is a penny stock and trades for only $1.80 per share, with a market cap of $22 million.
Operational difficulties: Along those same lines are adjacent risks like not knowing how to best monetize this type of business or business model, the inability of the concept to catch on, the inability to get more money to expand the business etc.
Inability of the concept to catch on: What if people just don't like spending $14-18 per person (average ticket) for some bad food, annoying lighting and graphics on the walls, and dumb games that also cost too much money to play and are hard to win?
What if people get bored and don't come back? Many restaurant concepts are one-hit-wonders and people never come back after their first visit.
It's possible that uWink's success is dependent on setting up shop in more affluent parts of the country (California is a good start), and relying on more tech-focused individuals that are open to its technology. Failure to do so could spell failure for the concept.
Dependence on debt, share dilution to finance the business: This is an easy one…uWink will probably have to tap into the equity markets within 1 year or so, even if their new restaurants do well, because they won't be generating any cash-flow from operations for at least 1-2 years. This means that you have to be prepared for the shares that you own now to be worth less by next year regardless of the stock price because of the dilution.
We can hope they keep this to a minimum, and I'm sure with their vested interests they will try, but it is inevitable that they will need more cash going forward and there's only one place to get it assuming they can't take on any debt from loans or revolving credit arrangements, which is a possibility especially if they show that they are on track for profitability.
Also, with the recent shares that were tendered, uWink also gave the shareholders the right to warrants at $2.40 per share for each share they purchased of the follow-on offering at $2.00 per share. That's essentially 2 shares for the price of one!
This means that once the stock rises above $2.40 (if it ever does), these shareholders basically got free shares of stock for nothing more than their initial $2.00 per share purchase price of the follow-on offering. Be prepared for more dilution as those shares come onto the market and the stock price rises to make it profitable to do so.
Penny stock: Let's not forget one of the most important points before you buy shares in uWink. The shares are very volatile and illiquid and will fluctuate wildly not only from day-to-day, but also within each day's trading session.
This means you'll have to contend with large bid/ask spreads, uneven trading volumes and manipulative market makers and traders that can push the price around whenever they want. Buyer beware!
Other risk factors: Things like options scandals, margin deterioration, losing business, losing customers, increased costs, overall market volatility, etc. Pretty much anything that can go wrong within a business is a risk factor, but the ones listed previously are the main risks to the business, with these being secondary, and possibly primary, risk factors going forward that all businesses need to worry about.
Bottom Line
Companies like uWink present an interesting risk/reward scenario.
There is definitely something here to recommend. With the stock price seeming to be at a low enough level to protect you on the downside, that risk is exacerbated because of its penny-stock status as well as low volume and liquidity.
After accounting for those risks, the business model and fundamentals along with management present a compelling investment thesis that bodes well for a regional-to-national story.
uWink offers great food, affordable prices and a unique table gaming experience that you cannot find anywhere else.
CEO Nolan Bushnell is as seasoned and proven as they come in terms of management, and his interests are aligned with ours proven by his high ownership stake in the company, as well as his outside share purchases within the last several weeks.
When you get that type of confidence, backed up by a proven track record, it bodes well for the company in the near future, as well as the distant future.
A winning restaurant concept, proven and motivated ownership and management, and a unique niche make me feel confident that uWink can not only beat the returns of the overall market, but CRUSH the returns of the overall market over a 2-5 year period.
This is the type of stock and opportunity that you look for and hear about at cocktail parties when someone says they bought Microsoft or Apple at $1 per share.
Of course, if things don't pan out and management fails, this could also be the stock that you hear about at cocktail parties where people moan about their losses on the next great penny stock.
Buyer beware, but patient and long-term investors with capital waiting for a high risk/high reward stock should dip their toe into the uWink story and hang on.
I'm right there with you, and will of course, continue to monitor the situation and update you with any new information as it becomes available.
Hang on for a wild ride!