Crude oil hit a record $98.62 in November and remains within a few dollars of that mark. Heating oil is on a six-week streak of record-high prices. Corn prices are at a 10-year high. Gold is down from its 28-year spike but still hovering near $800. Wheat hit a record price in September, though it is down since then. And aluminum, laggard of the metal markets during the recent boom, may be poised for a longer-term rally, according to several new forecasts.
Those six commodities make up the portfolio of PowerShares DB Commodity Index Tracking Fund (NYSEARCA:DBC), which has ridden the global commodities boom to a 32.9% gain since its February 2006 inception, 5.7% in the last month (through Nov. 19).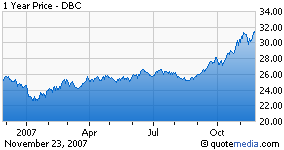 Commodities, once the purview of larger, institutional investors, are now within reach of individual investors, thanks to funds such as DBC. And with commodities enjoying the longest bull market in a generation — thanks to Chinese-led global demand; supply shortfalls; and now a steadily weakening dollar, fears of inflation, and U.S. interest-rate cuts — they're popular, as evidenced by DBC's near-$1 billion in assets.
From 2005 to 2006, the number of commodity ETFs jumped from 10 to 80, according to the Financial Times. The story said that investments in commodity ETFs jumped tenfold over the same period and now stand at about $28 billion, though about 65% of that is in the very popular gold-based funds.
Investors use commodities as a hedge against inflation and market downturns, because they generally have a low or even negative correlation with stocks and bonds.
DBC has done that recently: The fund's one-month return was better than those of 90% of natural resources funds tracked by Morningstar, during a time when the category slowed relative to other sectors. Natural resources funds, which top Morningstar's 18 domestic-stock categories in returns for every duration from three months (14% average, vs. 21.4% for DBC) to five years, were fifth-best among Morningstar's categories for the month.
DBC tracks the Deutsche Bank Liquid Commodity Index by holding long positions in those six commodities. It invests in futures contracts, exchange-traded instruments promising the delivery of a commodity at a predetermined price on a future date, rebalanced annually to 35% crude, 20% heating oil, and 10% to 12.5% of the other four.
That breakdown separates the DB Commodity Index from the Goldman Sachs Commodity Index (NYSEARCA:GSG) and the Dow Jones-AIG, which invest in a larger number of commodities. At 55% energy components, the DBC index stands between the GSCI (71% energy, including 52% crude) and the DJ-AIG (33% energy).
While DBC is less than two years old, the fund's bogey has outperformed the other two. The DBC index's three-year return of 20.4% more than doubled the Dow commodity index and more than tripled the Goldman index, while its 25.6% five-year return was more than 11 and 12 percentage points better, respectively. Step out to 10 years, and the DBC index doubles them both, 15.8% to 7.6%, Dow, and 6.6%, Goldman.
Typically, the fund sells contracts just before the delivery date, then rolls the proceeds into new contracts. As a result, the fund (and commodity investors in general) makes — or loses — money in three different ways. First, DBC can benefit from gains in the spot price of the commodity. Second, the fund generates "collateral income" through interest, by buying futures on margin and investing the leftover cash in three-month T-bills.
Third, DBC relies on "roll yield." When the price of futures is higher short term than it is long term - a condition known as backwardation - the fund can sell the more expensive contracts and buy cheaper ones. Likewise, when the future price is lower long term than it is short term — the market is in "contango" — the fund can suffer a loss when selling contracts.
Oil shifted into backwardation this past summer, and HardAssetsInvestor.com reported that crude had an annualized roll return of 9.4% in mid-October. The other commodities in the DBC portfolio remained in contango at that time.
DBC's managers have some flexibility in contango markets and can choose from several maturity dates in order to minimize the chance of a negative yield. By investing further along the curve, with expiration dates at the end of 2008 in some instances (see "Holdings" below), DBC reduces losses when markets are in contango.
Still, any investment in commodities carries a high level of risk, even if the DBC reduces it. This fund is best used as a long-term, niche holding, for the purpose of diversification and reducing a portfolio's overall volatility. Price shifts can be violent at times, and at the wrong time, as S&P chief economist David Wyss says, "Commodities are a really great way to lose money."