With the recent increase attention to Mergers and Acquisitions in the Biotech Market, Amarin (NASDAQ:AMRN) is bubbling to the top of the "Take-Over" speculation wave.
More than just an issue of "lowering triglycerides," published clinical trials are highlighting the importance of not just any fish oil, but specifically Eicosapentaenoic acid (EPA) fish oil. Yes, that's a long word to swallow, but it turns out that this particular omega-3 fatty acid can save your life.
Dropping by the health food store and picking up "fish oil" today you don't get EPA fish oil alone, but typically a combination of EPA and Docosahexaenoic Acid (DHA) fish oil. If you have a bottle of fish oil at home, take a look at the ingredients, and most of the time it will look something like this (combination of EPA and DHA):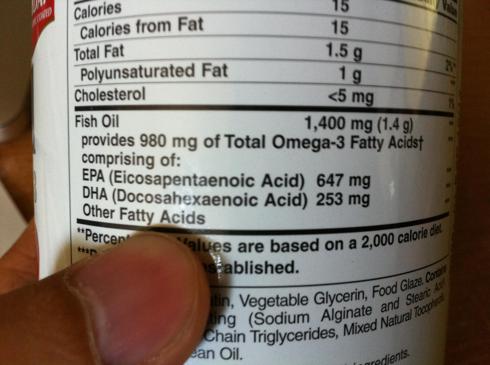 Click to enlarge
OTC Fish Oil has always combined EPA and DHA components of Omega-3 Fatty Acids. As a matter of fact, even the only available FDA approved prescription fish oil by GlaxoSmithKline's (NYSE:GSK) Lovaza contains a combination of EPA and DHA (link). Lovaza contains 465 milligrams of EPA and 375 milligrams of DHA in 1-gram capsules. Numerous clinical studies have shown the benefits of both types of Omega-3 Fatty Acids.
DHA fish oil and issues with LDL Cholesterol:
There have been suggestions that although DHA fish oil will improve triglyceride levels it can also raise LDL cholesterol (known as "Bad" cholesterol). It's been hypothesized that DHA stimulates a cellular activity called "down regulation" of LDL receptors, which results in a higher level of LDL cholesterol in the blood stream. It should also be noted that not all types of LDL cholesterol are "bad" - the "LDL particle size" differentiates the "bad" LDL particle vs the "not-so-bad" LDL particle. Here are a few published medical research articles showing the effects of DHA fish oil on increasing LDL cholesterol:
The American Journal of Clinical Nutrition: 2012 142: 99-104:
A Meta-Analysis Shows That Docosahexaenoic Acid from Algal Oil Reduces Serum Triglycerides and Increases HDL-Cholesterol and LDL-Cholesterol in Persons without Coronary Heart Disease
The Journal of Nutrition: 2011 141: 207-213
Algal Docosahexaenoic Acid Affects Plasma Lipoprotein Particle Size Distribution in Overweight and Obese Adults
GlaxoSmithKline's LOVAZA
Lovaza, the only FDA approved prescription fish oil on the market, is indicated to treat patients with very high triglycerides above 500 mg/dL. Approximately 3.8 million adults in the U.S. have very high triglycerides. This is approximately 2% of the U.S. population. As mentioned earlier, Lovaza can increase LDL-C cholesterol (listed as a side effect on Lovaza's website). The Lovaza prescribing information for physicians advise doctors to periodically monitor patients' LDL cholesterol while on Lovaza. According to its website, Lovaza has not been shown to prevent heart attacks or strokes. Lovaza has also not been shown to decrease inflammatory biomarkers (linked to cardiac disease).
On a financial perspective, Lovaza has been quite a successful fish oil for GSK - approximately $1 Billion in sales (year 2011) for an indication that fits only 2% of the U.S. population (triglycerides above 500 mg/dL).
Amarin's Fish Oil
The first question that comes to mind is: Why another fish oil? There is already GSK's blockbuster Lovaza and every health food store already has a shelf full of OTC Fish Oils. How is Amarin's AMR101 product any different? Is there room for another fish oil product?
Amarin's AMR101 fish oil differentiates itself in one significant way:
AMR is a purely EPA fish oil product (No DHA).
So what's the big deal with having an only EPA fish oil vs a combination of EPA and DHA product?
The first issue is DHA's effect on increasing LDL cholesterol "side effect" goes away.
But that's not the full story. Amarin's two Phase III Studies (Marine and Anchor clinical trials) tells the rest of the story.
Let's look at some data (pics on Amarin webpage - pdf):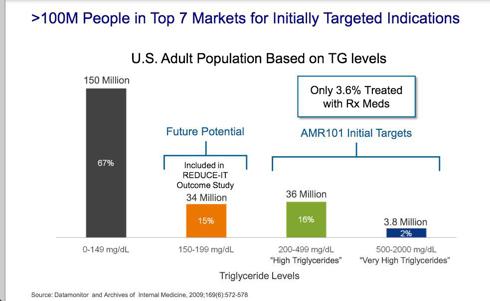 Click to enlarge
While Lovaza is FDA approved for only 2% of the U.S. population (3.8 million patients), Amarin's fish oil shows effectiveness in lowering triglycerides in BOTH patients with Very High Triglycerides (over 500 mg/dL) AND High Triglycerides (200-499 mg/dL). In other words, Amarin's fish oil would be indicated for 18% of the U.S. population. That's a COMBINED 40 million patients that Amarin's fish oil would be indicated for. The Amarin market is 8-10X that of Lovaza.
But that's not the end of the story. It's just the beginning. Surprisingly, it's not all about lowering triglycerides: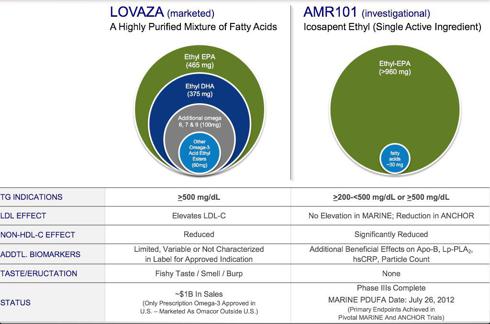 Click to enlarge
Compared with Lovaza, Amarin's AMR reduces LDL Cholesterol noted in the Anchor study, reduces Non-HDL-Cholesterol (another cardiac risk factor), and shows reduction in "Inflammatory markers" linked to cardiovascular diseases.
Here are main points from Amarin's two Phase lll Clinical Trials: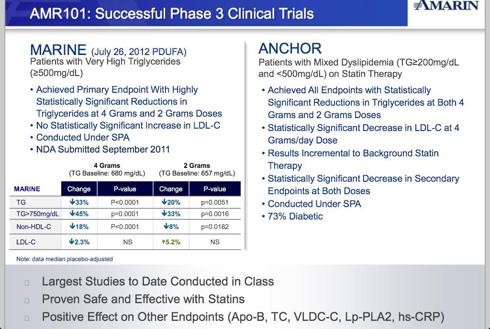 Click to enlarge
Now let's go back to the our first picture: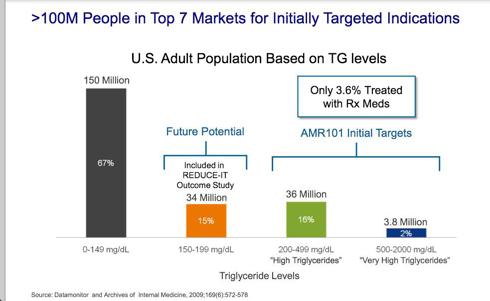 Click to enlarge
Although Amarin's initial target for FDA approval is to treat the 40 million patients with triglycerides above 200 mg/dL, the company is also targeting the 34 million folks in the U.S. with elevated triglycerides between 150-199 mg/dL.
Amarin has launched the REDUCE-IT Study with the purpose of evaluating if AMR101 can reduce cardiovascular events in patients with elevated triglycerides 150 mg/dL and higher. The REDUCE-IT Study was launched in December 2011, and will be substantially under way by the end of 2012. The goal of the REDUCE-IT Study is not to simply lower triglyceride numbers, but to affect the end outcome/goal: Decreasing Cardiovascular Events.
Excerpt:
REDUCE-IT (Reduction of Cardiovascular Events with EPA - Intervention Trial), a multinational, prospective, randomized, double-blind, placebo-controlled, parallel-group study, will evaluate the effectiveness of AMR101 in reducing the prevalence of first major cardiovascular events in a high-risk patient population. All patients in the study will be receiving optimized statin therapy. The active arm of the study will involve patients on optimized statin therapy plus AMR101. All patients enrolled in the study will have elevated triglyceride levels and either coronary heart disease or risk factors for coronary heart disease. Planned enrollment for the trial is approximately 8,000 patients.
"Dosing of the first patient in this study is another significant milestone for Amarin," said Joseph Zakrzewski, Amarin's Chairman and CEO. "The results of REDUCE-IT may enable us to seek additional indications for AMR101 including cardiovascular prevention, which would target a patient population estimated to be almost twice that of the combined indications studied in the MARINE and ANCHOR trials or approximately 70 million adults in the U.S. alone."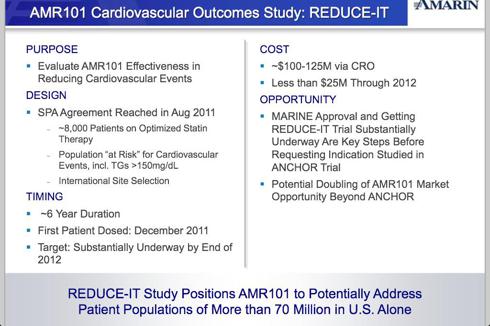 Click to enlarge
One final Iggy thought: With Amarin expected to get FDA approval to treat up to 40 million patients with elevated triglycerides, approximately 10 times the size of Lovaza's patient population indications, why would Amarin even pursue another clinical trial to prove that its pure EPA fish oil can reduce cardiac events (e.g. heart attacks, etc)?
The answer lies in a large randomized clinical trial in Japan published a few years ago: The JELIS STUDY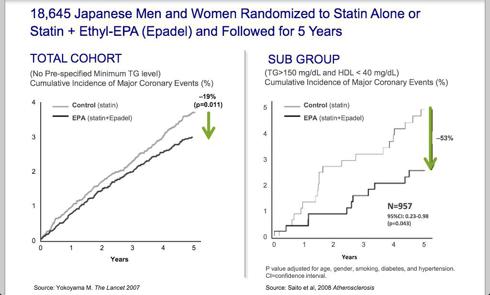 Click to enlarge
The Jelis Study was large: 18,645 patients. It evaluated only EPA fish oil's effectiveness (not DHA). In the Total Cohort graph, no triglyceride minimum numbers were required to be eligible to participate. Total cholesterol higher than 250 mg/dL was required for eligibility as well as having risk factors for heart disease. Patients were divided into 2 groups: One group on Statins and the other on Statins and EPA fish oil.
After mean follow-up of 4.6 years, the primary endpoint of major coronary events, defined as sudden cardiac death, fatal or nonfatal myocardial infarction (heart attack), unstable angina pectoris (cardiac chest pain), and coronary artery bypass graft/percutaneous coronary intervention (CABG/PCI), was significantly reduced by 19% in the EPA fish oil group compared with the statin-only group.
In a Sub Group analysis published in 2008, in patients who had both high triglycerides (above 150 mg/dL) and low HDL "good" cholesterol (less than 40 mg/dL), pure EPA treatment suppressed the risk of cardiac events by 53%.
Read that sentence again: Based on the JELIS Study, In High Risk patients (TG above 150 mg/dL and HDL cholesterol less than 40 mg/dL), pure EPA fish oil (plus statin) suppressed the risk of cardiac events by 53%. There are not many "natural" products on the market that will lower cardiac events by 53%.
If Amarin's REDUCE-IT study mimics the results of the JELIS Study, we may be looking at a paradigm change in cardiovascular disease prevention and treatment.
Amarin Fish Oil FDA Approval Decision Date: July 2012.
Disclosure: I am long AMRN.