NovaBay Pharmaceuticals (NYSEMKT:NBY) is developing products that represent a microcosm of the Johnson & Johnsons, Strykers and Medtronics of the world -- non-discretionary healthcare items that will always be in demand, particularly given the swelling global population. NVC-422 is an antimicrobial, but not an antibiotic. It's a development-stage drug that mimics the mechanism of action of human white blood cells. It's being developed in ophthalmology in eye drop form to treat viral conjunctivitis; in urology to reduce the incidence of urinary catheter blockage and encrustation, as well as associated urinary tract infections; and as a gel to treat impetigo, a contagious skin infection.
NVC-422, which NovaBay dubbed an "Aganocide" compound, answers a fundamental need for anti-infectives that do not give rise to bacterial resistance. Incidences with widely prescribed antibiotics failing to work as intended have risen exponentially in the last few decades. An article published by Forbes six years ago said that drug-resistant infections kill more Americans than AIDS and breast cancer combined. Six years later, those incidences have continued to grow, particularly in areas of the world with poor sanitary conditions. NovaBay is perhaps the most discounted pure antimicrobial play that the market has to offer.
One reason emerging technologies are sometimes discounted significantly from fair value, or net-present value (as we'll look at momentarily), is that there's an inherit risk in emerging technologies (although investors who assume such risk are sometimes handsomely rewarded). But there are ways in which some companies de-risk such propositions, often through partnerships and collaborations with those who've done it -- successfully -- before. This is one way investors can manage the amount of risk that one assumes when investing in an emerging technology. To put this into context, one of the world's largest dermatology companies, Galderma S.A., has partnered with NovaBay to develop NVC-422 for impetigo. We saw in our analysis that Galderma has actually committed $62 million to NovaBay in milestone payments and agreed to cover all development costs related to NVC-422 for impetigo. The bread and butter of this agreement is that with this collaboration alone, investors have discounted the company from its fair value -- even as the risk associated with the development of this compound is now diversified between the two companies (with Galderma, not NovaBay, investors bearing development costs).
Roth healthcare analyst Dr. Yale Jen, who has a $3.50 price target assigned to NovaBay, sees NVC-422 in impetigo being worth $1.55 based on a discounted cash flow analysis. Agonocides for the treatment of viral conjunctivitis and urinary catheter blockage and encrustation add $0.77 and $0.85 to the valuation, respectively.
Click to enlarge image.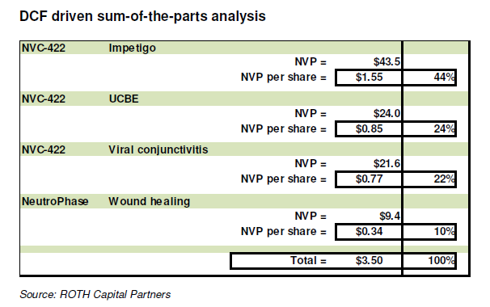 Click to enlarge
Interestingly, Dr. Jen values the company's advanced wound care unit at $9.4 million, which is underpinned by a product branded by the company as NeutroPhase. This product, separate from NovaBay's antimicrobial pipeline, promotes the healing of chronic wounds and is cleared by the FDA for such use. NovaBay says NeutroPhase is the only patented pure hypochlorous acid solution available on the market, which would compete directly with Oculus' (NASDAQ:OCLS) Microcyn, a company that trades for roughly $46 million on a fully diluted basis. The premium that a company like Oculus trades at compared to what Dr. Jen valued NeutroPhase at can be partially explained by the latter company's established, albeit unprofitable, sales channels. Russell Hoon, who joined NovaBay last year to develop the company's wound care segment, presented a poster at the 2012 spring Symposium on Advanced Wound Care that, among other things, showed NeutroPhase to be superior in killing S. aureus bacteria:
In addition, the poster compared the antibacterial activity of NeutroPhase to Microcyn(NYSE:R) in an in vitro 'zone of inhibition' bacterial killing assay. In this assay, NeutroPhase showed greater activity against S. aureus ATCC 29213 than Microcyn, exhibiting a larger 'kill zone' after just one 15-minute treatment.
Though relative to Microcyn, NeutroPhase is an absolutely new product, and the company has already de-risked this property by partnering with Pioneer Pharma, a large distributor of pharmaceutical product to over 7,500 hospitals and 40,000 pharmacies in mainland China. The signing of a U.S.-based distributor for NeutroPhase remains a catalyst for this year that will further shift risk away from NovaBay and toward licensee(s) of the product.
Inevitably, Aganocides remain the largest proportion of potential future value for NovaBay. And rightfully so, since they bring us back to our initial discussion of NovaBay's product pipeline being a microcosm of established healthcare behemoths that provide products for fundamental healthcare needs. Antimicrobial agents will never sound anywhere near as exciting as a new cancer therapy, though the cost of developing an antimicrobial that may one day become the cornerstone of topical infections is far more conservative than just about anything at a comparable stage of development in biotechnology.
Last year, NovaBay spent $3.14 million on operations (according to its annual report), which is worlds apart from companies like Neostem (NBS), which does several things in regenerative cell therapy and burns roughly $21 million annually, or Cell Therapeutics (NASDAQ:CTIC), another oncology company costing investor more than $50 million a year. NovaBay offers investors potential for a favorable risk-adjusted return, as the company works toward developing a series of staple healthcare solutions for topical bacterial infections.
Disclosure: I am long NBY.