Facebook (NASDAQ:FB) is scheduled for initial public offering in May, possibly delayed into June because of Instagram acquisiton. It will be listed on Nasdaq under the ticker "FB". There is very little doubt that this is the most followed, and perhaps the most important tech IPO since Google (NASDAQ:GOOG). The question with most investors is: should you buy or just watch the fireworks from Facebook's IPO?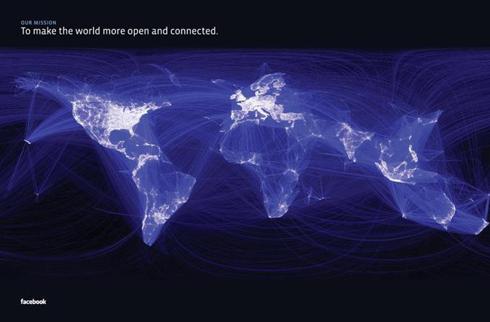 Facebook's amazing network
Source: Facebook IPO Form S-1
Interestingly, Facebook and Google both provide service to consumers/users, but neither make majority of its profit directly from consumers.
Let's start with a bit of history on Google, another hotly chased stock at its IPO. This will be of great historical value to gauge Facebook's IPO.
Google shares closed on the IPO day at $108 in 2004. They reached an all time high price of $711 in late 2007, and is currently priced at $625. That's an average of almost 25% annual return in eight years. Very lucrative for IPO buyers -- although considering dividend, McDonald's (NYSE:MCD) actually had a better return from 2003 to 2012 (This also says something about stocks with best returns aren't necessarily the most talked about companies).
The reason why Google's IPO story matters is that Facebook's valuation is going be decided in a similar manner: back in 2004, the only way to tell how high Google's price could go is to project its potential. The growth ratio matters very little for leading companies in an industry with a large upside potential, because everybody knows it's going to grow very fast, and such a stock is always priced at a skyrocket price / earnings ratio. They would always appear overpriced when compared to blue chip stocks. But they would nevertheless return handsomely when the company earnings catch up its stock valuation.
So what is Google's core business? Advertising, more specifically search advertising -- true even today as Google still makes 96% of its profit from advertising. In 2004, without knowing the market size for Internet search advertising, how can one make an educated guess? The answer is to use the most similar existing industry. Advertising budget cannot explode from nowhere, it has to be allocated from one form to another. What were the most common advertising formats? TV, Newspaper, Magazine, Yellowpages, Radio, Billboard, and Internet (still small in 2004).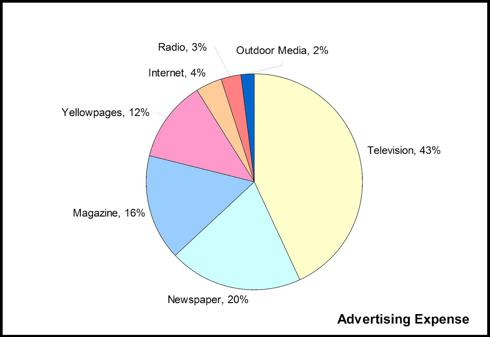 Which format is Google's type of business? Interestingly, if you think carefully, it was Yellowpages. Using the market size of Yellowpages at that point, making necessary assumptions, it was not that difficult to reach a rough guesstimate of Google's upside of $200-$300 billion market cap which converts to a current price between $600 and $1000 per share when Google was still in low $200 range -- that was back in 2004. I'm always amazed how right on this number has been as Google has been stagnant in this range for a while.
Obviously, the similar projection rationale can be used on Facebook. So the million dollar question is: what is Facebook's upside potential? Or, what are the existing business most similar to what Facebook can do to make money?
The following table shows Facebook's financial (Source: Facebook IPO filing with SEC):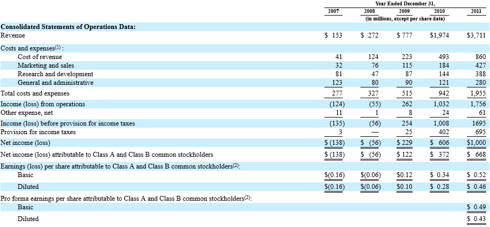 Facebook's business is also very heavily advertising In 2009, 2010, and 2011, advertising accounted for 98%, 95%, and 85%, respectively, of Facebook's revenue. The rest is from payment and other business such as social games by external game producers such as Zynga (NASDAQ:ZNGA).
So where could Facebook expand its advertising revenue?
Traditionally, advertising budget is a zero sum game with a slow positive growth (~5% except for recession years). Global advertising expense can slotted into the following categories: Television, Internet (search, display, video, mobile), newspapers, magazines, radio, cinema and out-of-home (traditional and digital). Here, amazingly, if Facebook can build into a one-stop entertainment hub for people on the Internet (e.g., distributing customizable TV channels, newspapers, magazines, radio), and Facebook is already some of an indoor "billboard" advertising platform. Although like Google, Facebook doesn't have a lot contents either, but its network provide the perfect platform to distribute all kinds of media products in a very customizable matter. In other words, Facebook's advertising potential is larger than Google -- the latter still relies almost exclusively one on source, search advertising. Since Facebook's advertising potential is not quite as pure as Google's, its valuation is somewhat fuzzier. It is simpler just to benchmark Facebook against Google. The global advertising total is approximately $425-450 billion in 2011-2012. Google takes slightly below 10% of that business. Facebook should be able to explore a much larger share than its current $1 billion in revenue.
Currently, most estimates suggest that Facebook's IPO will be valued at approximately $100 billion. That's a huge number of a company making only $1 billion in profit a year. If we simply use Google's valuation, which Facebook can replicate to a large extent, and with even better opportunity to go beyond what Google does. $200 billion market cap in five years would give an annual return of 15% or so. Decent but not very impressive given the risk taken. However, if Facebook could grow to grab a bigger pie than Google has now, its potential return becomes much higher. Here are two extreme scenarios, 2) is more likely than 1).
1) Given the recent poor performance of Groupon (NASDAQ:GRPN) and Zynga , the market is less than enthusiastic about an expensive IPO. Facebook's IPO market cap dips to $75 billion or below. This is a strong buy.
2) The market gets really excited with Facebook's potential, and Facebook's IPO market cap shoots to above $150 billion. To me, that would be definitely too much risk.
Finally, with more than 800 millions users, there seems to be very little room to growth the network size. So what are Facebook's growth potentials:
1) Fully extract the value of Facebook users and explore opportunities beyond advertising.
Facebook can team up with advertisers, retailers, coupon issuers -- almost any consumer oriented business to provide better targeted promotion. This doesn't limit Facebook to be an advertiser only. For example, Facebook can operate a system similar to that of Paypal's. It can be heavily linked with personal finance, such as banking, investment, etc.
2) The network size can grow dramatically -- Facebook could enter China. Because of censorship, Facebook is still blocked in China, the most populated country in the world (the darkness area of a massive country like China is quite dramatic on Facebook's network map above). Unlike Google, Facebook does not have to initiate a face-off with the Chinese government and stay relative politics-free in China.
In April, Facebook's acquisition of Instagram at $1 billion generated a lot of controversy. Many believe Facebook has overpaid for Instagram, a two-year-old startup with 30 million registered users, many of which are likely already Facebook users. I think the acquisition is non-essential given Facebook's likely market value when it completes the IPO. It is not that much money for Facebook. If anything, the acquisition reflects Facebook's decisiveness in eliminating potential competitors from the market. When Google acquired YouTube in 2006 for $1.65 billion, people gasped. Nowadays nobody even talks about the price tag for that acquisition. The same would apply to Facebook's acquisition of Instagram.
Google, on the other hand, has reached middle age. Investors cannot expect above market return from the company. Based on Larry Page's recent proposed changes, Google's executive will keep the cash in their hands for spending, instead of starting a dividend. Google as a company is very healthy. It is doing well. But its stock is likely going to be a Microsoft without the dividend in many years to come. So although my decision on Facebook depends on the IPO price, I would not hold Google at this point, especially the rise of Facebook might take a large piece of pie from Google's growth potential in display advertising.
Disclosure: I have no positions in any stocks mentioned, and no plans to initiate any positions within the next 72 hours.