Investors who are looking for a commodity-based inflation hedge often deem agricultural commodities and the farmland necessary to produce them sensible long-term investments. Several have singled out equities that own farmland as some of the better inflation hedging investments available to the average individual investor, who probably does not have the resources to buy working farms or large plots of fertile land.
The premise for agricultural investments is simple. If you expect global population and demand for food to continue to grow at a rate that outpaces the ability of technological farming advancements to increase crop yields, then the price for food will likely increase. Additionally, if you believe that the monetization of sovereign debt will continue, then the cost of real goods -- including food -- should be expected to increase relative to depreciating currencies.
Below are eight agriculture-based equities that are publicly traded within the U.S., though each business is not necessarily exclusively, primarily or even partially located in the U.S. For each, I have provided a brief description, its market capitalization, and a recent performance chart. If the equity also pays a dividend, I have also provided the annual yield.
1. Adecoagro S.A. (NYSE:AGRO): Adecoagro plants, harvests, and sells grains, oilseeds, rice, and fibers including wheat, corn, soybeans, cotton, and sunflowers, as well as offers grain warehousing/conditioning, and handling and drying services to third parties. It also engages in the production of raw milk, cultivation of coffee and fattening of cattle throughout South America, including Brazil, Argentina and Uruguay. The company has a market capitalization of about $1.25 billion.
Click to enlarge all images.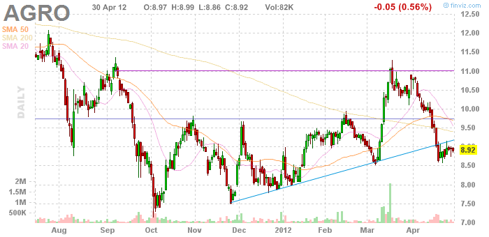 2. Archer Daniels Midland (NYSE:ADM): Archer Daniels Midland is one of the world's largest processors of oilseeds, corn, wheat, cocoa, and other feedstuffs. Also, it is a leading manufacturer of vegetable oil and protein meal, corn sweeteners, flour, biodiesel, ethanol, and other value-added food and feed ingredients. The company has an extensive grain elevator and transportation network to procure, store, clean, and transport agricultural commodities, such as oilseeds, corn, wheat, oats and barley. The company has a market capitalization of about $20.4 billion and presently provides a yield of 2.3%.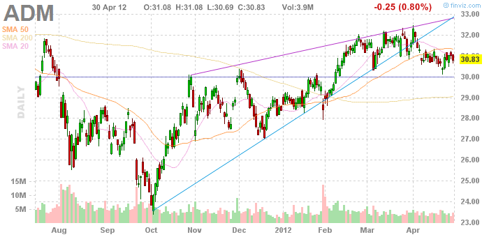 3. Bunge Limited (NYSE:BG): Bunge is a world-leading oilseed processing company based on processing capacity. It is the largest producer and supplier of fertilizer to farmers in South America, based on volume, and a leading seller of packaged vegetable oils worldwide, based on sales. Bunge also has a growing presence in the sugar and sugarcane-based ethanol industry, including being the third-largest sugar and ethanol producer in Brazil. The company has a market capitalization of about $9.4 billion and a yield of 1.6%.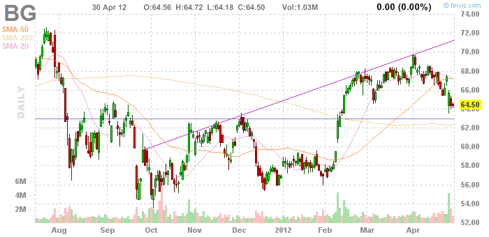 4. Calavo Growers (NASDAQ:CVGW): Calavo Growers procures and markets avocados and other perishable commodities, and prepares and distributes processed avocado products. The company principally procures its avocados from California, Mexico, and Chile. The company has a market capitalization of about $424 million and a yield of 1.9%.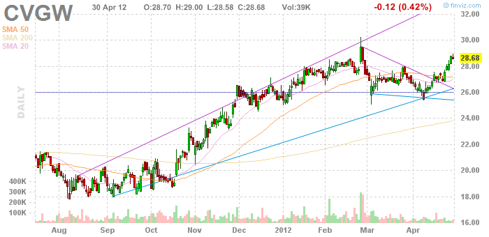 5. Chiquita Brands (NYSE:CQB): Chiquita is a leading international marketer and distributor of bananas and other fresh produce sold under the Chiquita and other brand names in over 70 countries. Chiquita also makes packaged salads sold under the Fresh Express brand name, among others, primarily in the U.S. The company has a market capitalization of about $390 million.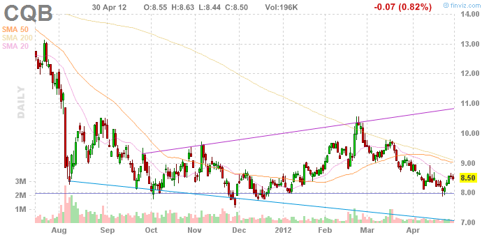 6. Cresud (NASDAQ:CRESY): Cresud is an agricultural company based in Argentina, with a growing presence in Brazil and other Latin American countries, that is engaged in the production of basic agricultural commodities. The business presently primarily concentrates on crop, beef cattle and milk production. The company has a market capitalization of about $471 million and a yield of 2.9%.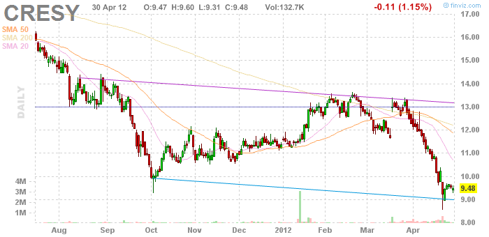 7. Fresh Del Monte Produce (NYSE:FDP): Del Monte is involved in the worldwide sourcing, transportation and marketing of fresh and fresh-cut produce together with prepared food products, including prepared fruit and vegetables, juices, beverages and snacks. The company has a market capitalization of about $1.3 billion.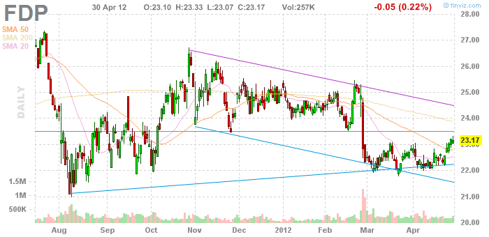 8. The Andersons (NASDAQ:ANDE): The Andersons is a farm products company that operates in six segments: grain, ethanol, rail, plant nutrient, turf and specialty, and retail through its stores that service Ohio. The company has a market capitalization of about $928 million.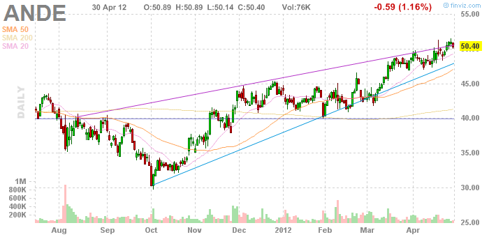 So far this year, six of the above-mentioned eight companies are positive, with Cresud down 16.7% and French Del Monte Produce down 7.36%. The best-performing equity in 2012 is The Andersons, which is up 15.4%, followed by Bunge, which has appreciated 12.75%, and Calavo Growers, which has gained 11.7%.
Additionally, on May 1 Archer Daniel Midland reported its quarterly earnings, announcing net income of 60 cents per share, compared to 86 cents a year earlier. Earnings excluding one-time inventory charges and restructuring costs were 78 cents. The company also reported that its Q1 revenue increased by 5.4% compared to last year, to $21.16 billion.
Disclosure: I have no positions in any stocks mentioned, and no plans to initiate any positions within the next 72 hours.
Disclaimer: This article is intended to be informative and should not be construed as personalized advice as it does not take into account your specific situation or objectives.