General Electric (NYSE:GE) is as American as apple pie, NY Yankees, and the Kentucky Derby. I want to believe in their business model. GE yields 3.4% and has a $210 billion market cap. In this article, I will articulate why it's time to sell GE and buy winning stocks such as Sturm, Ruger & Co. Inc. (NYSE:RGR) and Liquidity Services, Inc. (NASDAQ:LQDT).
General Electric's Revenue Growth
General Electric's revenues are anemic. The data below shows the annual revenue decline since 2008 through 2011. The revenue loss between 2011 and 2010 has improved to a 1.53% revenue loss year over year.
Conclusion
GE is a company in transition mode. The revenue loss is due to the global economic difficulties. As the economy improves, the revenue advances should excel. For those who possess a "show me" investor mentality, time will tell if growth has returned at GE's home base.
Alternative Ideas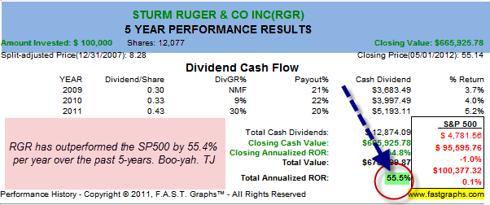 1. Sturm, Ruger & Co. Inc. is an alternative investment. The company sells hand guns. The balance sheet shows zero debt, rapidly increasing revenues and earnings and increasing dividends. The company's products were in such hot demand that zero new orders have been taken for the past two months. The company raised their dividend, announced new products, announced great earnings, and won't take new orders until the end of May! This beats big market cap stock results any day of the week.

2. Liquidity Services, Inc. is a "Yes, I must own" stock. Liquidity Services provides services to the U.S.A. that are in high demand. Citizens want the best products at great products. This is exactly what Liquidity Services provides to our country's citizenry. Liquidity Services has zero debt on its balance sheet. The company is growing revenues and earnings rapidly.
Liquidity Services offers online wholesale auction marketplaces for surplus and salvage assets. The company's websites and related services include liquidation.com, which allows companies and governments to sell desirable products at attractive prices.
The company has provided a 38.5% annual return, per year, over the past 5 years. This is amazing compared to its peer group.
3. Citigroup, Inc. (NYSE:C) has failed investors. Why sugar coat this issue? Let's move along to winners as addressed in number 1 and number and 2 above. The data speaks for itself:

Citigroup has lost an average of 35.2%, per year, over the past 5 years. Clearly, it is time to make money to pay bills. Excuses are not welcome in my home. Some companies are winners and others are losers. Citigroup is a loser.
4th Quarter Revenue Growth
General Electric 4th quarter revenues grew year over year by 1.03%. The 4th quarter revenues grew from 2011's $35.2 billion from the 4th quarter's 2010 revenues of $34.8 billion. This is a positive step to improve the revenue growth which is tied directly to earnings and free cash flow growth.
General Electric's Earnings Growth

GE's earnings growth is making inroads. The above SEC data supports the case. This only enhances the case that GE is on the road to economic recovery - until one looks at the capital structure.
GE has 80% in debt as part of its market capitalization. This means that common shareholders are subordinated to the debt holders. This is never a good sign. GE's cash flow decreased from 1st quarter 2012's $2.06 billion compared to the $7.70 billion 1st quarter 2011. Cash flow is key to pay debtors, common share dividends, and invest in growth opportunities.
Action
In this day and age, a money manager has never been fired for owning General Electric. I'm not trying to knock General Electric. Their returns speak for themselves. I believe there are far easier fish to fry than GE's $200 billion juggernaut business model.
To outperform the market requires having money invested in the right asset classes. GE's $200 billion market capitalization puts a limit on how fast the company can grow. The 80% plus debt market capitalization tells the investor that the shareholder is subordinated to the debt bond holder. This can not be ignored without acknowledging savage "worst case" results.
Let's stick with the small cap winners that are profitable and making shareholder money. This means saying "goodbye" to the famous brand names of "General Electric" and "Citigroup". The key issue is to make money and not reminisce of great companies of the past. Buggy whip companies are concepts of the past. I argue that GE and Citigroup offer zero benefits greater than the buggy whip entities of the late 1800's. New companies, with zero debt, offer tremendous growth opportunities.