We screened for issues that were showing unusual volatility or volume patterns, often caused by imminent earnings releases, regulatory decisions, or other material corporate developments. These four healthcare names are seeing bullish trading, pointing to the possibility of a breakout and new highs.
Dendreon Corporation (NASDAQ:DNDN)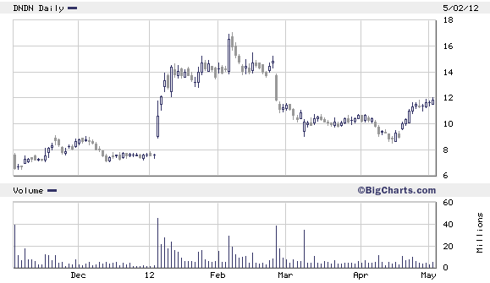 Click to enlarge
Dendreon is expected to report earnings next week, Monday May 7th, after the market close, according to earnings.com. The consensus among analysts is that Provenge will bring in revenues of $82.1M for the most recent quarter, narrowing a $0.77 per share loss in the comparable quarter last year to a loss of $0.65. Shares of the oncology company have inched higher on relatively flat volume. This suggests that while the price is near a 3-month high, investors remain cautious ahead of the company's earnings announcement.
Alexza Pharmaceuticals (NASDAQ:ALXA)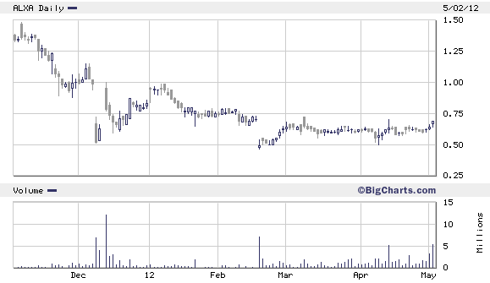 Click to enlarge
Volume rose for the second consecutive session on Wednesday, as shares of Alexza Pharmaceuticals ended at their highest point since mid-February, when the company priced a secondary stock offering and sent shares to a new 52-week low. The company has since seen an insider scoop up shares at depressed prices, an interesting move ahead of a PDUFA date for the company's lead drug candidate, ADASUVE. The drug intended for the acute treatment of agitation in patients with schizophrenia or bipolar disease will hear from the FDA today (Thursday).
TrovaGene (NASDAQ:TROV)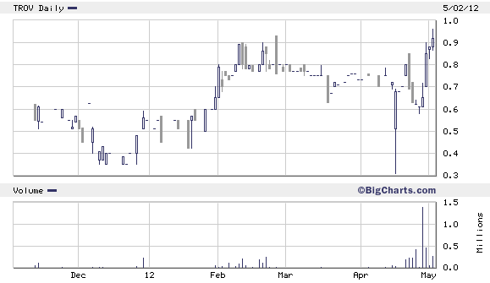 Click to enlarge
On Wednesday, Trovagene marked a new 52-week high after recruiting talented executives to develop a non-invasive, transrenal molecular diagnostics technology to screen for cancers and infectious diseases. The company also announced plans to develop a diagnostics technology to screen for "high risk Human Papilloma Virus (HPV) subtypes from urine specimens". Investors agree that there is a need for earlier and more accurate detection of disease; shares have recently seen the most active trading in the company's history.
Amarin Corporation (NASDAQ:AMRN)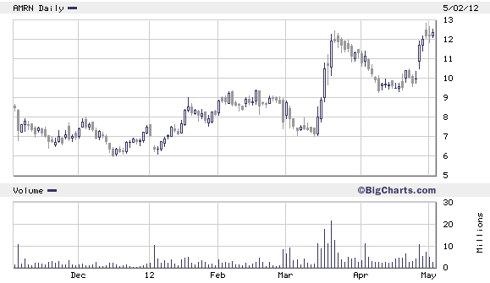 Click to enlarge
Amarin set a new 3-month high this week, now trading within 5% of its 9-month high. Sentiment appears predominately bullish as volume has receded on pullbacks in price and grown on moves to the upside. Analysts have suggested that the company may be an acquisition target as it draws closer to regulatory approval for a triglyceride-lowering medication. The company is scheduled to report quarterly results next week and host a conference call to provide a business update. Investors hope to learn more on the call regarding a potential takeover, or other corporate developments ahead of the FDA decision on AMR101.
Disclosure: I have no positions in any stocks mentioned, but may initiate a long position in AMRN, TROV over the next 72 hours.