It has now been about four and a half months since ECB president Mario Draghi rolled out his supercharged version of LTRO--Long-Term Refinance Operations. The pair of ECB loan operations, one on December 21 of last year and one on February 29--was designed to boost the European banking system by lending more than EUR 1 trillion to at least 800 banks for a term of up to three years. Since the program was voluntary, we know it was a success in that so many banks borrowed so much. The banks' precarious liquidity position was certainly improved. But did LTRO meet Draghi's goals of supporting the regional banks and local economies?
In order to evaluate the LTRO program, let's let the markets weigh in. We'll judge by simply comparing a handful of market prices from the time of the first LTRO operation on December 21 to prices now. In the parlance of spaghetti westerns, we'll look at the good, the not bad, and the ugly (all chart sources courtesy Bloomberg):
The Good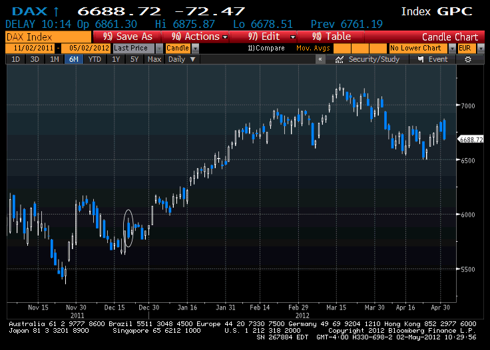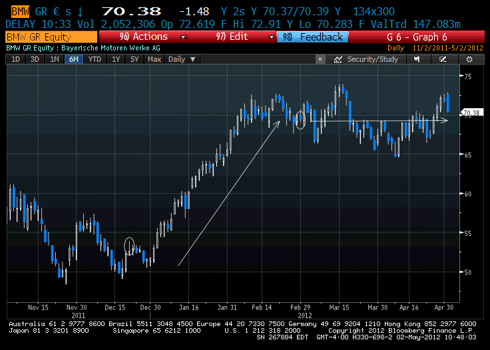 These two charts highlight the power of LTRO on stock markets in general and some select companies in particular. The upper chart is the German Dax index; the lower is of BMW. Note that BMW in particular rallied dramatically following the first tranche of LTRO, and has gone sideways since the second and "final" LTRO operation on February 29. Many stock markets around the world are much higher today than they were on December 21, including all major US averages, the heavily tech-weighted Nasdaq in particular.
The Not Bad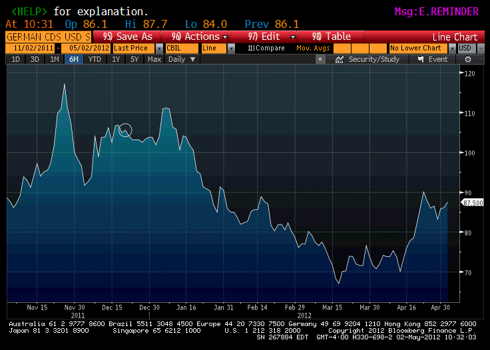 Stocks were not the only German asset to benefit from LTRO. As we see above, the cost of insuring German government bonds has declined from 1.05% down to 0.87%. France has seen a similar decline, with the French CDS ebbing from 2.25% to 1.93%, along with Austria, falling from 1.95% to Wednesday's 1.70%.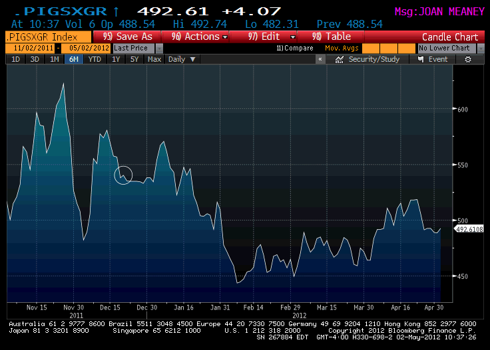 The weaker countries also have enjoyed a significant decline. As we see above, an index of the weakest countries ex Greece (Portugal, Ireland, Spain, Italy, and Belgium) has improved from about 5.4% to 4.9% Wednesday. Although about half of the improvement since the first LTRO action has dissipated, the reduction is material.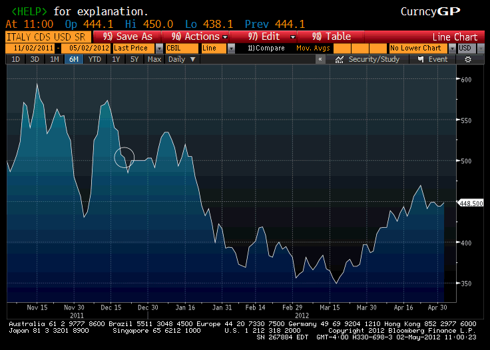 Focusing on the markets of ECB president Draghi's native Italy, we also see a marked improvement, from 5.00% to slightly below 4.50%.
To the "Not Bad" category we can add the Eurozone's currency, the euro. The movement of the euro is "not bad" in the sense that it has hardly moved at all, certainly not against the dollar. The euro closed at 1.305 on December 21, and now stands at 1.315, within 1% of its value just prior to the two LTRO operations.
The Ugly
We now examine markets that have deteriorated since the initial LTRO operation on December 21, maintaining our focus on Italy: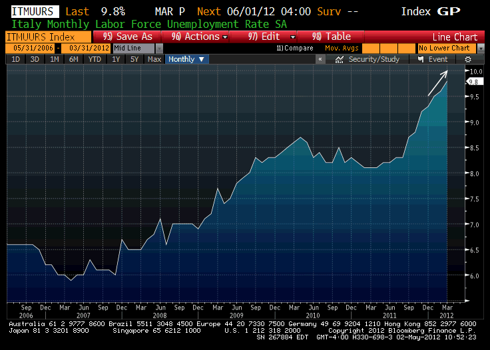 Italy's unemployment rate has climbed since LTRO was initiated, continuing the uptrend and rising from 9.3% at the end of December to 9.8% at the end of March.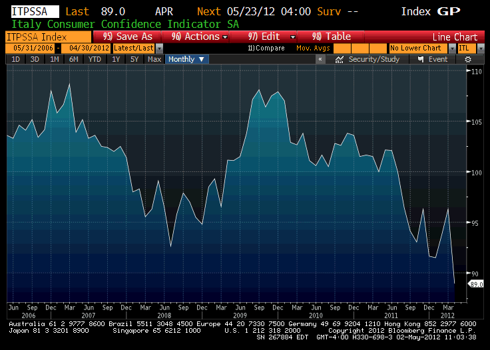 Similarly, Italian consumer confidence has plunged after an initial rise, showing that initial optimism has been reversed. Confidence is now lower than it was in the spring of 2009, at the depths of the global recession.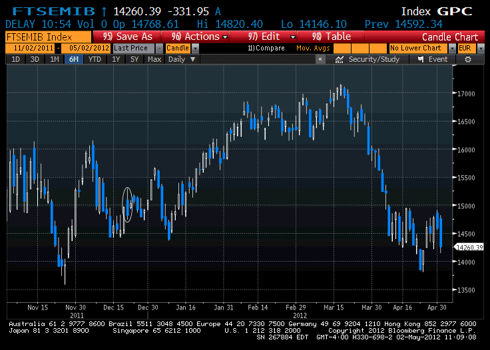 After an initial sharp rise following the first LTRO action, Italian stocks have fallen sharply and now stand about 3% lower than they were on December 21. But Italy's loss is dwarfed by Spain's, now down more than 20% year to date and putting in a new low for the year just yesterday.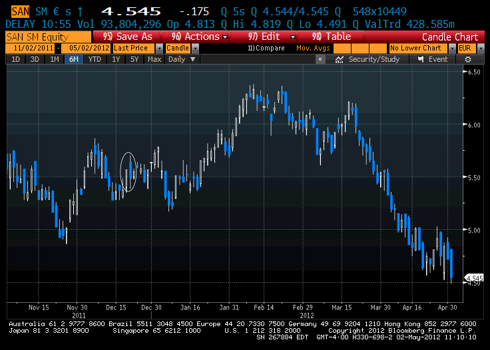 Finally, this weakness is well-illustrated by the stock of Spain's largest bank, Banco Santander, shown above. As with Italy's market as well as the broader Spanish averages, the stock rose following the two LTRO operations, but has since headed into negative territory.
Did LTRO work?
As we see, the impact of LTRO has been mixed. So far at least, the big winners have been the sovereign bond issuers of virtually all of the Eurozone. This makes perfect sense. Not only have governments encouraged the buying of government debt with the proceeds of LTRO loans, France's president Sarkozy being a case in point, but also a number of the banks have admitted to doing so. Germany also seems to have benefited substantially in every way, from the equity markets to its government CDS and bond yields. This helps to explain why Germany has been deafeningly silent on LTRO despite strident opposition before the program was initiated.
But Draghi has been very clear about what he hoped to accomplish with LTRO, and helping Germany and lowering government funding costs were not on his list. His goal was to inject money down to the regional bank level, for one explicit purpose: to lend money to small and medium sized enterprises, which represent 80% of Eurozone jobs, to paraphrase the president himself. Draghi is concerned with European employment, and as we can see from the Eurozone's just-reported all-time high unemployment rate of 10.9%, LTRO is not working. It seems the ECB is pushing on a string.
The limits of LTRO are underscored by the behavior of the banks that have borrowed through the program. The two combined LTRO operations totaled just over EUR 1 trillion, of which about half was new loans, and half were existing shorter-term loans that were rolled over. But overnight bank deposits at the ECB have risen by even more than the net amount, from EUR 215 billion to EUR 793 billion. In aggregate, banks have borrowed for three years and are turning right around and giving it back to the ECB. In short, the banks have improved their liquidity position, but that money has not been used for new loans--or anything else, for that matter.
Draghi has proven himself to be imaginative, resourceful, and determined. If he is honest with himself, he can only conclude that LTRO did little or nothing to foster loans leading to job creation at the regional level. While Draghi may not be opposed to another round of LTRO in the future--he seems quite proud of the program--it is likely he will focus his efforts elsewhere. We may have seen the first signs of this attitude just days ago, when he stated publicly that governments should be doing more to promote economic growth. Although Draghi can be expected to continue his unstated dual mandate of inflation and reduced unemployment, it is unlikely we will see more LTRO for some time to come.
Disclosure: I am short S&P, Nasdaq, and Dax futures.