On Wednesday, May 2, 2012, after the markets closed, American Capital Agency Corp (AGNC), reported earnings for the first quarter of 2012. The mortgage REIT Q1 reported net income $641 million, or $2.66 per share, comprehensive income of $587 million, or $2.44 per share. The company also reported that as of the end of March, AGNC's net book value was $29.06 per share.
Last quarter, AGNC lowered its dividend for the first time in 10 quarters, reducing the quarterly payout from $1.40 to $1.25 per share. Additionally, after the company went ex-dividend, it instituted a large secondary offering. Since pricing the offering, AGNC shares are up about 6%, and the shares are up approximately 11% since the start of 2012, not counting the $1.25 dividend it also paid out. The dividend works out to be worth about 4.4% of AGNC's price per share at the start of the year, or about 4% of its current price.
See a recent performance chart for AGNC:
(click to enlarge)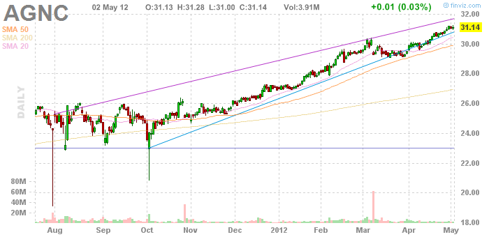 American Capital Agency buys agency mortgages that are backed by federal agencies. Other well-known agency mREITs include Annaly Capital Management (NLY) and Hatteras Financial (HTS). Index funds for mREITs include the FTSE NAREIT Mortgage REITs Index ETF (REM) and the Market Vectors Mortgage REIT Income ETF (MORT), though these ETFs also hold REITs that invest in non-agency backed securities.
American Capital Agency reported that its average asset yield for the first quarter increased 26 basis points to 3.32%. The REIT's annualized weighted average portfolio yield was 3.14% and its average asset yield was 3.06%, both an increase of one basis point from Q4 of 2011. The company reported that its cost of funds decreased during the quarter due to a lower ratio of interest rate swaps to repurchase agreements outstanding.
The company's average net interest rate spread during Q1 was 2.31%, a 41 basis point increase from its 1.90% spread during Q4 of 2011. A large part of this increase was due to changes in projected CPR estimates, which if excluded would reduce AGNC's spread to 2.13%. This would still be a 16 basic point increase over the prior quarter. At the end of Q1, AGNC's spread was 2.07%.
American Capital Agency also reported that its leverage ratio was 8.4x as of March 31, 2012, and that its average leverage for the quarter was 8.2x. Last quarter, AGNC reported its leverage to be 7.9x at the end of the quarter and 7.6x on average throughout the quarter.
American Capital Agency has had one of if not the highest leverage rate among publicly traded mREITs, a strategy that resulted in AGNC's outperformance compared to most of its peers in prior years. During the first quarter, AGNC President and Chief Investment Officer Gary Kain indicated that AGNC believes its portfolio is well-positioned for the current environment, given the company's low prepayment rates and Q1 comments from the Federal Reserve that it expects short-term interest rates to remain low through late 2014.
Though interest rates had moved up around the end of the first quarter, interest rates have again fallen and approached historic lows. These low rates should bode well for AGNC, as rising interest rates could potentially damage AGNC's book value. Further, the recently dropping interest rate should have increased AGNC's book value since the end of Q1. Additionally, given the mREIT's relatively high leverage and improved spreads, it appears AGNC should be able to maintain its $1.25 quarterly dividend.
Disclaimer: This article is intended to be informative and should not be construed as personalized advice as it does not take into account your specific situation or objectives.