Since the financial crisis, investors have been living with a sell first, ask questions later mentality. The latest company to be caught up in that mentality is Herbalife (NYSE:HLF). The stock has lost more than a quarter of its value in the past 2 days as investors bail out of the stock. We, however, see opportunity in the shares at these levels, and initiated a long position in Herbalife on Wednesday, May 2, as the stock fell to its lows of the day. We outline what has happened, as well as our bullish thesis below.
Earnings & The Conference Call: When Discussion of Results Renders the Results Irrelevant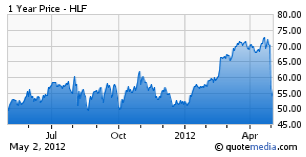 On April 30, Herbalife announced its results for the first quarter of 2012. The company posted record profits and revenues and the and raised guidance. Revenues of $964.175 million missed estimates by $29 million, and earnings per share of 88 cents beat expectations by 7 cents per share. Herbalife also posted growing operating cash flow (11.48% growth) and raised guidance for fiscal 2012. The company is now calling for EPS of $3.58-$3.74.
It would seem that Herbalife reported a good quarter, aside from the revenue miss. The company planned its conference call for the morning of May 1, a departure from the usual practice of hosting the earnings call a bit after releasing earnings. The conference call started out normally, with discussions about sales volume, emerging markets, and Herbalife 24, items of great importance to Herbalife. Then David Einhorn joined the call.
Einhorn has become one of the most successful investors in large part due to his ability to ferret out corporate misconduct. We have seen it with Lehman, Allied Capital, and Green Mountain (NASDAQ:GMCR). So why is he a part of the Herbalife call? Is there something going on? Einhorn dove right in, asking management not about its results or guidance, but about disclosure. Specifically, Einhorn wanted to know about the state of the company's end markets, and how much of the product is being bought by end users, versus how much is being bought (and consumed) by the company's distributors.
As a multi-level marketing company, such a structure is built into how Herbalife does business, similar to Avon (NYSE:AVP). We break down Einhorn's questions below, which were posted on Herbalife's website due to a perceived need to clarify the issues raised (Herbalife's answers are posted alongside the questions).
How much of final sales are sold outside the company's network versus consumed by distributors? Herbalife responded to this by saying that the company does not track this number, for it believes it is immaterial. At some level, that logic makes sense. Herbalife generates revenue when it sells product. It should be irrelevant where that product ends up. However, Herbalife did point out that in a company with a multi-level marketing structure, a large portion of sales can be bought by distributors, who are enthusiastic about the product, and therefore become distributors to get discounts. Herbalife has 3 policies in place to prevent the accumulation of product by distributors (likely where Einhorn was going with this question). The Ten Customer Rule requires distributors to verify with the company that they have made sales to at least 10 different customers each month. The 70% Rule requires distributors to sell 70% of the total value of the products they have bought to others, be they retail customers or other wholesalers. Its buyback program is put in place to buy back unused product from distributors, and that expense amounted to 0.4% of sales in 2011 and 2012. Herbalife did not give an exact an percentage breakdown of its end sales mix, because the company cannot track sales in that much detail. It estimates that around 70% of product is sold to customers that are not distributors.
What is the incentive for a supervisor to sign someone up to be a distributor as opposed to simply selling the marked up product themselves? How do they benefit? Herbalife responded by stating that in the short run, there is no economic benefit. The benefits are realized when distributors begin to more fully participate in the Herbalife "community". Herbalife's President, Desmond Walsh, explained it in this way. If he was a supervisor, he wants to sign up Einhorn as a distributor, because Einhorn's friends and family would see the benefits of it, thus strengthening the "lineage" of the business. Einhorn's concerns here appear to be centered around the need for distributors at all. If a supervisor buys Herbalife product at a 50% discount, and sells it to customers for full price, that difference is his or her profit. But when that product is sold as a distributor, the profit is the difference between the 50% discount and the 25% discount, plus a 7% royalty. The concern here appears to be centered around the very business model of Herbalife.
In previous 10-K filings, Herbalife disclosed 3 distributor groups at the low end. 29% were self consumers, 57% were small retailers, and 14% were "potential sales leaders." How does Herbalife track that and how does it differentiate between them? And why did Herbalife not disclose that in the most recent 10-K? Has the company stopped tracking these metrics or merely disclosing them? Herbalife CEO John DeSimone answered this question. He replied that Herbalife classifies them based on sales volume. The company assumes that buyers who buy volume below a certain threshold are buying product for their own consumption. CEO John DeSimone could not give 2011 figures on the call, but the Q&A posted on Herbalife's site includes them. For 2011, discount buyers (self consumers) were 29%, and they receive a 25% discount. Small retailers were 61%, who receive a 45% discount. And potential supervisors were 12%, who receive a 42% discount. For the record, this disclosure was eliminated from the most recent 10-K filing because John DeSimone decided that these figures were not material to investors when he was promoted to CFO in 2010. He noted that Herbalife can easily provide these figures if asked.
It is crucial to note that Einhorn asked only about disclosure. However, the mere presence of Einhorn and his questions caused the stock to start plunging. By the end of Tuesday, Herbalife shares had plunged 20%, as investors fretted over what Einhorn's comments meant. Is he short the stock? Is he going to be short? Being on the other side of Einhorn in a trade results in a loss more often than a profit.
In Defense of Herbalife
Analysts, however, rushed to Herbalife's defense, claiming that this time, things are different and that the stock now presents a great buying opportunity. DA Davidson notes that this whole drama is overblown. The firm argued that,
If anyone else had asked the question we would have wondered why time was being devoted to such basic inquiries... This was an excellent quarter from an excellent company with high ethics and strong accounting. We have no problem remaining bullish no matter who is asking the questions.
It seems that Einhorn's reputation once again precedes him. Had anyone else asked these questions, it would have been considered immaterial. But when it comes to Einhorn, it seems that nothing is immaterial. We disagree. The multi-level structure that Herbalife has is different than traditional retailers. We do not see any reason that the model should suddenly be invalidated after 32 years (Herbalife was founded in 1980). Auriga upgraded the stock to a Buy on the morning of Wednesday, May 2, setting a $68 price target on the stock. The firm noted that its hold rating was due to valuation relative to other multi-level marketers, and with the recent decline, the stock is now inexpensive.
Aurgia argues that Einhorn did not raise any new issues, and that it was his mere participation, and not his actual questions, that led to the stock's plunge. Wedbush's defense is perhaps the most important. The firm notes that Herbalife has already been through this kind of drama before, and emerged unscathed back in 2007. Then, the stock's decline presented a great buying opportunity, and argues that the same is true now. It is that past history that we now turn to, and it is at the core of our decision to buy Herbalife shares at this time.
Deja Vu for Herbalife: A Buying Opportunity
It can be argued that Einhorn raised valid issues in his questions, and that analysts are simply sweeping those under the rug and choosing to ignore them. We, however, do not see it that way, due to Herbalife's history.
Perhaps part of the fall Herbalife has seen is due to worries that the SEC will come in and investigate the company's business practices. Such an investigation has already happened. In 2007, the SEC began investigating Herbalife in regards to possible insider trading. And on November 1 of that year, the SEC notified Herbalife that it was expanding its investigation. The SEC now wanted to determine how much product was being personally consumed by Herbalife's distributors, which was Einhorn's first question for Herbalife management.
In June 2008, the SEC announced that it was closing its investigation, and that no charges would be filed. Herbalife has already had its business model examined by the SEC, and no charges were filed. There was no need to restate sales, earnings, or any other financial figures, and no Herbalife executives were charged with misconduct. If the SEC found nothing wrong with Herbalife's model when it investigated the company, why would there be something wrong with it now? While Einhorn may have raised what some think to be a valid concern with how Herbalife does business, these are not new issues. Nor are they a justification for Herbalife losing over a quarter of its value in a few days. The SEC has already investigated, and found nothing.
The Road Ahead
When someone of David Einhorn's stature becomes involved in a company, the controversy does not settle after only a few days. Already, new issues are being drummed up. At the forefront is CNBC's Herb Greenberg's look into Herbalife's past. Specifically, he questioned why Herbalife paid convicted felon Barry Minkow (from the ZZZZ Best Ponzi scheme) $300,000. Back in 2008, his website listed many issues he had with the company. Then suddenly, all that disappeared.
Herbalife, when pressed for comment, noted that Minkow is a convicted felon who is once again in prison for securities manipulation, this time for manipulating the stock of homebuilder Lennar (NYSE:LEN). The company stated that it was easier and cheaper to settle with Minkow than sue him and fight a protracted battle in court. We see no reason why this should be an issue. Minkow is currently in prison for securities fraud, and it is reasonable to assume Herbalife wished to settle with him to avoid damaging its stock price.
The next month or so will be extremely important to Herbalife, for several reasons. We anticipate more analysts coming to the company's defense, and Herbalife will likely buy back its stock in a meaningful way. In a press release issued as a response to the Tuesday's plunge, the company noted that it has $428 million remaining under its repurchase program. In addition, the annual Ira Sohn Investment Conference is scheduled for May 16. With David Einhon scheduled to present, everyone will be watching his presentation to see if he will discuss Herbalife.
Conclusions
We think that the steep fall in shares of Herbalife presents a buying opportunity, and have positioned ourselves accordingly. We bought the stock on Wednesday, May 2 because we believe that David Einhorn did not raise any new issues. The SEC has already investigated the company's business model and pressed no charges, and did not direct the company to restate its financials.
The Reuters average price target for Herbalife currently stands at $80.50 (representing upside of 52.75% as of this writing). Herbalife's most recent quarter was a record for the company, and guidance for 2012 was raised. The company has a strong balance sheet, good operating cash flows, and we see no reason why any of that will change. We believe that at this time, Herbalife shares present a compelling buying opportunity.
Disclosure: I am long HLF.