Ceradyne (CRDN) is a Costa Mesa, California based company that is an integrated developer and manufacturer of advanced technical ceramic products and components for defense, industrial, automotive, electronic and medical markets.
Ceradyne's defense products include ballistic armor protection for military personnel and vehicles, and missile nose cones. They also design and make components for diesel engines, oil drilling, and surgical procedures.
After trading around near $79 as late as October 10th, Ceradyne on October 30th reported 3rd quarter earnings of $1.16 per diluted share. This was a 14.7% (or $0.20) miss according to Wall Street estimates. Ceradyne also stated that earnings for the full year would fall at the lower end of a previously announced range of $5.20 to $5.40. This has sent the stock down over 46% (Stock currently at 42.26). But at current levels, is Ceradyne now a good stock to buy? I'll give the case for and against it.
Ceradyne is a good stock to buy
Ceradyne's earnings miss was contributed in part by higher research and development costs. Ceradyne is trying to angle themselves to get a major part of next year's military expenditure for approximately 2000 next-generation armored vehicles as well as for future body-armor orders. Ceradyne hopes that their BULL combat vehicle and XSAPI body armor beats out the competition.
Right now at current earnings Ceradyne is trading at a current price to earnings (P/E) ratio of 7.8. According to some estimates, next year Ceradyne could see earnings per share [EPS] as high as 6.65 per diluted share which would give them a forward P/E of 6.4. That P/E is very low compared to its peers, thus making it a strong buy.
Ceradyne is not a good stock to buy
Ceradyne missed last quarter on earnings by 14.7%. Some people on Wall Street think that Ceradyne might not get as major of a part of the next-generation armored vehicles and body armor as expected. Since the military sales account for 77% of Ceradyne's yearly sales, not obtaining a good portion of that contract would have a negative impact on earnings.
Also some see the war winding down in Iraq, which would mean military orders would be slowing down. If military orders are down, Ceradyne's earnings will go down as well.
Conference Call
Today, Ceradyne will host a teleconference to update investors on both their short and long term outlooks. They plan to comment on:
2007 and 2008 guidance
Status of our vehicle armor program, and the BULL in particular
Body armor opportunities including the Company's outlook on XSAPI and ESAPI
Increased demand for solar related ceramic crucibles
Positive performance of Ceradyne's two 2007 acquisitions of Minco and EaglePicher Boron
Other non-military opportunities
If you plan on investing in this company, you need to listen in on that teleconference. The dial-in number for that conference is 877-717-3046.
My Opinion
The sell-off in this stock was way overdone after the earnings miss. After the conference call today investors should feel more confident in the future prospects of the company. Again, market psychology often leads to big sell-offs like this one, which can bring value to investors who come in after the carnage is finished. To protect yourself to the downside, I would recommend putting in a stop-loss with this stock.
Plus, with the United States current issues with Iraq and Iran, does anyone think "The War" will end soon?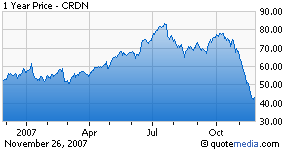 Disclosure: none