Some of the greatest artists in history evolved out of Europe, crafting the most historical works of art in the world, but none of them could have fathomed a picture like the one now set before us.
The entire European economy is "shaky" at best with debilitating eruptions surfacing almost weekly. Last week was the release of Italy's Consumer Confidence Index which fell to 89, 8% lower than last year, which is the lowest number that Italy has seen since 1996. In order to keep the country from an economic crisis, the government is issuing spending cuts and tax hikes to the tune of $26.5 billion; this is Italy's fourth recession since 2001.
To make matters worse, Spain announced on Monday of this week that they are entering into yet another recession. Spain is the fourth largest country of the 17 countries using the euro, so the concern is that Europe's bailout efforts will not be sufficient enough to redeem Spain's failing economy.
And there is the looming presidential election in France next month that threatens to knock the easel over. It truly could be the linchpin that is the euro's undoing.
Europe's outlook is bleak at best, and the governing authorities are not improving the situation at hand by issuing bailouts in any form. This type of fix cannot sustain itself indefinitely without further actions being taken. Furthermore, the issued bailouts will inevitably weaken the European economy driving the EUR down closer to parity with the USD.
The stage is set and the indicators this week will offer further insight into the directional movement to come for the EUR.
Indicators on watch this week
EUR Spanish GDP Constant SA
EUR German Unemployment Change (Wednesday)
EUR European Central Bank Rate Decision (Thursday)
EUR Euro-Zone Retail Sales (Friday)
Technical Outlook
The EUR/USD began consolidating into a barrier triangle in February of this year. Each upward swing within the consolidation pattern reached 61.8% or just past that point of the previous top and then reversed. If we looks at this formation using "Elliot Wave", we can see that the pair has worked its way through waves "A, B, C and D" in the triangle formation and is completing wave "E" as we speak.
(click to enlarge)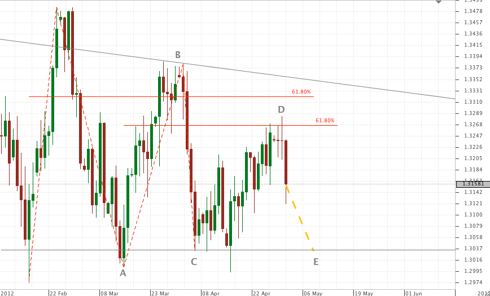 Based on my analysis I am projecting that, in the short term, the pair will dip to 1.3036 but it is yet to be seen how long that bottom will hold or the ultimate direction of the coming break.