Last week I introduced you to "My Mad Method" of evaluating stocks on my watchlist of 30 stocks that I've been tracking for several weeks or even months. In Part 1 I discussed my overall approach to picking stocks to include on my watchlist, plus the first 11 of 15 metrics that I rank as part of this evaluation. In Part 2 I explained the remaining 4 metrics, how to calculate the overall ranking, plus a brief discussion of some of the recent purchases I've made as a result of using this method and how they have performed so far.
I've received a lot of great feedback from those two articles, but one reader in particular made an excellent point that not all industries share similar "normal" ranges of values for all of my metrics-- or any metric that you might use, for that matter. So today I'm going to focus on a particular sector-- Telecommunications-- and also demonstrate how I focus in on some of the metrics to help me narrow down my selection even further.
I chose telecom because it is an industry I know a bit about, having worked in it for over 10 years at the beginning of my professional career. Telecommunications, especially wireless, has become an integral, almost indispensable part of our lives. This makes large, well run telecom companies a relatively safe bet to include in your portfolio, especially if you like good Dividend Yields as I do.
Instead of just using American telecom companies, I cast a wider net to include some of the "biggies" in the great, wide world that we live in. I like to make sure I include a goodly proportion of international stocks in my portfolio to balance out my domestic stocks. This exposes me to other currencies and might lessen the shock to my portfolio should the U.S. dollar do something nasty. I picked ten telecom companies to give me a decent chance at a good range in the rank averages and overall ranking. Here are the ten companies that I ended up with:
| | |
| --- | --- |
| Company | Ticker |
| BCE, Inc (Bell Canada) | (NYSE:BCE) |
| China Mobile Ltd | (NYSE:CHL) |
| France Telecom SA | (FTE) |
| Telecom Corp of New Zealand | (NZT) |
| Rogers Communications, Inc | (NYSE:RCI) |
| AT&T | (NYSE:T) |
| Telecom Argentina S.A. | (NYSE:TEO) |
| Telstra Corp, Ltd. | |
| Vodafone Group Plc | (NASDAQ:VOD) |
| Verizon Communications | (NYSE:VZ) |
Telecoms have a number of things in common that differentiate them from other industries. They often have unusually high Payout Ratios, and can carry very high amounts of debt, which I figured would even out the distribution of their Current Ratios. Telecoms also characteristically have higher Dividend Yields than most other industries as well, and the group I picked was no exception-- with the lowest yield coming in at 3.4 percent, the highest topping out at 12.8 percent, and a group average of 6.7 percent.
As a reminder (or in case you haven't yet read the previous articles in this series), these are the 15 metrics that I employ in My Mad Method for evaluating stocks that I'm interested in adding to my portfolio:
Dividend Yield
Payout Ratio
Five Year Dividend Growth Rate
Current P/E
Price to Book Ratio
Return on Equity (ROE)
Gross Margin
Net Profit Margin
Current Ratio
Five Year Revenue (Sales) Growth Rate
Trailing Twelve Month (TTM) Cash Margin
PEG Ratio
Graham Number Ratio
The BMW Method Root Mean Square (RMS)
The BMW Method Return Factor
I was able to track down almost all of these metrics for the ten companies I put head-to-head for this article, although Telstra, the major telecom in Australia, did give me some problems, which resulted in a couple of holes in its metrics. I estimate that it took me a total of about an hour to look up all the metrics for all ten companies. Since so many of the stocks on this list of telecoms were for international companies, I needed to go to my secondary and tertiary sources to dredge up all the numbers that I needed. I used the data after the close of the American markets on 4/30/2012. Here is how they ended up ranking after looking up all that data.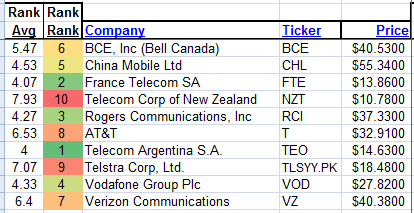 Remember that the lower the Rank Average the better, just like a golf score. You'll notice that there's only a 0.53 point difference between first place Telecom Argentina and fifth place China Mobile, and sixth place BCE is a full point further behind China Mobile. So, that's a pretty tight grouping between first and fifth, which means I need to go a little further to try to narrow down my choices.
To start with, even though it scored the best, I'm going to take Argentina Telecom out of the running (although I'll leave it in the list for illustrative purposes, and so I don't mess up my other companies' standings). It wasn't too long ago that Argentina had a financial meltdown, and Latin American countries in general give me pause due to the high risk of political unrest, which could destabilize my investment faster than I could react. As a result, I don't hold any positions in any Latin American countries, but your tastes and tolerance for risk may and will differ from mine.
So where do I go from here? There are few things that I like to do in this situation: One is to examine the Graham Number Ratio of the final contestants to see which ones might have a better price valuation according to that metric.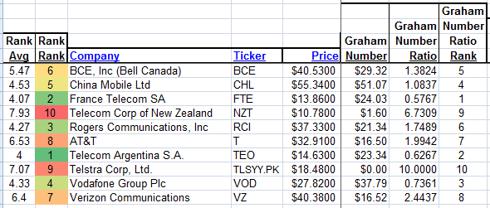 That helps a bit, as you can see that France Telecom and Vodafone seem to have Graham Numbers that are higher than their current prices, resulting in Graham Number Ratios less than 1.00. Rogers Communications, on the other hand, which is tied for overall third place with Vodafone, has a much higher Graham Number Ratio, one that is well over the equilibrium point of 1.00, which could indicate that it is not priced quite where it should be at the moment. To get another perspective on valuation for these companies, let's compare their P/E ratios next: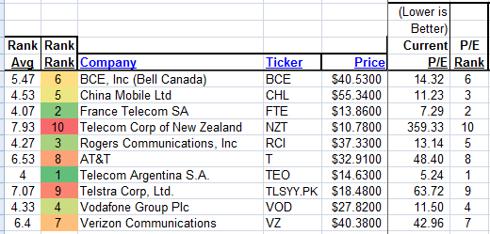 All of the top five are below the S&P500 average for P/E, with France Telecom clearly having been beaten down in recent months. So, while still a close call, this shows that they all have decent valuations.
Since one of my main objectives for my portfolio is to generate the best, most stable and growing Dividend Yields I can reasonably find, the next step in this process would be to look at the Yield, Payout Ratio, 5 Year Dividend Growth Rate, and TTM Cash Margin Ratio to see how these frontrunners line up.
Click to enlarge

Strictly on a Yield basis, France Telecom is clearly the winner. Its Payout Ratio isn't terrible-- at just over the 80 percent level that many folks like to see companies come in at or below-- and it has the best TTM Cash Margin of the top five after excluding Telecom Argentina.
One final thing to check is the Current Ratio. France Telecom has a Current Ratio of just 0.70, which isn't fabulous, but also isn't unusual for telecoms. Rogers Communications' comes in at 0.90, and Vodafone is close behind (actually ahead) at 1.00 even. China Telecom has the best Current Ratio of the top contenders at 1.30. This is pretty much what I expected from telecoms as a group, as it takes a lot of capital to sink the infrastructure needed to provide telecommunications into the ground. On this score I'm going to give it to China Telecom, but the other three are close enough that it doesn't concern me too much, even France Telecom.
Then there are other factors that need to be considered. First of all, I know that the eurocrisis has yet to play out, but France is one of the Big Two in the eurozone with a decent credit rating still. I also know that France Telecom is well diversified outside of Europe and into the Middle East and Africa, which is where the majority of its growth has been coming from. I've had my eye on FTE since mid-November, 2011, and while its price is down a fair bit from then, its price has been relatively stable for the past couple of months. So, if I want to be greedy about boosting the overall Dividend Yield average for my portfolio, I'm inclined to go with France Telecom. However, a somewhat safer bet with still a respectable yield would be Rogers Communications, which has been on a tear in increasing its dividend over the past 5 years, and still has plenty of room to grow and a good amount of cash with which to grow it.
That's how I'd look at it if I just wanted to select a single stock to add to my portfolio. But in the bigger picture, out of my entire watchlist that I reported on in my earlier articles in this series, FTE scored right in the middle of the pack of 30 at 15th, so it is probably not my first, best choice overall to buy next. On the other hand, if I wanted to make a telecom "play", I might consider taking up smaller positions in FTE, RCI, VOD and CHL, with either AT&T or Verizon thrown in for a domestic member of that play pack (or heck, why not both?). Then, over time, I could continue to add to each of these five (or six) positions until I had what I felt was a decent level of allocation in them across my overall portfolio.
I hope you found this process of decomposing the overall ranking of the major players in a single industry into its component parts helpful when using My Mad Method, or your own version of this approach. Please feel free to leave any questions or comments that you might have below, and thank you for your time.
Disclosure: I am long T, OTCPK:TLSYY.
Additional disclosure: I am not a professional investment advisor or financial analyst; I'm just a guy who likes to crunch numbers and can make an Excel spreadsheet do pretty much whatever I want it to do. This article is in no way an endorsement of any of the stocks discussed in it, and as always, you need to do your own research and due diligence before you decide to trade any securities or other products.