On Friday of last week, Maxwell Technologies (NASDAQ:MXWL) and Allscripts Healthcare Solutions (NASDAQ:MDRX) crashed in an uncannily similar fashion and I stepped in and bought a little of both seeing opportunity in the wreckage. In Part 1 we looked at the opportunity created in Maxwell, in this segment we examine Allscripts.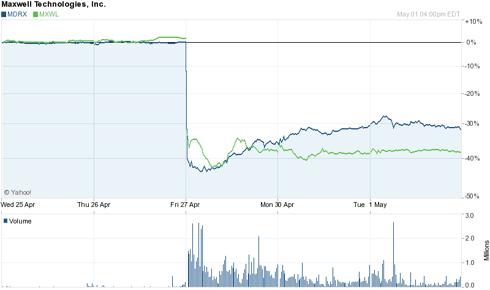 *Source Yahoo Finance
Allscripts Healthcare Solutions
Allscripts is the leading provider of Electronic Health Record technologies, practice management and other clinical, revenue cycle, connectivity and information solutions for physicians, hospitals & post-acute organizations. The company provides customers a complete portfolio of clinical, financial, analytics and connectivity solutions, and has an existing client base of 180,000 physicians, 1,500 hospitals and 10,000 nursing homes, homecare agencies and other post acute organizations, according to the company, the largest network in healthcare. The company offers solutions through both traditional on premise delivery or ever so trendy SaaS (software as a service) cloud versions available on-demand over the Internet using a web browser.
The current company structure is the result of an August 24, 2010 merger with Eclipsys Corporation. The goal of the merger was to create a larger, more competitive and complete solutions provider within the healthcare information technology industry. The combined company claims to own "the industry's largest network of clients on the most advanced product platform resulting in a single patient record", providing better and greater opportunity to address the $40 billion Health Care IT market. The company claims integrated Electronic Health Records will help reduce some of 98,000 deaths per year caused by medical errors, and reduce costs in a rising cost environment currently suffering from significant spending waste as a result of inefficiencies and misuse.
Catalysts for Growth
The company lists a variety of positive growth catalysts going forward including low market penetration of EHR as they estimate only ~ 12% of physician practices and ~11% of hospitals are currently using EHRs. They also reference a variety of government initiatives that are expected to drive adoption. The anti-kickback Stark Safe Harbor legislation and the President Barack Obama endorsed American Recovery & Reinvestment Act (ARRA) are both expected to accelerate EHR adoption in the coming years.
ARRA provides financial incentives through the Centers for Medicare and Medicaid Services (CMS) to physicians and hospitals that prove they have adopted and are using Electronic Health Record (EHR) technology. The ARRA law provides for what is expected to be over $30 billion in funds supporting health information technology utilization. President Obama had this to say on the subject:
When everything is digitalized, all your records - your privacy is protected, but all your records on a digital form - that reduces medical errors. It means that nurses don't have to read the scrawl of doctors when they are trying to figure out what treatments to apply. That saves lives; that saves money; and it will still ensure privacy.
Jim Cramer Was on Board
On a segment of Mad Money from November 7, 2011, he focused on the improving prospects for MDRX in an interview with CEO Glenn Tullman. From the transcript of the show:
Allscripts make the software hospitals and doctors use to bring their practice into the 21st century with electronic medical records as well as electronic claims and prescribing systems. they offer one network with one platform for one patient, allowing health care providers to reduce cost, waste and expensive medical mistakes while becoming more efficient. this is one of the few health care companies that has the Obama administration's, well, blessing? first there was $30 billion in the stimulus for electronic medical records which is Allscripts bread and butter. now doctors and hospitals will need to adopt software from Allscripts or one of their competitors to get fully compensated.

I think this situation is explosive. When I see accelerating revenue growth, I want to get behind it. I think the stock goes higher and I think the next quarter is better.
The Bloom is Off the Rose
The party ended last Thursday for Allscripts when the company reported a lower-than-expected quarterly profit, forecast weak full-year results and also announced the resignation of its CFO, three directors and board Chairman Phil Pead. That was quite a barrage of bad news and shareholders didn't take it well, sending shares plunging 42 percent in premarket trade on Friday. Citigroup analyst George Hill said the results were strongly disappointing and downgraded the company's stock to "neutral" from "buy." Hill was most troubled by the loss of long tenured CFO Bill Davis, who had been the public face of Allscripts to investors for many years, saying: "We suspect CEO Glen Tullman won a power struggle at the 11th hour leading to the board departures."
Enough to Change Cramer's Mind
Here was Cramer's response to the news on Mad Money: "Sell, sell, sell. When I see that kind of wholesale resignation...a CFO leaving...I'm glad I put it on the Sell Block."
This implies he had already changed his mind on the stock before this and I believe him, but now that it is 50% off its 52 week high and down 40% in one day I don't think this is where you sell. Cramer did interview CEO Tullman again on February 22, 2012. The interview was summarized in this article on Seeking Alpha, including this passage:
One of the hottest areas in the healthcare space is the shift to electronic records. There are government incentives for doctors and hospitals to make this shift by 2015, and yet, only 30% of hospitals and 50% of doctors have implemented these changes.
The Thesis Remains
I believe all the positive catalysts remain in place for Allscripts and I established a small position at $9.28 in the selloff on Friday. The management changes create some uncertainty but I believe that was more than reflected in the stock reaction. The value of its network and the market potential remain significant. Even after the haircut to estimates, the company is expecting 2012 revenues of over $1.5 billion and earnings of .77/share. Looking to 2013, estimates are for revenues to grow to $1.64 billion with earnings of .94/share.
On Friday morning when the market offered me shares at less than 10x forward earnings I felt the situation presented a very attractive risk reward scenario. The shares have since rebounded almost 20% from those levels and now I think the stock is more of a wait and see. If the market gives me another opportunity around $9/share, I will consider another purchase.
Disclosure: I have no positions in any stocks mentioned, and no plans to initiate any positions within the next 72 hours.