As earnings season begins to wrap up, stocks have yet to establish a decisive direction. Though this week saw the Dow close at its highest level in four years, most are still unsure as to where we are headed in the foreseeable future. Perhaps the most pressing issue will be the resolution, or lack thereof, of the European debt crisis. On the home front, some of the biggest questions on the minds of traders is a third quantitative easing program; the Fed has hinted at QE3 but also seems very reluctant to actually implement it. But after the recent miss in GDP, the U.S. economy may be losing steam to its long haul of a recovery.
Today will see focus shifted to the consumer sector, as Kraft Foods (KFT) will be reporting earnings. Kraft is a conglomerate that is home to some of the biggest brand names in the world. In fact, 12 of the company's brands earn more than $1 billion on an annual basis, including Kraft, Oscar Meyer, Trident, and more. On top of that, 70 individual brands earn more than $100 million each year, and 40 brands in total are at least 100 years old. With a track record like that, it is no surprise to see this stock as an investor favorite.
KFT will report earnings today at the closing bell, but those looking to make a ply on the result will need to establish a position prior to the release. Analysts are predicting an EPS of 0.56 with revenues just over $13 billion for the most recent quarter. It should be noted that Kraft has had solid earnings management in the past year as they met or surpassed the last four quarterly estimates. Should KFT surpass their marks yet again, look for the stock to enjoy a strong trading day on Friday, but an earnings miss will likely cause it to gap lower for the final day of the week.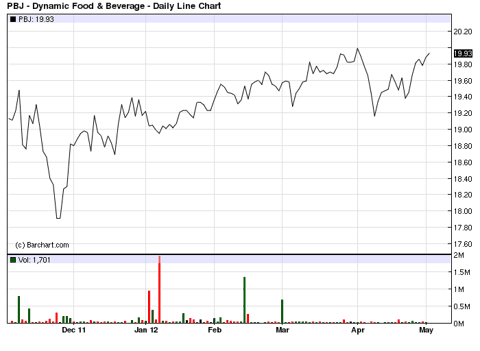 In light of this major earnings announcement, today's ETF to watch will be the Dynamic Food & Beverage Fund (NYSEARCA:PBJ). This ETF measures the performance of U.S. food and beverage companies like Yum Brands (NYSE:YUM) and Kroger (NYSE:KR). Kraft sits as the third highest holding with an allocation of 5%. This fund has been relatively flat for the year but has maintained its dividend of about 1%. Kraft's earnings will give telling information on the health of the food and beverage sector, so these results may impact more than just their stock. Look closely at both the earnings results as well as the guidance given to see how PBJ will react on Friday.
Disclosure: No positions at time of writing.
Disclaimer: ETF Database is not an investment advisor, and any content published by ETF Database does not constitute individual investment advice. The opinions offered herein are not personalized recommendations to buy, sell or hold securities. From time to time, issuers of exchange-traded products mentioned herein may place paid advertisements with ETF Database. All content on ETF Database is produced independently of any advertising relationships.