U.S. consumer confidence fell to its lowest level since Hurricane Katrina in the fall of 2005, the Conference Board reported Tuesday. The index fell almost seven points, to 87.3 from 95.2, well below the 90.2 economists had forecasted. It was also the biggest one-month decline in two years. The decline was driven by a massive drop in consumer expectations, to a four-year low of 68.7 from 80; present situation confidence fell a milder 2.6 to 115.4 from 118.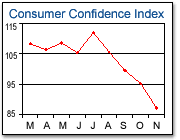 "Consumers' apprehension about the short-term outlook is being fueled by volatility in financial markets, rising prices at the pump and the likelihood of larger home heating bills this winter," director of research Lynn Franco said. "In fact, consumers' inflation expectations have surpassed the spike experienced this spring and a larger percentage than last month expect stock prices to decline. The Present Situation Index, despite losing ground, still suggests the economy is expanding, albeit slowly." Those who called economic conditions 'bad' grew to 19.1% from 16.6%; 22.3% saw conditions as 'good' vs. 23.2% a month ago. Still, consumers are worried about inflation; the 12-month inflation expectation rose to 5.7% from 5.1% last month. 23.1% believe hiring will slow over the next half year, up from 20.2%; 10.8% feel hiring will pick up, vs. 13.3% last month.
Seeking Alpha's news briefs are combined into a pre-market summary called Wall Street Breakfast. Get Wall Street Breakfast by email -- it's free and takes only seconds to sign up.