EXPAREL is Now Available
The commercial launch of EXPAREL (bupivacaine liposome injectable suspension) started this April. According to Dave Stack, president and CEO of Pacira Pharmaceuticals (NASDAQ:PCRX), "for the millions of patients undergoing surgical procedures in the U.S. each year, the introduction of EXPAREL -- a single-dose, non-opioid local analgesic given at the close of surgery -- represents a significant addition to the currently available options to manage postsurgical pain..." The Pacira sales force of 63 hospital specialists has been working with key hospital and surgical customers to obtain access for EXPAREL. This is the first drug that Pacira has tried to sell on its own. If it goes well, there will be many others.
Pacira Pharmaceuticals Inc. develops, commercializes, and manufactures pharmaceutical products for use in hospitals and ambulatory surgery centers. The company develops pharmaceutical products based on the DepoFoam drug delivery technology. Its drugs include EXPAREL, for non-opioid postsurgical pain management; DepoCyt for treatment of lymphomatous meningitis, a cancer of the immune system; DepoDur for controlling post-operative pain; DepoNSAID, in preclinical trials for relief of acute pain; and DepoMethotrexate, in preclinical trials for the treatment of rheumatoid arthritis and oncology.
Click to enlarge


About DepoFoam
DepoFoam is a proprietary, extended-release drug technology that is a multivesicular liposomal platform that encapsulates drugs without altering their molecular structure and then releases the drugs over a period of time. The technology can be designed to offer an immediate-release dose followed by sustained delivery. It can also be applied to both small and large molecules to improve patient care by a unique solution for medications that can be administered by continuous infusion or require multiple injections.
DepoFoam can provide a solution to a medication that has a short duration of action, or has a problem with peak concentrations. DepoFoam liposome components are natural and well tolerated. DepoFoam can release medication into the bloodstream or in locations such as joints. It is a conveniently prepared product that can be used in narrow gauge needles and pen systems.
DepoFoam technology has been approved in the United States and Europe. Its drugs are safe and reliable -- having been used for over 10 years. DepoFoam technology does not alter the drug allowing for easy approval using a 505(b) application. DepoFoam drugs are manufactured and developed at Pacira's cGMP facilities. The potential to use DepoFoam on nearly any injectable drug offers Pacira a drug platform that can be very profitable in the future.
Pacira's New Cash
Pacira Pharmaceuticals just entered into an underwriting agreement to sell 6,000,000 shares at $9.75 per share. After underwriting discounts and commissions and offering expenses, the company expects to receive $54.6 million. Pacira Pharmaceuticals granted the underwriters an option to purchase an additional 900,000 shares of stock. This option to purchase additional shares granted the company an additional $8.2 million after deducting underwriters discounts and commissions and offering expenses. The grand total the company has received is $62.8 million.
Chart of Pacira Pharmaceuticals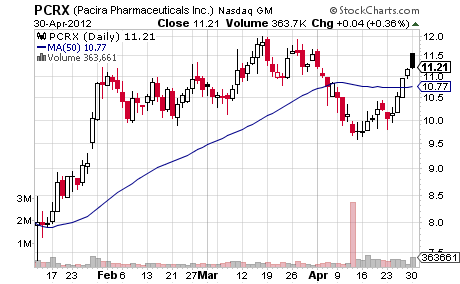 Pacira Pharmaceuticals stock trended upward until early April, when it raised cash. The stock sold off sharply until mid-April, when it reached a low price of $9.70 per share. The stock then started to trend upward again until it reached $11.21 on April 30, 2012.
Disclosure: I am long PCRX.