Summer and sports go hand in hand for many. However, it has been suggested that summer and the stock market may be less symbiotic. While others are playing the "sell in May and go away" strategy, investors might benefit by considering a position in summer sports stocks which have shown historical growth during the warmer months. Further, with the unique addition of the Summer Olympics in London this year, highlighted players will be seeing some prime exposure which may spur gains.
Baseball Related Stocks
Some speculate that Baseball might eventually be overtaken as the national pastime, but its summer dominance is firmly intact. For many U.S. families, it just isn't summer without a trip to see their favorite team at the ballpark. The following are stocks have historically see an upswing in summer gains.
Kraft Foods (KFT) - Whether it's a juicy Oscar Myer hotdog and Planter's peanuts in the stands or some A1 on your steak at home, Kraft has its fork in many summer baseball staples. The company is just off its 52 week high and expects over a 7% EPS report in its earnings May 3rd. A dividend stock, KFT offers a diverse summer related play.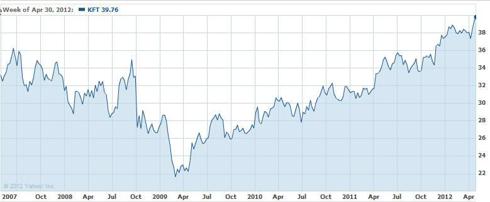 Nathan's Famous Hotdogs (NASDAQ:NATH) - Perhaps the greatest beneficiary of summer food hype is Nathan's. Some may argue the level to which competitive eating itself is a sport, but it certainly garners the company's attention. The hot dog maker has front and center stage on ESPN for its 4th of July International Hot Dog Eating Contest on Coney Island. One can head to Yankee stadium to enjoy one of these from the concession stand and support this smaller cap stock, which is trending near its 52 week high around $24.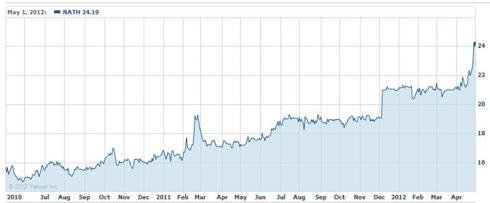 Heinz Ketchup (HNZ) - Nothing says hot dog like ketchup. While spreading these condiments on your 'dog, you can be spreading wealth to your portfolio. Heinz is quite diversified and is moving into emerging markets. It also sits near its 52 week high and offers a dividend yielding 2.9%. Heinz looks to expand its ketchup dominance with its new summer product, Tomato Ketchup with Balsamic Vinegar.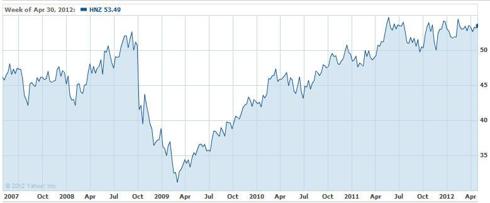 Anheuser-Busch (NYSE:BUD) - Taste the heady flavor of a dividend as you sip your Bud Light at the park this summer. BUD is near its 52 week high and looks strong on its release of Bud Platinum, which offset a slow-down in its U.S. markets for its main products. The lower sales of its bread and butter products is a concern, but sales of additional products such as premium Stella Artois, grew over 20% in Q1 2012.
Click to enlarge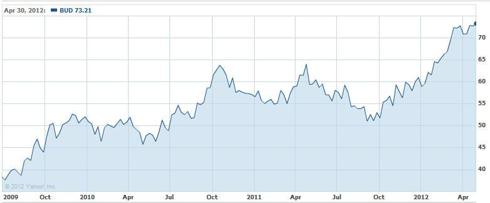 Boston Beer (NYSE:SAM) - If craft beer is more your style, you can be patriotic this summer with a sip of Sam Adams. Boston Beer is up over 13% this year and looks to be riding the increasing market of craft beers. Many analysts are looking for the $100 price tag as a buy sign for this stock, which currently sits just north of that mark at $107.
Click to enlarge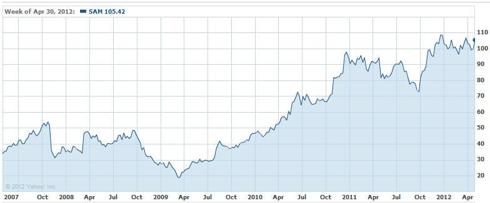 Classic summer baseball will have some televised competition from the 2012 Summer Olympics in London. There's no doubt that this event offers a great once-every-four-years stage for its sponsors.
Ralph Lauren (NYSE:RL) - While retail many clothing retailers slow down in the summer months, Ralph Lauren may see an upswing in sales this summer. The company will be back again as the official outfitter for Team USA as part of its 3 games deal with the USOC. Athletes will be sporting the designer's label rich gear at high profile ceremonies and interviews. With a 1 year target at $193, this stock has room for growth with an improving economy.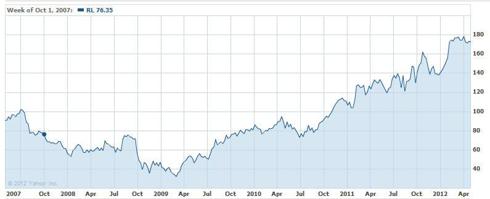 Nike (NYSE:NKE) - The real U.S. retail boon from the Olympics may belong to Nike. Nike stock price has increased 25% on average over the course of the summer for the last 5 Olympics. As the official uniform supplier for Team USA, Nike will be front and center on every American in competition and on the podium this summer. Americans can order Nike gear to support their favorite athletes at the Team USA online store. Chances are you aren't in the running for an Olympic Gold this summer, but you could take something home out of a Nike investment.
Click to enlarge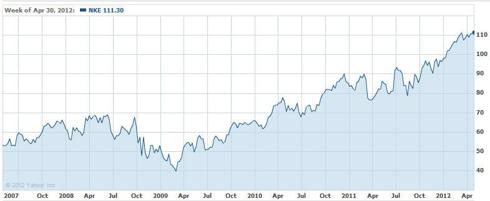 Disclosure: I have no positions in any stocks mentioned, and no plans to initiate any positions within the next 72 hours.