As of Monday's close the market was officially down 10% from its 10/9 high. While 2007 has been a year of market corrections, two are very significant while a third also deserves attention.
We have noticed some recent analysis pointing to comparisons between current market conditions and that of the first part of 2003. We note that this is also the first 10% correction since the decline that occurred between 11/27/02 and 3/11/03.
Below we show the S&P 500's 50-day spread throughout the current bull market. It would be prudent to point out that the 11/27/02 correction preceded the strongest rally since 1990, taking the market up 95.47%.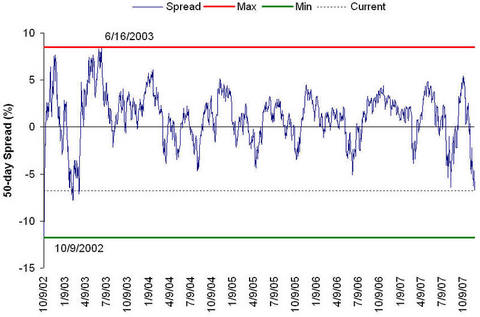 Having breached the 10% boundary, we would expect that (based on the averages) the market will continue down another 8%.

In addition to the filter above, the graphic below highlights the current correction versus the previous 11/27/02 decline.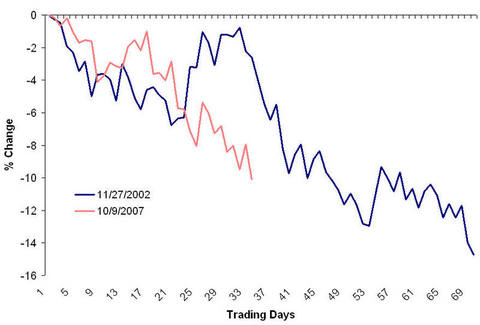 The important investment decision left to be made is distinguishing between a correction and a bear market. Based on historical cycles there is a 24% chance that the current decline will result in further losses of 20% or more. However, if we examine the state of our current bull market, it is hardly extended beyond the historical "norm."