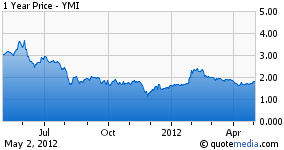 YM Biosciences Inc. (YMI) has stated that it is currently in discussions with the FDA to agree on a protocol for the Phase III clinical trial design for its lead product candidate CYT387, for the treatment of myelofibrosis (MF). YMI expects to start Phase III in the second half of 2012. Given the Company's current valuation (157MM shares outstanding, ~$135MM cash, Market Cap = ~$271MM, EV = ~$136MM), investors seem to be searching for clarity on how YMI intends to bring a drug into a market currently exclusively owned by Incyte Pharmaceuticals' (NASDAQ:INCY) Jakafi. While this uncertainty as it relates to valuation may be explainable, many investors may be overlooking YMI's potential. We note that YMI is a well-capitalized company with a drug that:
1) has the potential to produce superior clinical outcomes compared to Jakafi,
2) may have an easier path to regulatory approval,
3) is un-partnered in a pharmaceutical landscape, which has produced collaboration deals as high as $1.3 billion for similar drugs, and
4) may have broad potential beyond the initial indication of Myelofibrosis
Myelofibrosis (MF) is a disease of the bone marrow resulting in the replacement of bone marrow with nonfunctional fibrous tissue. During this disease, progressive reduction in bone marrow stem cells interferes with the production of white blood cells, red blood cells and platelets. Patients with MF suffer from anemia, clotting issues and increased risk of infection as well as constitutional symptoms of fatigue, shortness of breath, joint pain, and night sweats. Often, as serum levels of red blood cells fall, the body compensates by inducing the spleen and liver to produce red blood cells, causing both organs to swell.
The International Working Group Myelofibrosis Research and Treatment (IWG-MRT) response criteria measures the severity and treatment response by the following criteria:
1) amelioration of anemia (preferably transfusion-independence),
2) reduction in spleen size,
3) platelet count, and
4) neutrophil count.
Treatment of MF depends on the severity of symptoms. While the few younger patients may be cured with an allogenic stem cell transplant (Allo-SCT), the majority of patients can only be treated symptomatically. Treatments include blood transfusions for anemia, radiation and chemotherapy, recombinant erythropoietin (EPO) or androgens, and in more severe cases - splenectomy (removal of the spleen).
In November 2011, the FDA approved the use of Incyte Pharmaceuticals' Jakafi (ruxolitinib), the first of a class of drugs called JAK2 inhibitors, for the treatment of MF. JAK2, or "Janus Kinase 2", is a signaling protein and is a key component for the stimulus of red blood cells, white blood cells, and platelet production. About 50% to 60% of people with MF have the mutation "JAK2V617F"; the mutant form of JAK2, which can no longer be regulated properly. Despite FDA approval, Jakafi clinical trials have only demonstrated a reduction in spleen size and the lessening of some constitutional symptoms. Noticeably absent is the ability of Jakafi to treat the IWG-MRT's first criterion, transfusion independence or even anemia amelioration. Indeed, Jakafi's label clearly states that treatment with the drug can cause hematologic adverse reactions including thrombocytopenia, neutropenia, and, importantly, drug-induced anemia, the latter of which may result in a greater need for transfusions above and beyond that related to the disease itself.
YMI is currently in discussions with the FDA for the Phase III trial design of its own JAK1/JAK2 inhibitor, CYT387. Preliminary findings from its Phase I/II trial of CYT387 were released at the end of last year at the American Society of Hematology's (NYSE:ASH) 2011 Conference. Similar to Jakafi, CYT387 demonstrated a reduction in spleen volume (49% of patients had spleen size reductions of greater than 50%) and improvement of constitutional symptoms. More significantly, and something that Incyte's Jakafi has not yet proven, 54% of patients treated with CYT387 were transfusion-independent after 12 weeks.
Of course it is in the early days of the Jakafi launch. On April 26th 2012 INCY reported greater than anticipated 1Q Jakafi sales of $19.3MM, following which several analysts upgraded their first year US revenue projections to >$100M. Early indications are that myelofibrosis likely represents a billion dollar plus global market opportunity.
So where does YMI stand now? At its current price of $1.65 (as of April 24, 2012), and with 164MM fully diluted shares outstanding, YMI has a fully diluted market capitalization of ~$271MM and an enterprise value (EV) of ~$136MM. The company recently completed a highly oversubscribed, tightly-priced secondary offering in late February, and has ~$135MM in cash with no debt. A brief timeline of the CYT387 development milestones and news flow is as follows:
2H12 - Initiate pivotal Phase III studies
4Q12 - Presentation of Phase II BID dosing study data
4Q12 - Presentation of final 9-month Phase I/II data
4Q12 - Presentation of long-term data from the Phase I/II Extension study
YMI has already initiated discussions with the FDA and is optimistic about starting the trial by 2H12. As such, the drug might be approved by mid-2015. Interestingly, Jakafi's approval has provided YMI with an advantage - a clearly defined framework for the approval of CYT387. Jakafi was approved by a special protocol assessment (SPA) with the primary endpoint of a >35% reduction in spleen volume after six months, and a secondary endpoint of reduction in constitutional symptoms as evaluated by patient reported outcomes (PRO). With these criteria in mind, YMI also has the potential to incorporate transfusion independence as an additional study endpoint, and a valuable differentiating factor once on the market.
Absent from the timeline are two interesting potential events: first, YMI has yet to partner CYT387's commercial rights, and second, CYT387's untapped potential to treat a number of other indications. By way of comparison, in November 2009, when Jakafi was at approximately the same development stage that CYT387 currently is in, Incyte signed a licensing agreement with Novartis (NYSE:NVS). In exchange for the ex-U.S. rights to JAKAFI (and another Phase I compound), Incyte received an initial payment of $210 million, potential milestone payments of $1.1 billion, and possible double-digit royalties on ex-U.S. sales.
Around the same time, Incyte signed a licensing agreement with Eli Lilly (NYSE:LLY) for another of its JAK inhibitor compounds before it had completed its Phase II trial for the treatment of rheumatoid arthritis. In exchange for worldwide rights to the compound, Incyte received an initial payment of $90 million, potential milestone payments of $665 million, and possible double-digit royalties. We think YMI is looking for a partner who is equally committed to multiple indications and a broad development and commercialization strategy.
As JAK1/JAK2 mutations have been implicated in other disorders, including epithelial cell cancers and many inflammatory diseases, CYT387 could easily be partnered for the treatment of prostate, breast, head and neck, lung, ovarian, renal cell, glioma, pancreatic and liver cancers. If CYT387's anemia benefits are borne out in larger studies, it is a prime candidate to treat hematological cancers in combination with chemotherapy, such as multiple myeloma, as well as various lymphomas and leukemias such as MDS.
Interestingly, CYT387 has an excellent pedigree, having originated in the laboratories of Australian biotech firm Cytopia, a company founded by the discoverer of the JAK kinases, Dr. Andrew Wilks, and subsequently acquired by YMI in 2010. Cytopia pioneered the development of JAK inhibitors, having solved the crystal structures of both JAK1 and JAK2, and building the first rational drug development effort in the field. Indeed, YMI currently holds many of the foundational patents in the JAK space, and has a library of small molecule JAK kinase inhibitors in its portfolio derived from Cytopia's discovery efforts. As such, a second YM JAK inhibitor similar to CYT387 could also emerge in the future for inflammation, including RA.
The clinical data to date suggest that CYT387 may be superior to the only FDA-approved treatment (Jakafi). YMI is therefore well positioned and may have a relatively easy path to approval for CYT387. Importantly, YMI has a timeline with several value inflection points and has completed a recent secondary offering giving the company a very strong balance sheet. YMI has the flexibility to retain exclusive rights to CYT387 or can partner CYT387 in one or several indications.
Disclosure: I have no positions in any stocks mentioned, and no plans to initiate any positions within the next 72 hours.