NovaBay Pharmaceuticals (NYSEMKT:NBY) says key study data demonstrating that development of resistance to its lead Aganocide compound, NVC-422, is highly unlikely for a variety of infectious organisms, including methicillin-resistant S. aureus (MRSA), compared with traditional antibiotics, were published in the May 2012 issue of Antimicrobial Agents and Chemotherapy, the journal for the American Society for Microbiology.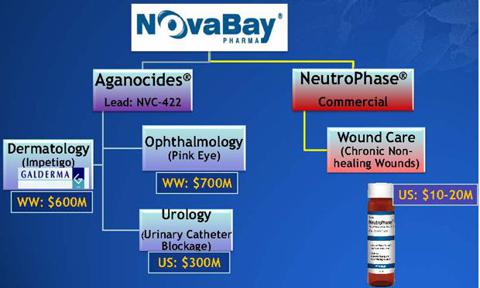 Click to enlarge
(Click to enlarge)
NovaBay's two Distinct Anti-Infective Product Lines (Estimated Market Sizes)
NovaBay is developing NVC-422, a novel anti-infective with broad-spectrum bactericidal activity and novel mechanism of action to address the unmet medical needs in several large markets. Different topical formulations of NVC-422 are in mid-to-late-stage clinical development in ophthalmology, dermatology and urology.
"This is a seminal article for those in the industry of infectious diseases, as it confirms the potency of NVC-422 against potentially deadly bacteria, and shows the bacteria's low likelihood to develop resistance to NVC-422," Dr. Richard Odom, Sonoma Dermatology, Sonoma, Calif., and past president of the American Academy of Dermatology, said in a statement.
"As a practicing dermatologist, I believe a new topical agent of this nature would be a welcomed addition to our treatment options, particularly in highly drug-resistant infections such as caused by MRSA," he added.
Dr. Dmitri Debabov, senior author and Head of Microbiology and Cell Biology at NovaBay, said the study not only showcases NVC-422 as an antimicrobial agent that has a strong potential of being "immune" to resistance, it also highlights the "inadequacies of current antibiotics because bacteria can rapidly become resistant, especially when antibiotics are used at sub-lethal concentrations."
CEO Dr. Ron Najafi said NovaBay's Aganocide compounds belong to a novel family of antimicrobial compounds with a mechanism of action that is not conducive to the emergence of resistance. "The compounds are not cross-resistant with other known structural families, and to date, we have not selected or identified strains resistant to NVC-422, which has been the subject of several clinical and in vitro studies," he added.
Disclosure: I have no positions in any stocks mentioned, and no plans to initiate any positions within the next 72 hours.