First Solar (NASDAQ:FSLR) is scheduled to report 1Q 2012 earnings after the bell today (Thursday, May 3rd). The Street estimates EPS of $0.59 and revenue of $688.21 million. First Solar reported EPS of $1.33 during the same period one year ago.
Amidst the company's sizable and well documented recent struggles, these estimates have come down substantially over the past six months. Consensus EPS for 2012 began the year at $7.135 and now stands at $4.08.
If you've held on to this stock during its descent, perhaps now is not the time to sell. But we caution those looking for a post-earnings pop to wait for the report before deciding to jump in. The risk-reward profile for First Solar does not appear favorable ahead of earnings. If the report is positive, there is plenty of upside in this stock for an investor to accumulate in the days ahead.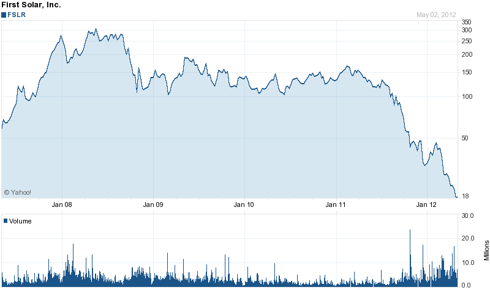 Click to enlarge
Chart from Yahoo Finance.
Recent Earnings History, Misses
First Solar has a streak of three straight EPS misses. According to the TheStreet.com, the company has missed consensus earnings estimates its last three quarters by an average margin of roughly -20%. Last quarter, the company reported EPS of $1.26 versus an estimated $1.57. For the period ending September 2011, First Solar reported $2.25 versus an estimated $2.68. And for the period ending June 2011, First Solar reported $0.70 versus an estimated $0.90. This trend of EPS misses indicates that First Solar is a risky pre-earnings investment.
Glimmers of Hope
Despite the prospects of an EPS miss and further revised guidance downward, First Solar has undoubtedly set its bar very low ahead of earnings. And much of the damage has already been done to the share price. First Solar is trading just a shade above its 52-week low and has returned a sordid -49.1% year-to-date and -86.5% over the past year. A small EPS miss is unlikely to change sentiment strikingly. However, a small amount of positive news could help ignite a short-term rally.
The sheer magnitude of First Solar's rise and fall has been monumental. At $18 a share, it would need to gain well over 1,000% to reach its '08 high of $311. We do not necessarily call that upside, but there does exist some potential for outsized gains from current levels should things change positively in the industry.
And, in fact, there is some chatter on the Street that solar may be heating up. On Tuesday morning, Citi analyst Timothy Arcuri called the bottom for the solar sector and simultaneously raised his ratings on SunPower (NASDAQ:SPWR) and Yingli Energy (NYSE:YGE), while maintaining his buy ratings on Trina Solar (NYSE:TSL), MEMC Electronic Materials (WFR), and Advanced Energy Industries (NASDAQ:AEIS).
Arcuri supported his bullish call with a research note in which he made the following observation:
Our field work indicates product sell-through - particularly in Europe - has increased significantly in the past 1-2 weeks and utilization rates at Tier 1/2 cell/module producers have begun to spike higher. This indicates a clearing of inventory and suggests Q2 should ultimately represent a cyclical bottom in margins at cell/module producers...
If Arcuri is correct about the bottom for the solar industry, First Solar may be worth consideration in more risk-tolerant portfolios. Trading at less than 50% book value and a miniscule price/earnings ratio, First Solar is trading at multiples that reflect a high probability of insolvency over the next five years, in our view.
Yet, we think First Solar, through its painful restructuring away from subsidy-driven markets, is actually better positioned than most in the industry to survive and profit once we see a reversal of current trends. Of course, those trends may not reverse over the short-term, which would mean more pain for shareholders. In that case, however, we believe First Solar may still be a takeover candidate, given its discounted price relative to book value.
Bottom Line
We have serious mixed feelings about First Solar at this juncture. On one hand, we welcome the idea of maintaining a small amount of long-term exposure to a diverse group of alternative energy companies at discounted prices, and solar would seem to be among the most attractive long-term alternative plays right now. On the other hand, First Solar and the sector in general have been terrible investments over the span of the last three years, and bottom picking is always a losing strategy in the market.
But, across the board, solar stock multiples are low and solar energy price-points are dropping. At some point, a reversal is inevitable, and at that point the surviving companies should have the opportunity to shine. We do not expect First Solar to do any such shining when it reports its Q1 2012 earnings, but as they say - and to tie-in a solar reference loosely - it is always darkest before the dawn. Indeed, things may be dark for First Solar these days, but the sun will come out tomorrow.
Disclosure: I have no positions in any stocks mentioned, and no plans to initiate any positions within the next 72 hours.