Continuing my search for a dividend paying energy stock, today we will look at Suncor Energy Inc which trades on both the NYSE and TSE under the symbol (NYSE:SU).
This analysis will use Canadian data.
Company Profile:
From Yahoo Finance
Suncor Energy, Inc., together with its subsidiaries, operates as an integrated energy company in Canada. It operates through four segments: Oil Sands, Natural Gas, Energy Marketing and Refining, and Refining and Marketing. The Oil Sands segment recovers bitumen, primarily through oil sands mining and in-situ development, and upgrades it into refinery feedstock, diesel fuel, and by-products. This segment offers light sweet crude oil/diesel and light sour crude oil/bitumen. The Natural Gas segment explores, acquires, develops, and produces natural gas and natural gas liquids from reserves in western Alberta and northeastern British Columbia. This segment also acquires land and explores for coal bed methane in the United States. The Energy Marketing and Refining segment refines crude oil into a range of petroleum, petrochemical, and biofuel products. It offers gasoline, diesel, jet fuels, petrochemicals, heating fuels, and heavy fuel oils for industrial, wholesale, commercial, and retail customers principally in Ontario and Quebec. This segment also engages in third party energy marketing and trading activities. The Refining and Marketing segment refines and markets jet fuels, diesel, gasoline, and asphalt. This segment also transports crude oil through wholly or partly owned pipelines in Wyoming and Colorado. In addition, the company carry on energy trading activities focused principally on buying and selling futures contracts and other derivative instruments based on the commodities it produce.
Market capitalization is $45.96B.
Company Fundamentals:
First off, let's check on management's performance. The return on invested capital has been improving over the last 10 years. In 1998 and 1999, ROIC was in the single digits. By 2003, it had moved up to 15.8%. And last year's ROIC was an amazing 26.5%.
Return on equity bears this out. The 10 year average ROE is 18.4%. The 5 year average ROE improves to 22.26%.
The equity growth rate has been quite consistent over the 10 year period. The 9 year rate is 22.49%. The 5 year rate improves to 29.63%. The 3 year rate stays there at 29.88%. And last year's equity growth rate was an astronomical 45.31%.
As would (and should) be expected, the earnings per share growth rate has kept up. The 9 year rate is 30.48%. The 5 year rate improves to 32.76%. The 3 year rate dips to 24.24%. And last year's EPS growth rate was 149.49%!
Sales growth rates have been strong and consistent. The 9 year rate is 27.88%. The 5 year rate improves to 33.28%. The 3 year rate edges up to 37.4%. And last year's sales growth rate came in at 58.7%.
These are very strong fundamentals. Let's see how the dividend has been doing.
Dividend Fundamentals:
The current dividend yield is a paltry 0.40%. That is far below the dividend yield of XOM (1.62%) and COP (2.08%). This is also well below the yield available from the S&P/TSX Composite Index (2.43%).
With that low a yield, I am hoping to see some healthy dividend growth. And in this case, I am disappointed. In fact, from 1998 to 2002 inclusive, there were absolutely no dividend increases. In 2003, there was a decent dividend increase of 12.94%. In 2004, it got even better at 19.79%. But then came 2005, and a paltry increase of 4.35%. Last year's dividend growth rate was an excellent 25%.
As you can see, not really very much history to base our analysis on. Of course, looking at the averages, the 5 year rate comes in at 12.28%. You would hope that starting in 2003, management had turned over a new leaf and dedicated themselves to dividend increases. But then 2005 kind of dispels that theory.
Now, the payout ratio is incredibly low. It has dropped from a high of 42.5% back in 1999 to last year's dividend payout ratio of 6.07%! Management has a lot of room to increase the dividend.
Cash flow growth rates have been solid. The 9 year rate is a whopping 23.5%. The 5 year rate stays steady at 24.57%. There is a hiccup in the 3 year rate as it drops to 16.96%. This is due to a decrease of 9.8% experienced in 2005.
The lack of dividend growth history is definitely a concern.
Valuation Models:
Let's use our 3 models to determine a fair value for this company.
For the average high dividend yield model, I determine the average high dividend yields in each of the last 10 years. The 10 year average high dividend yield is 1.16%. The 5 year average high dividend yield drops to 0.67%. As you can see, this company has never had a very high yield. If we demand the 5 year average high dividend yield, then the model price works out to $66.67. At the current price of $99.50, Mr. Market is demanding a premium of 49.25%.
Mr. Graham would argue that we are being much too conservative. In fact, his Graham number works out to $45.42 which translates into a premium of 119.09%
For my discounted present value calculations, I used the following inputs:
future EPS growth rate of 15% (My initial estimate was 22.49% as determined by the 9 year equity growth rate. I was not able to find any analyst forecasts, so I decided to be conservative and reduce the estimate to 15%.)
future P/E of 18.42 (This is the 5 year average P/E and is lower than the current P/E of 21.13.)
dividend yield of 0.60%
future dividend growth rate of 12.28% (This was a tough call with the lack of dividend growth history. However, I decided to go with the 5 year growth rate.)
With this information, my model price works out to $95.19 which is only a premium of 4.53%
Here is my dividend analysis of SU.
Here is the 1 year stock price chart: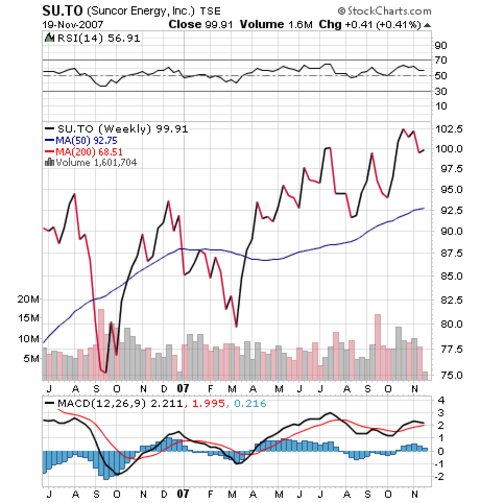 This stock has experienced some rather high volatility over the last year.
Conclusion:
This is a tough one. The fundamentals look fantastic with management steadily improving their ROIC and all the growth rates are consistently strong over the 10 year period.
The low dividend yield and more importantly, the lack of dividend growth history, are a big concern.
Either way, this stock is selling at a premium by 2 of our models. So far, all the oil stocks are looking very pricey.
What are your thoughts on Suncor? Worthy of a spot in our portfolio of superior dividend yielding stocks?
Full Disclosure: I do own shares in SU.