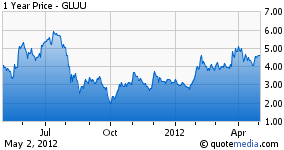 Glu Mobile (NASDAQ:GLUU) is one of my most aggressive positions in my portfolio, and one of the few that is not generating positive earnings yet. As I articulated in late February, it has a solid high risk/high reward profile. It is up more than 15% since I took a stake in the company. The company released earnings Thursday. It was a solid report and should provide positive catalysts to the stock going forward. I continue to believe the best days for GLUU are ahead of it, and I would not be surprised with all the activity going on in the social media space like Zynga's (NASDAQ:ZNGA) recent purchase of OMGPOP; that the company gets acquired by the end of the year.
Key Earnings Highlights for GLUU:
EPS of a 1 cent loss beat consensus estimates by 7 cents a share.
Revenues came in at over $21mm and beat estimates by $3mm.
Smartphone revenue experienced 158% growth from the same period last year and a 17% growth quarter-on-quarter.
Announced that they were adding three titles to this year's launch schedule. They expect to launch 23 new titles throughout 2012 now.
4 additional reasons GLUU has significant upside from under $5 a share:
Based on latest earnings report, the company looks set to breakeven faster than previously anticipated. It has net cash of over $30mm which should easily get it to the point where it is generating earnings.
The stock has been initiated as a "Buy" by Cannacord Genuity and upgraded by Needham since the original story ran on GLUU.
In addition, the 7 analysts that cover the stock have a median price target of $7 a share on GLUU. Based on latest earnings report, I would look for some of these targets to be taken up in the coming weeks.
Smartphone sales now represent 81% of total revenues and the company should nicely ride the accelerating migration to this platform.
Disclosure: I am long GLUU.