I have been very bullish on Kodiak (NYSE:KOG) over the past year, and even put it on my list of stocks to own for 2012. I do believe this stock has considerable upside from its current share price in the long term, but it would be very important to buy this stock at a value. The current stock price has pulled back from its high of $10.75 on February 24th, but I think we may get an even better opportunity to buy after earnings on Thursday afternoon.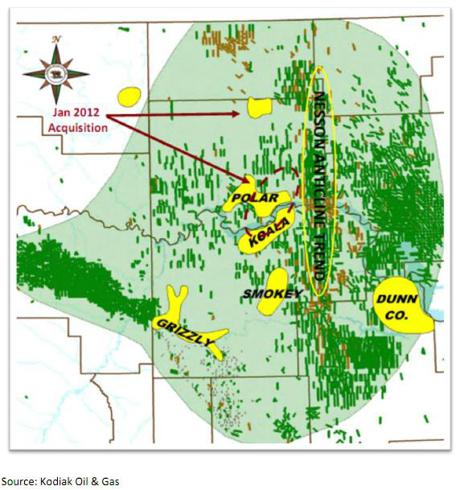 Click to enlarge
As reported on April 26th, Kodiak missed production estimates significantly when compared to analyst numbers. It is my assertion we could see Kodiak report another miss, which I hope would bring the stock price back to a number providing value. Right now it seems Kodiak's stock wants to bounce at $8.50, but if it breaks through this support level it could head to the $7.75.
In the fourth quarter of 2011, we saw Kodiak report a significant number of wells that underperformed its more recent completions. To give an idea of the level of underperformance, I will provide initial production numbers by Kodiak prior to the fourth quarter of 2011 to wells completed more recently. I will provide two variables to compare, the IP rate and 30 day IP rate:
Koala 9-5-6-5H(4-16-11): 2526 Bopd and 1048 Bopd
Koala 9-5-6-12H3(4-10-11): 1919 Bopd and 773 Bopd
Koala 3-2-11-14H(7-26-11): 2816 Bopd and 962 Bopd
Koala 3-2-11-13H(7-23-11): 2514 Bopd and 853 Bopd
Other Koala wells located in Poe Field, as are the four above, but completed in the fourth quarter of 2011 and first quarter of 2012 are:
Koala 2-25-36-16H3(12-17-11): 2227 Bopd and 809 Bopd
Koala 2-25-36-15H(12-18-11): 113 Bopd and 29 Bopd
Koala 2-25-36-14H3(1-15-12): 702 Bopd and 50 Bopd
The wells above are important as the first four wells in this area were nothing short of remarkable, and the last three listed are in the same field with two out of three providing very poor numbers compared to most wells in this area. In Dunn County, Kodiak's Skunk Creek wells are located in South Fork Field. It currently has four wells of the confidential list:
Skunk Creek 12-10-11-9H(10-13-11): 2655 Bopd and 971 Bopd
Skunk Creek 12-10-11-9H3(10-15-11): 2682 Bopd and 736 Bopd
Skunk Creek 2-8-17-15H(1-12-12): 212 Bopd and 64 Bopd
Skunk Creek 2-8-1714H3(1-26-12): 2303 Bopd and 812 Bopd
Skunk Creek is thought of as a very good area with respect to resource potential. Kodiak has done a very good job on three of these wells, but it had one very poor result here in the first quarter. Of the wells in the Smokey prospect, there are some significant well problems with respect to production. In Bully Field there are two wells. The first is:
Borseth 15-22 1H(3-3-11): 1249 Bopd and 480 Bopd
The well above was initially operated by URSA Resources Group LLC. The well below is and was operated by Kodiak and is also in Bully Field:
Smokey 3-6-7-14H(2-7-12): 23 Bopd and 27 Bopd (12 day IP)
Other wells in the Smokey prospect are located in Pembroke Field. The wells drilled in this field in 2010 were operated by companies other than Kodiak:
Sondrol 30-21H(3-30-10): 576 Bopd and 475 Bopd
Schilke 8-24H(7-23-10): 1060 Bopd and 809 Bopd
Wisness 21-34H(8-27-10): 271 Bopd and 93 Bopd
The wells operated by Kodiak in Pembroke are:
Smokey 15-22-34-15H(1-1-12): 101 Bopd and 36 Bopd
Smokey 15-22-15-2H(12-31-11): 50 Bopd and 26 Bopd
Kodiak's acreage in southeast Williams County was originally operated by North Plains Energy. In Truax Field, Kodiak has completed wells in the fourth quarter of 2011 and the first quarter of 2012. Wells that were operated by North Plains are:
Eide 5-13H(8-2-10): 746 Bopd and 613 Bopd
Scanlan 3-5H(9-8-10): 819 Bopd and 737 Bopd
Nelson 5-18H(8-3-11): 502 Bopd and 360 Bopd
Evitt 16-12H(8-30-11): 1031 Bopd and 626 Bopd
Reiger 9-11H(10-9-11): 1067 Bopd and 742 Bopd
Netz 9-21H(11-2-11): 1116 Bopd and 630 Bopd
Kirby 9-7H(11-8-11): 919 Bopd and 572 Bopd
Wood 5-15H(11-24-11):1533 Bopd and 663 Bopd
Kodiak's one completion in Truax Field in 2012 is:
Pankowski 4-6H(2-2-12): 358 Bopd and 118 Bopd
Given the well results by Kodiak it is not surprising it missed production estimates for the first quarter of 2011. Sales volume averaged 10578 Boepd for the quarter which was lower than the lowest analyst estimate. More importantly was most analysts were looking for a number in the 14000 to 15000 range. The stock didn't take much of a hit with the production miss, but this seems to be because Kodiak did not alter its guidance of 19000 to 21000 Boe/d for the FY2012 or 2012 exit rate of 27000 Boe/d.
In summary, Kodiak is still a great long term story. There are some issues of late that have affected production which I would guess will make it difficult to meet revenue and earnings estimates for the first quarter. If so, I would make this a buying opportunity given how fast the stock is growing.
Analyst estimates are looking for an EPS of $.10/share, which is down from $.18/share just 90 days ago. Kodiak's stock is a value at its current price, but I am looking to significantly increase my position anywhere below $8/share.
Disclosure: I am long KOG.
Additional disclosure: This is not a buy or sell recommendation.