If you are going to own a bank, it would be wise to own one that is one of Warren Buffett's largest holdings. Wells Fargo (NYSE:WFC) is Buffett's third-largest holding, comprising about 16% of the Berkshire Hathaway (NYSE:BRK.A) portfolio. This $180.73 billion large-cap banking company is back in vogue as the stock climbed from $24 late last year up to the current price of $34.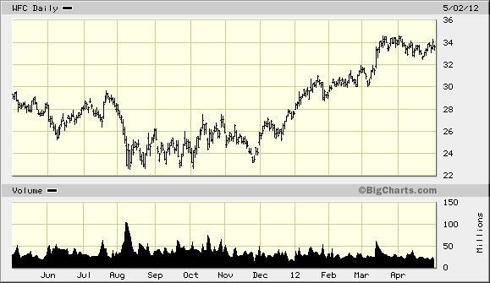 Despite the recent run-up, the stock still remains undervalued. Wells Fargo has a trailing PE ratio of 11.76, a forward PE ratio of 9.26, a PEG of 0.90, and a price-to-book ratio of 1.31. The current stock price should prove to be a good entry point for long-term investors.
Wells Fargo is number one in the following categories:
Mortgage origination
Small business lending
Commercial real estate origination
Used car lender
Middle market commercial lending
Banked-owned insurance brokerage
Federal crop insurance provider
The company is number two in these categories:
Deposits in the U.S.
Debit card issuer
Private education finance lender
Stock picking research
Real estate and middle market loan syndications
Bank owned mutual funds
Annuity distributor based on sales
The leadership in the above categories places Wells Fargo in the upper echelon of the banking companies.
Wells Fargo also has strength in diversification. Loan diversification is one of these strengths with 55% consumer loans, 40% commercial loans, and 5% foreign loans. The company's fee generation is another strength: 19% mortgage origination fees; 17% commissions; 14% non-interest income, 11% service charges; 11% trust, investment, and IRA fees; 11% other banking fees; 7% card fees; and 5% mortgage servicing fees.
The company has the lowest cost of deposits among its large peers. It also has the largest percentage of funding from deposits among its large peers.
The Wachovia merger has been completed, which has given Well Fargo 50 million additional accounts and 4,600 new locations.
Wells Fargo pays an 88 cent per share dividend, which equates to a 2.6% yield. The company offers a direct stock purchase plan and dividend reinvestment program. Under this plan, investors are able to make a one-time payment or have automatic monthly bank withdrawals. Investors can choose to reinvest all or some of the cash dividends back into common stock.
The company has 20 upward earnings revisions for 2012 and 15 upward revisions for 2013. WFC is expected to grow earnings annually at 11.34% for the next five years. Investors can expect a total annual yield of stock appreciation and dividends of about 13.94%. This would allow a $1000 investment to be worth about $1920 in five years if dividends are reinvested for a total gain of 94%.
With eight straight quarters of earnings growth, Wells Fargo has positive momentum that should continue as the economy improves. It should prove to be a great long-term dividend investment and one of the best investments among the large banks. Just ask the oracle of Omaha.
Disclosure: I have no positions in any stocks mentioned, and no plans to initiate any positions within the next 72 hours.