A company's earnings announcement can be very challenging to navigate. Many traders consider the action before, during, and after earnings to be nothing more than a coin flip. If you approach earnings unarmed with past results and future probabilities, the results will appear random. However, by studying past earnings, you can gain insight and assign probabilities to various outcomes.
My analysis consists of analyzing up to 10 years of quarterly earnings announcements looking for:
Probability of beating, matching, or missing analysts estimates
Price action before, during, and after the announcement
Relative fair value of the stock at the time of the announcement
1. The AES Corporation (NYSE:AES)
Sector: Utilities
Industry: Electric Utilities
Market Cap: 9.428B
Book Value: 7.771
Earnings: May 4
In the last 17 quarters AES has beat expectations roughly 59% of the time. These results are not exceptional, however historically the stock has risen 75% of the time within three days after the announcement. The average three-day gain is +3.4%. If AES manages to meet or beat analysts estimates it would represent a 23% year-over-year growth. On top of the potential earnings growth, AES also has healthy operating margins of 21.76% vs 13.90% for the industry.
Duke Energy Corp (NYSE:DUK) is a competitor of AES which also announces earnings tomorrow. Unlike AES, DUK historically has fallen after earnings. There is a 70% chance DUK will be lower five days after the announcement.
AES is down roughly 12% from the 52-week high, which leaves plenty of room for the stock to gain in the days following earnings. Considering AES typically outperforms DUK the week after earnings, I will be watching AES over Duke Energy.
(click to enlarge)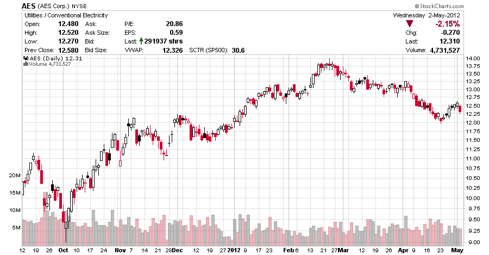 2. PEPCO Holdings Inc (NYSE:POM)
Sector: Utilities
Industry: Electric Utilities
Market Cap: 4.274B
Book Value: 19.059
Earnings: May 4
In the last 11 quarters, PEPCO has only exceeded earnings expectations 27% of the time. To make matters worse, POM falls on average 3% in the week following the announcement. The company lags the industry in both operating and gross margins. POM has gross margins of 23.85% vs 34.16% for the industry. The PE ratio is 16.52 vs 16.02.
Competitor American Electric Power Co., Inc. (NYSE:AEP) beat expectations on April 20, and is up about 2% since. Considering AEP has a significantly lower PE ratio of only 9.48 vs 16.52 for POM, I am looking to short POM into earnings and hedge by going long AEP.
(click to enlarge)