On April 3rd, I first recommended to sell the shares of Groupon (NASDAQ:GRPN) short. We initially entered the trade at the price of $15.28. We later took profits, by closing 50% of our position, at $13.12 and we are now left with half the size of our original position. This is how the downhill appears: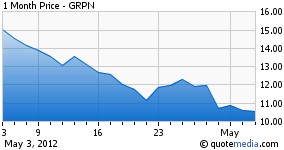 I believed it was a fantastic opportunity because of an aberration in valuation converged with a catalyst. The catalyst at the time was the company having to issue revised reports due to a high refund reserve.
Valuations
| | | | | | |
| --- | --- | --- | --- | --- | --- |
| | Linkedin (NYSE:LNKD) | Zynga (NASDAQ:ZNGA) | Groupon | Yelp Inc. (NYSE:YELP) | Angie's List (NASDAQ:ANGI) |
| P/E (TTM) | 901 | N/A | N/A | N/A | N/A |
| Price/ Book | 17.2 | 3.6 | 9.7 | 12.6 | 24 |
| Price/ Sales | 21 | 5.2 | 4.2 | 16.6 | 7.85 |
| PEG Ratio | 2.4 | 1.4 | 1.8 | N/A | N/A |
| Dividends | Non | Non | Non | Non | Non |
Groupon, although still pricey in absolute terms, is no longer expensive compared to other social companies or even compared to where it was only 2 months ago. In fact, judging by its PEG or by its Price/Sales, some investors might even claim that it is an absolute bargain. Some would say that the company was over-punished for its sins. I appears much more reasonably valued at current valuations.
Accounting Gimmicks
On March 30th, GRPN reported that it was revising its previously reported revenue of $506ML by $14.3ML.
The revisions are primarily related to an increase to the Company's refund reserve accrual to reflect a shift in the Company's fourth quarter deal mix and higher price point offers, which have higher refund rates. The revisions have an impact on both revenue and cost of revenue.
What this basically means is that the company has suffered a high rate of refunds. It also appeared that the company does not have its risk controls intact. Very problematic for a company whose main business is to manage receivables.
Trading and uncertainty
The highly awaited event of 2012 is the IPO of the largest social media platform to date, Facebook (NASDAQ:FB). The company is expected to issue its shares to the public on May 18. No one can say for certain how this will impact our trade. Not only that, but volatility could be at an extreme. Therefore, in contrast to our original trading instructions, we will not wait to see what next week has in store for us. No reason not to protect our unrealized profits of 30% in a single month.
We will not attempt to ride this stock all the way to the ground. In a recent article I wrote, I explained why the attempt to short a stock all the way to the ground is risky and futile.
My recommendation
In contrast to my original trading instructions, we will not wait for the $10 floor to hit.
Buy to cover our remaining 50% position in the trade and pocket a weighted 30% return on the trade. If you originally bought at-the-money put options, sell your remaining 50% position and pocket gains of over 300%.
Disclosure: I have no positions in any stocks mentioned, and no plans to initiate any positions within the next 72 hours.