With Fossil's (NASDAQ:FOSL) upcoming earnings release on Tuesday, May 8, 2012, an investor in the company might consider protecting the position in the event the company releases bad news. Fossil's stock price is near the previous resistance range around $135 as shown below: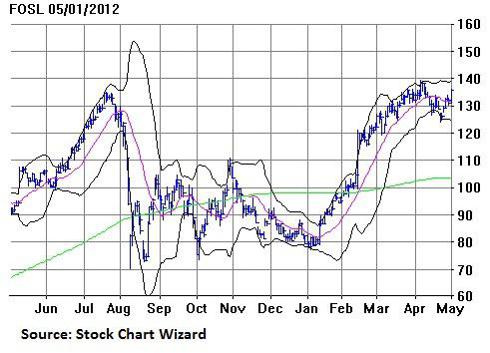 Previously after reaching the $135 range, the stock price dropped significantly.
One way to protect a position in Fossil is with a protected covered call, as a protected covered call can be entered by selling a call option against the stock and using some of the proceeds from selling the call option to purchase a protective put option. The protective put option protects the position in case the stock price takes a hit. The best part of the protective covered call, is the protection is paid for via the sale of the call option.
Using PowerOptions tools, protective covered calls can be analyzed for tradeoffs with respect to potential return versus maximum risk, as shown below:
For this analysis, the maximum risk was limited to 8%, as a loss of less than 8% can often be recovered fairly quickly using option income investing strategies.
As shown, the higher potential returns result in greater risk and vice-versa. Additionally, there are some trade-offs between positions which are in-the-money versus positions which are out-of-the-money. For the example, the first position in the table is in-the-money with respect to the call option, as the $136.97 stock price is greater than the $135 strike price of the call option. In contrast, the second position in the table is out-of-the-money with respect to the call option, as the price of the stock is less than the $140 strike price of the call option.
The out-of-the-money position has a maximum potential return of 4.3% (35% annualized) and a maximum risk of 6.9% whereas the in-the-money position has a lower maximum potential return of 2.5% (20% annualized) and a lower maximum risk of 5.1%. The in-the-money position has an unchanged potential return of 2.5%, even if the price of the stock remains unchanged at $136.97 at option expiration in June, the position will return 2.5%. Better yet, for the in-the-money position, if the price of the stock is greater than or equal to the $135 strike price of the call option at expiration, the position will return 2.5%. On-the-other-hand, the out-of-the-money position has an unchanged potential return of 2% and in order to realize the 4.3% maximum potential return, the price of the stock must increase and be greater than or equal to the $140 strike price of the call option at expiration.
The specific call option to sell for the first position (in-the-money) is the 2012 Jun at $8.90 and the put option to purchase is the 2021 Jun 125 at $3.70. A profit/loss graph for one contract of the first position listed in the table is shown below: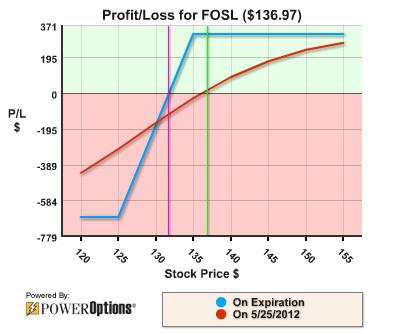 For a stock price less than $125, the value of the protected covered call remains unchanged (at expiration), even if the price of the stock goes to zero. If the price of the stock increases to around $150, the position can most likely be rolled in order to realize additional potential return.
In spite of a product range which venerates the past and a name suggesting an organization well and truly stuck in the mud, Fossil is an emphatically future-focused company. Its vintage-inspired Fossil brand offers a range of quality fashion accessories and associated lifestyle products, while a second core business sector concentrates on multiple brands of watches produced under exclusive licensing relationships with high-end fashion houses like Armani, Diesel, Burberry, DKNY and Marc Jacobs. New watches, handbags, wallets, men's and women's clothing, jewelry and footwear take their place in the online store alongside one-off secondhand 'finds' like vintage toasters, telephone handsets and oilcans, placed there to lend color and authenticity to the company's brand story rather than earn serious revenue.
However, there is not the slightest doubt that there is revenue to be earned from nostalgia, not just in the US but globally, as the consumers of the world look fondly backwards to a time when life seemed simpler and less uncertain. Fossil's business strategy over the 25 years of its existence has been to build brands using in-house creative design and marketing talent, and to develop a variety of distribution channels to promote its two main aspiration lifestyle product lines while maintaining a healthy cash flow and financial strength. Its merchandise is sold through department stores and specialty retail stores, as well as in almost 400 company-owned stores, in licensed and franchised stores, on airplanes and cruise ships, through global e-commerce businesses and by means of 60 independent distributors.
Added to the extensive product and price range, this diverse distribution network gives Fossil access to both luxury-seeking and value-conscious consumers of all ages in 120 countries. Wholesale customers in the US include the whole range of retailers: Neiman Marcus, Nordstrom (NYSE:JWN), Saks Fifth Avenue (NYSE:SKS), Macy's (NYSE:M), Dillard's (NYSE:DDS), J C Penney (NYSE:JCP), Kohl's (NYSE:KSS), Sears (NASDAQ:SHLD), Wal-Mart (NYSE:WMT) and Target (NYSE:TGT). The ten largest US wholesale customers account for more than 20% of consolidated net sales, which presents a slight but manageable risk. Retail price points range from $7 in the mass market channel to over $2,300 in the luxury goods sector, with the majority of merchandise falling in the $85 to $600 band. In 2011, 2010, and 2009, 51.1%, 49.3% and 53.9% (respectively) of consolidated net sales were generated outside the US. Revenues are not dependent on any one product, brand, distribution channel or geographic region, significantly reducing the risk of a localized disruption impacting on the entire company.
Product sourcing and manufacture is also an international operation. Many of Fossil's watches are produced in Switzerland, while Fossil subsidiaries manufacture watches in Asia. More than 60% of non Swiss-made watches are produced in Fossil's own factories, and these facilities are also used in jewelry production. Clothing and accessories are purchased from third parties. Assembly plants are located in close proximity to component manufacturers in order to increase supply chain efficiency. There is, however, a heavy reliance on a small number of component suppliers, increasing the potential for disruption. Currency fluctuation risks are mitigated by hedging contracts.
Fossil is constantly searching for new designs and brands to add to its existing portfolio. To this end, Fossil has recently acquired US-based international company Skagen Designs Ltd for, according to a press release (pdf), $225 million in cash and up to 100,000 Fossil shares. Skagen's Danish-style watches, jewelry, sunglasses and clocks are sold in 75 global markets and will make an ideal addition to the current Fossil range. Meanwhile, internal growth is generated by developing new Fossil brands in-house and by extending the product categories of existing brands with the addition of jewelry and clothing collections to already licensed names. The expansion of retail outlets and international business are other key growth drivers. Fossil expects to open over 70 additional stores in 2012, although around 18 will close.
The company believes that cutting edge fashion design details are the main point of differentiation between Fossil's products and those of its competitors. Packaging and in-store promotional material are designed to complement the merchandise, and the Fossil catalog (18 million distributed annually) is also a major communication and advertising tool. Competitors in the watch business include Citizen, Gucci, Guess (NYSE:GES), Kenneth Cole (NYSE:KCP), Movado (NYSE:MOV), Seiko, Swatch, TAG Heuer and Timex.
In fiscal 2011 (year ended December 31) total sales were $2.57 billion, 72% of which was generated by watches. Sales grew by 26% compared with the previous year, following 31% growth recorded in 2010. Gross margin is a healthy and stable 56%, and net income in 2011 was $295 million ($4.61 per diluted share). Wholesale channels accounted for slightly more than three quarters of sales, the balance being retail/direct to consumer transactions. The split between proprietary (Fossil and some other owned brands) and licensed brand sales was fairly even, so the maintenance of licensing arrangements is obviously crucial to Fossil's continuing profitability. Licensing agreements with Armani and Burberry, for example, expire at the end of 2013 and new deals will need to be negotiated. A new agreement will see Karl Lagerfeld watches launched in the near future. (Form 10-K 2011 (pdf))
Fossil CEO Kosta Kartsotis emphasized the double-digit sales gains across all business segments, including the third consecutive holiday quarter of double-digit comparable store sales growth, during the Q4 2011 earnings call. Korea and China were the stars of overseas business, each posting growth of over 70%. However, Mr Kartsotis made it clear that the Fossil is a global brand experience rather than a collection of individual products or regions, remarking that 'increasing focus on fewer, better told stories and platforms have given us the ability to give a richer brand experience at the point of sale'. As long as Fossil can anticipate lifestyle and fashion trends, continue to leverage its customers' love affair with American vintage and endure any challenges to discretionary spending, further growth seems likely. Yet, an investor in the company might consider some protection such as a protected covered call, as fashions and economic prosperity come and go.
Disclosure: I have no positions in any stocks mentioned, and no plans to initiate any positions within the next 72 hours.