Bayerische Motoren Werke (BAMXY.PK) released on Thursday, May 3, its first quarter 2012 earnings achieving the best first-quarter performance in BMW's history and beating analyst expectations.
In the first quarter, revenues increased more than 14% to €18.3bn ($24bn) outpacing the 11% rise in deliveries. That figure rose at all the group brands (BMW, Mini and Rolls-Royce). At BMW brand, the 1-series and the SUV X3 were the two main models responsible for this performance with worldwide increases of 20% and 55% respectively in deliveries.
By geography, the North American and Chinese markets continue to be the growth engines with an increase on deliveries of 16.5% for the US and 36.6% in China. In Europe deliveries remained flat, which in view of the current challenging economic outlook throughout most EU countries, represents a very resilient performance.
BMW's EBIT increased 18% to €2.13bn ($2.8bn) resulting in an EBIT margin improvement to 11.7% from 11.2% in the first quarter of 2011. The targets set for the full year remain unchanged, continuing to target an EBIT margin between 8% and 10% in the automotive segment.
This performance enabled the company to generate a free cash flow from its automotive business of €1.6bn ($2.14bn). The group's balance sheet remains very strong, with an increase in liquidity to €12.3bn ($16bn), providing very good flexibility to face the credit crisis in Europe.
Since the begging of 2012, BMW's shares are outperforming by 14% the broader European automobile sector and its main peer Daimler (OTCPK:DDAIF) by 19%. BMW's shares trade at 9.3x forward P/E and offer an attractive yield of 3.1%, with a €2.30 dividend payment on next May 17.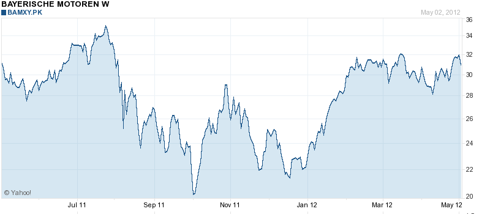 Source: YahooFinance
Conclusion
As I discussed in my previous article "BMW: A Cheap Play On U.S. and China Luxury Auto Markets", BMW's operating outlook continues to be very favorable with tailwinds coming from the new models recently launched (1-series, 3-series, and X3), that account for more than half of sales, and strong demand from China and the US.
BMW's stock continues to look cheap and the company is well positioned to gain market share from its competitors, through its youngest model range, supporting its future earnings. The main risk for BMW is a Chinese hard landing that would hurt its revenues and margins significantly.
Disclosure: I am long BAMXY.PK.